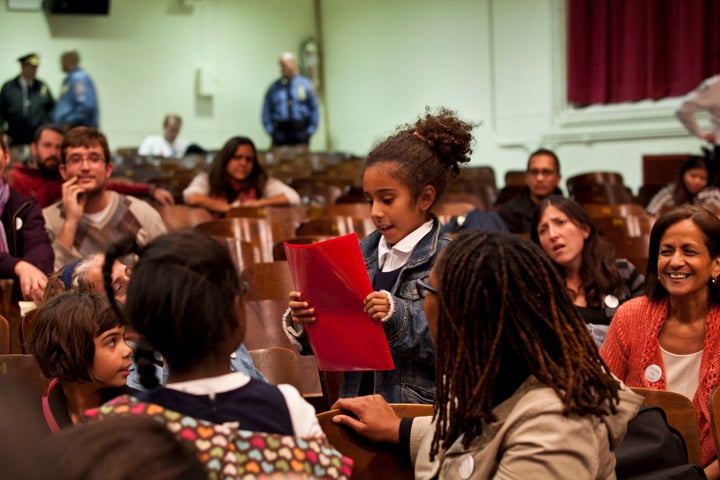 NEW YORK -- When New York City schools Chancellor Dennis Walcott stood up to face a full Seward Park High School auditorium on the Lower East Side Tuesday evening, he found himself confronted by the shrill sound of the "people's mic," a consensus-building tactic that has become a hallmark of the Occupy Wall Street protests.

"Mic check!" a group screamed the second Walcott started talking. "We invite anyone here to use the human mic to express their concerns ... to save public education in our city," an organizer yelled. The crowd repeated back each phrase. "If you want your voice heard, all you have to do is say 'mic check.'"

The approximately 200 protesters, loosely affiliated with a new public education committee offshoot of Occupy Wall Street, called for increased participation and democracy in education at a meeting originally organized to facilitate conversation with stakeholders about the New York City Department of Education's new curriculum.
"The true irony tonight is that this is about interacting with the panel," Walcott said, trying to speak over the clamor in the auditorium at Seward, a building that now houses five schools instead of its original high school. "We appreciate the activism and look forward to having you participate."

Meanwhile, a teacher who had been excessed and is now assigned to a new school each week hollered, "I would like to tell the PEP [Panel for Educational Policy] how they are out of touch with teachers, parents and many administrators." After the crowd repeated her statement, she continued, "The Common Core is out of touch."

New York is one of 45 states that have signed onto the Common Core, a shared set of school standards focused on depth of study. David Coleman, an architect of the standards, was the evening's main attraction. "The Common Core is a state-led effort," Coleman started over the din. "It attempts..." he said, before trailing off and turning to Walcott while a teacher shouted about being continually undermined. "I look forward to talking to you in a quieter situation," Coleman said.

At that point, the crowd -- led by a union representing the city's recently laid-off school aides -- chanted, "Bring the workers back."

As Walcott invited parents interested in learning about the Common Core into smaller discussion groups to proceed with the evening's program, Kelley Wolcott, a teacher and Occupy Wall Street participant, invited Walcott to participate in the next Occupy Wall Street General Assembly -- what she called a "real discussion" -- focused on public education in early November. Walcott declined.

"For them to pick on this one is unfortunate," Walcott told reporters, "because this is where we talk about what it [the Common Core] means for the system."

When asked whether he would address the protesters' issues, he responded by saying, "I hear about mic check, but I don't hear about the issues."

Teachers in the auditorium proceeded to air their grievances about class size, standardized tests, layoffs and the use of data to grade teachers. "They shut down Seward High School saying it had low reading scores despite the fact that 99 percent of its students were immigrants," Mike Friedman, a former teacher, said into the people's mic.

"The students of New York City need a school system that's responsive to their needs," Occupy Wall Street protester and former New York teacher Justin Webes told The Huffington Post. "One person from one high could not be in touch with and responsive to all the needs of the 1.1 million school children here. ... Occupy Wall Street serves as a platform to make their voices heard by overly influential corporate interests."

The PEP has too much power, said Rosie Frascella, a high school teacher in Prospect Park, Brooklyn. "This is the only place where the chancellor addresses the public, but the PEP is a farce. We feel that Chancellor Walcott and Mayor Bloomberg are the 1 percent, and that parents, students and teachers, we're part of the 99 percent."

The group had organizational backing from the Grassroots Education Movement, the teacher aides' union DC 37 and the New York Collective of Radical Educators. The United Federation of Teachers, which formally backed an earlier Occupy Wall Street march, did not officially throw its support behind the event.

Teachers and education activists elsewhere have also used Occupy Wall Street to voice their complaints. David Loitz, an education student at Goddard College in Oregon, has been active in Occupy Eugene. Along with his colleagues, Loitz, an organizer with the Institute of Democratic Education in America, used the fervor of the Occupy Wall Street movement to galvanize concerns about education by starting a Tumblr blog called Occupy Edu. So far, 50 people -- mostly teachers -- have posted pictures of themselves holding signs explaining why they "occupy edu." One teacher wrote, "I occupy education because I believe strong schools and strong teachers not corporate for-profit reformers makes Oregon and the nation strong!"

As the crowd continued protesting in the auditorium, with two parents even wearing sock puppets to represent what they called Mayor Bloomberg's "puppet" PEP, Coleman circulated between the classrooms, cramming his material into 10-minute sessions. In one classroom, he faced questions about the resources it would take to get students up to the elevated standards of Common Core. "The standards are an attempt to build a staircase to college readiness that is real," Coleman told parents in the more subdued setting.

Patrick Gunn, a parent of a P.S. 184 student, attended one of those sessions. "I came because I wanted to hear from Chancellor Walcott about some issues at my school," he said, referring to the abrupt replacement of its principal.

"I was surprised that the protesters took over the forum," Gunn said. "It's been my experience that there is not a dialogue at these meetings, it's usually the DoE just talking to us. But it didn't accomplish what I'd like to see happen. I want a dialogue. That protest was no more dialogue than what we're used to."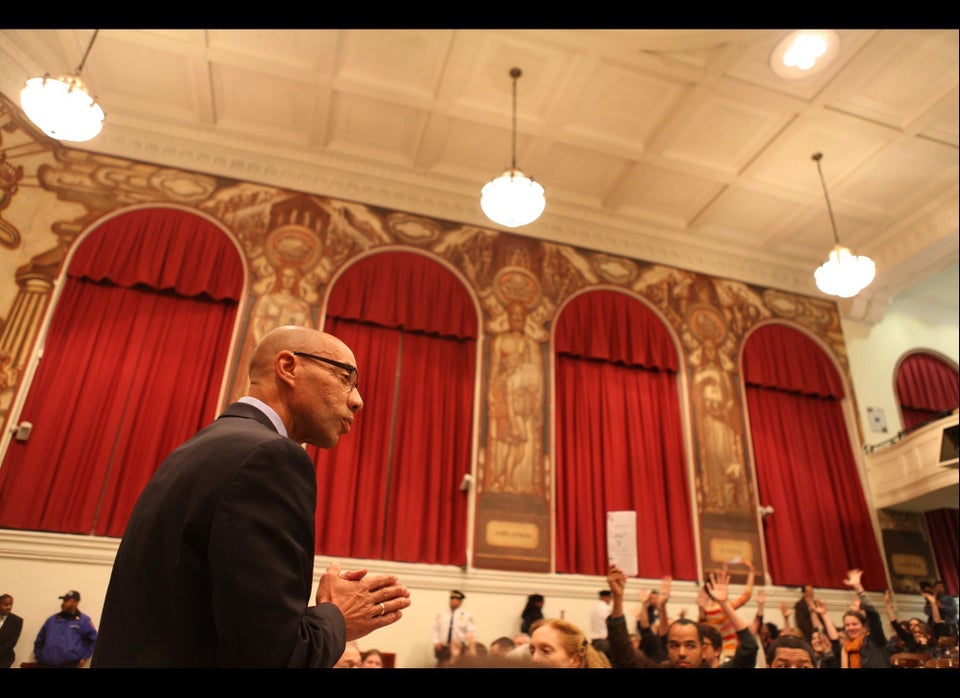 (CLONED) OWS NYC DoEd
Related
Popular in the Community