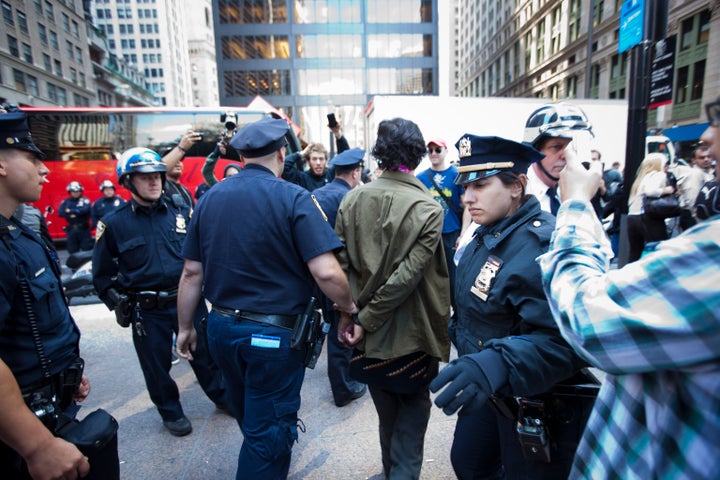 The 'Occupy Wall Street' protest entered its fourth day on Tuesday, as anti-corporate protesters continued to occupy parts of lower Manhattan. While the organizers had hoped 20,000 would show up and dance, do yoga and raise awareness of the opposition to current economic policies, the turnout has been smaller -- but equally fervent. Many protesters are still there four days in (and they even got a celebrity appearance from Roseanna Barr, who urged the government adopt a "new capitalism.")
The Times reported Monday that at least five people were arrested, including some who were arrested on an obscure law banning public assembly while wearing a mask. Many of the arrests indeed have been over minute, often semantic, disagreements.
The first arrest was a protester who objected to the police removing a tarp that was protecting our media equipment from the rain. The police said that the tarp constituted a tent, in spite of it not being a habitat in any way. Police continued pressuring protesters with extralegal tactics, saying that a protester on a bullhorn was breaking a law. The protester refused to cease exercising his first amendment rights and was also arrested. Then the police began to indiscriminately attempt to arrest protesters, many of them unsheathed their batons, in spite of the fact that the protest remained peaceful.
While the protest's organizers had stressed that they wanted this to be a peaceful occupation, tensions have flared between the occupation and the cops assigned to keep order downtown. The group Anonymous claimed that cops have increased their presence and stolen recording equipment from some of the protesters.
You can see from this video that things are getting a little rough, as cops and protesters seem to be filming each other, waiting for each to make one false move:
Calling all HuffPost superfans!
Sign up for membership to become a founding member and help shape HuffPost's next chapter