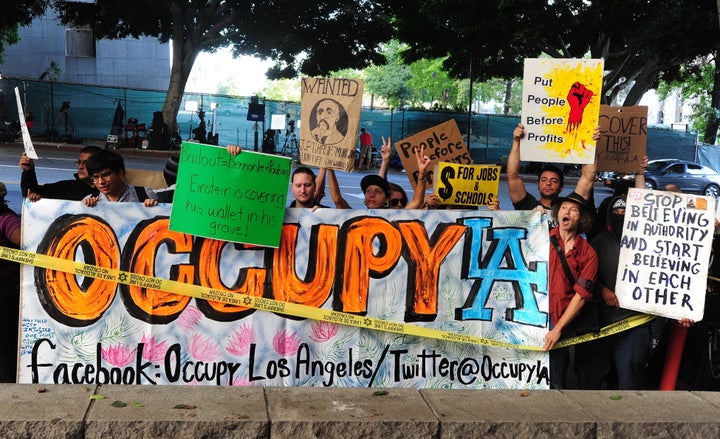 All eyes could shift to Occupy Los Angeles, thus far one of the most peaceful Occupy encampments across the nation, as New York's Occupy Wall Street is prohibited from camping in Manhattan's Zuccotti Park.
In addition to peaceful relations with the city and law enforcement, Occupy LA enjoys temperate weather and, for now, the goodwill of local businesses and organizations that continue to pitch in and make the encampment as livable as possible.
Indeed, David DeGraw, one of Occupy Wall Street's unofficial leaders, challenged the Los Angeles camp last week to "step up" as the winter months engulf Manhattan. DeGraw said, "LA is going to blow up over the next few months," reports Neon Tommy. "It's your turn to lead the leaderless."
But it turns out that law enforcement, not the weather, was Occupy Wall Street's undoing. As ABC reports, 200 Occupy Wall Street protestors were arrested early morning Tuesday for refusing to leave their New York emcampment so that it could be cleaned. According to ABC, many of the protestors have been released and are re-entering the park. And yet, Mayor Michael Bloomberg seems to be holding his ground: "The First Amendment doesn't protect the use of tents and sleeping bags. Now they will have to occupy the park with just the power of their arguments."
Perhaps Occupy LA is preparing to take up the mantle. Nearly 100 protestors marched through downtown just after midnight in response to news coverage that the Occupy Wall Street encampment in Lower Manhattan had been broken up. CBS reports that LA occupiers marched from City Hall to Nokia Theater and back against the flow of traffic. According to the Los Angeles Times, the Los Angeles Police Department (LAPD) briefly went on tactical alert but there were no arrests.
The closure of Occupy Wall Street comes right after Occupy Portland was forcibly removed Sunday and Occupy Oakland was broken up Monday. In response, Occupy Los Angeles spokesperson, PJ Davenport, told the Huffington Post, "The timing of the evictions of occupiers in Portland, Oakland and New York City are no coincidence. Sources at Occupy LA have received notice from our information networks that the proverbial hammer is coming down and that a nationwide effort is underway to close all occupations. Here at Occupy LA, despite our friendly relationship with City Council and the LAPD, we believe that it is a short matter of time before we are asked to leave."
Davenport said that Occupy LA "has only just begun our mission" and has no exit strategy in place. She continued, "We have yet to feel the crack of batons or the sting of pepper spray; we hope that these devices will not be used on our demonstrators. However, given the brutal show of force we have witnessed around the nation, we have no illusions about what could happen if Occupy LA refuses to exit City Hall."
As the LA Times reports, Los Angeles has thus far made no attempt to remove the occupiers, although Mayor Antonio Villaraigosa has said that the encampment "cannot continue indefinitely."
Villaraigosa also stated that "The protesters here at City Hall have been peaceful. They have for the most part complied with the law. Where they haven't, we've had to address that," reports ABC.
However, LAPD Chief Charlie Beck said that the city is meeting with protestors Tuesday to work on a timeline for closing the camp, the LA Times reports. Beck told the Times, referring to the City Hall lawn, "That's a piece of dirt, it's not sustainable ecologically and it's only going to get worse and worse. We need to find either a different location or a different medium for them to use."
Occupy LA organizer Mario Brito told HuffPost that Occupy LA's next action day is this Saturday, when they are planning on having social workers, members of United Healthcare Workers West and California Nurses Association, drug counselors and physicians come to the site to provide health care on the spot for occupiers without health coverage. Homeless occupiers, which, according to CBS, comprise roughly 7% of the protestors, are especially in need of the services. Brito stated, "society and the city have failed to provide basic services to these people, so we are taking on the responsiblity ourselves."