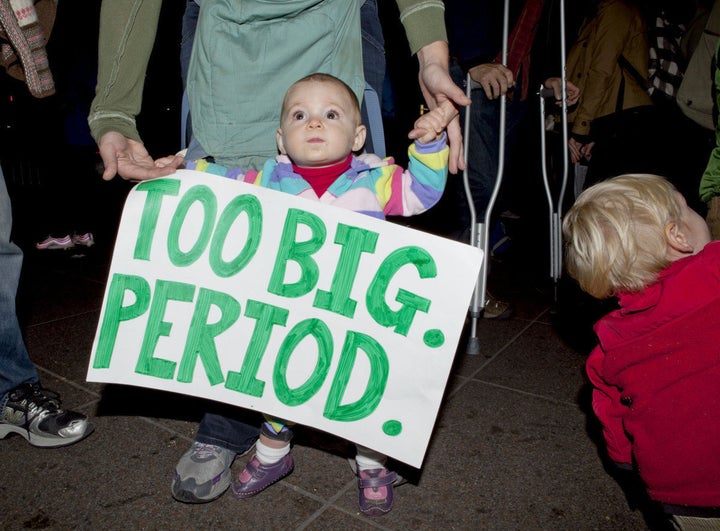 Baby geniuses? More like baby activists.
Thirty-five days into New York City's Occupy Wall Street protest, a new type of crowd -- 500 parents with their children -- gathered in Zuccotti Park. The event, sponsored by Parents for Occupy Wall Street, was a family sleepover that started at 4 p.m. on Oct. 21 and ran through 11 a.m. on Oct. 22. It came complete with crafts, storybooks and ... politics.
The group's goal is to raise awareness of the diversity of people supporting the movement. In the press, there is an assumption that the only people supporting the movement are solely homeless or unemployed ... With even a short visit to Liberty Plaza, you will see all walks of life supporting the movement, including middle class working families.
Earlier on, parents included their children without an explicit invitation. Rahul Hamid told TODAY Moms what it was like to bring his two-year-old daughter, and his reason for doing so was similar to last night's group:
I wanted to come to show that ordinary people with families also had some sympathy for the protester's sentiments about the economy.
Others felt less confident about involving their kids in the protests. Babble blogger Carolyn Castiglia posted about being "reticent to go downtown and join the fray because I thought it might not be a friendly place to bring my 6-year-old."
Indeed, last night's sleepover, scheduled originally for October 14th, was postponed because all protesters faced a possible eviction for park cleaning that night.
Parents for OWS put extra security measures in place. They created a contained "Child and Family Only" area within Liberty Plaza that was accessible via an ID-required checkpoint only. Protesters who had been involved in Occupy Wall Street -- both parents and non-parents -- volunteered to help with protection, clad in neon yellow tees.
HuffPost Parents spoke to one mother who had been at Occupy Wall Street since its inception, and expressed discontent with the bureaucratic structure of all of this; she refused to participate. However, most of the families we spoke to were supportive of any extra precautions.
"I think it's good," said Oscar Owens, dad of Asa, 2 1/2. "It makes it a little easier to keep track of [the kids] because [the area] is kinda fenced in. It just enables people to [participate] more."
Once inside the designated area, parents and children interacted freely -- a mini-community for the night. Organizers urged families to come down bundled up (temperatures dropped below 50 degrees) and to bring a stroller, carrier or yoga mat for maximum comfort. There was a sing-along, art projects, pizza, a bedtime story, even meditation.
When we asked parents who participated why they wanted to bring children to a protest, everyone voiced similar motivations. "I think it's good for kids to participate in democracy," said Megan Davidson, mother of two, ages 4 and 9. "This is what democracy looks like."
View photos from the sleepover below, and let us know if you would bring a child to a protest in our poll.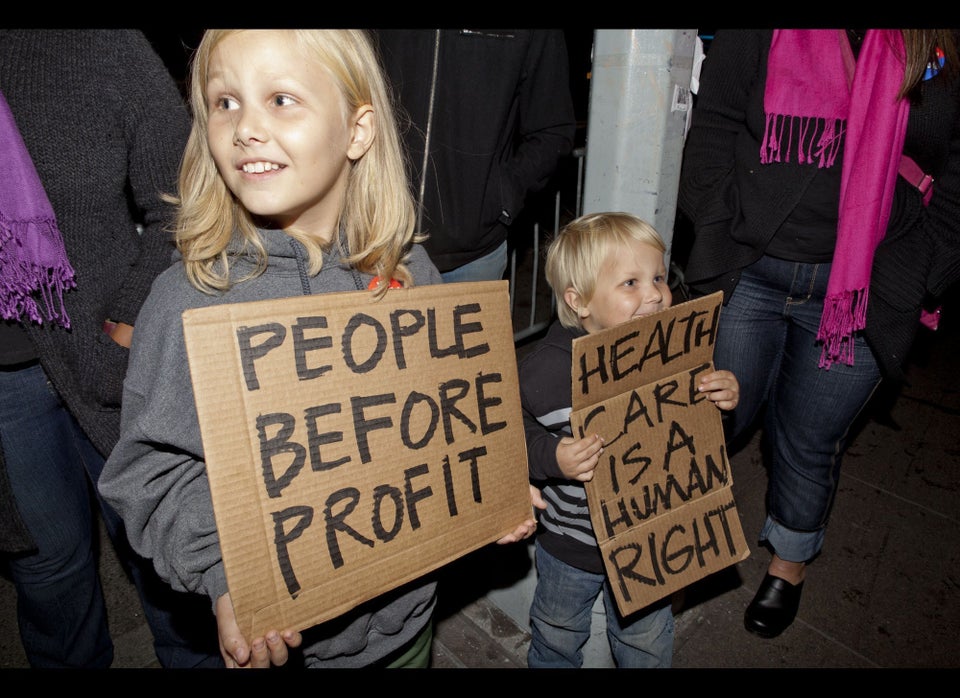 Parents For Occupy Wall Street