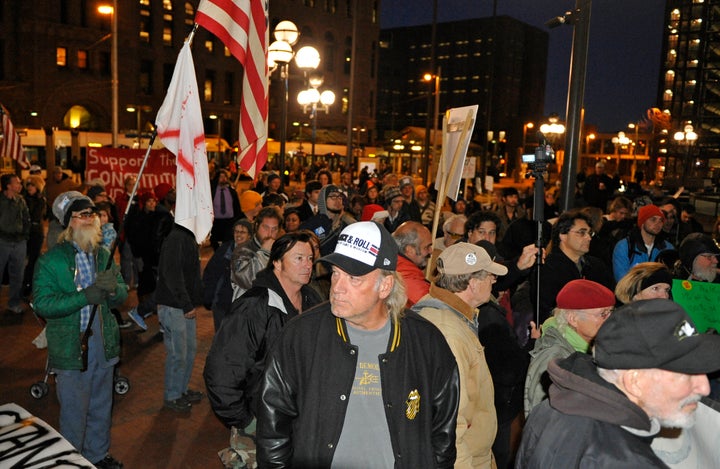 Monique White of North Minneapolis has been hosting weekend barbecues for friends and family for years. On Sunday, her usual guest list of friends and neighbors expanded to include protesters from the local spinoff of the Occupy Wall Street movement. They'd come to try and stop the bank from throwing White out of her house.
"These people are here to support me -- and not only me, just to let other people know and be aware of what's going on," White said.
What's going on is American homeowners are still slogging through the aftermath of a recession caused by the near-collapse of the financial sector in 2008. Since then, bailed-out banks have allegedly treated struggling homeowners so badly that state and federal law enforcement agencies are negotiating a multi-billion dollar settlement, and federal bank regulators have offered to check for wrongdoing in any foreclosure that happened in 2009 or 2010.
Occupy Wall Street kicked off in September to protest economic injustice, and now in at least three American cities, Occupy protesters are using the stories of local residents losing their homes to dramatize and protest the ongoing foreclosure crisis. In each case, Occupy-affiliated protesters have pitched their tents on the lawns where they don't want to see local sheriff's deputies pile the belongings of an evicted family.
On Sunday evening, 15 or so protesters came to Elizabeth Sommerer's home in Cleveland. They'd heard via Twitter that Sommerer, a mother of two, would be evicted on Tuesday.
"We'd been talking for a few weeks about ways to draw attention to what's going on with the foreclosure crisis," said protester Chris Soboleski, a 29-year-old web developer from Painesville, Ohio.
Sommerer's home went into foreclosure in 2009, Cuyahoga County records show. Her husband postponed the sheriff's sale by filing for bankruptcy. But they couldn't keep up with their Chapter 13 payments, and then, Sommerers said, she and her husband split up. Fannie Mae, the government-sponsored mortgage company, bought the property in August.
Soboleski and other Occupy protesters helped Sommerer connect with her local representative on the Cleveland City Council, Brian Cummins, whose staff helped her get to court on Monday to file a request to postpone the eviction for 30 days. Her request was granted, court records show.
"I think it was a huge day for the movement," said Cummins, a member of the Green Party. "This is really great because it got them out in the community and in touch with someone in a very real life situation."
"They stand up for the little guy," Sommerer said of the protesters in a video uploaded to YouTube on Monday. (Soboleski said Sommerer did not want to do another interview about her situation after already providing details to local reporters. Independent attempts to reach her were unsuccessful.) "This is Main Street. Wall Street can take care of itself. Main Street needs everybody."
Sommerer said she's looking for work and a nearby place to live so her kids don't have to change schools. She'd be happy to rent her former home from Fannie Mae if possible. "I was not raised to be a freeloader. I don't want to be a freeloader. I will pay my way. I just need time to put it together," she said in the video.
"Even if you do have to foreclose on someone, you can do it with a certain amount of compassion and humanity," Soboleski said. "There's a certain amount to be said for rules, but on the other hand we all want to live in a society where humanity matters more than bureaucracy."
Not all of the Occupy actions have been successful. In Snellville, Ga., protesters failed to prevent the eviction of the Rorey family, who told the Gwinnett Daily Post they fell victim to a scam artist who promised them lower monthly payments in 2010. The difficulty of obtaining loan modifications since the collapse of the housing bubble has made it easy for scam artists to prey on desperate homeowners, who have been susceptible to claims that a hired "expert" knows secrets to obtaining loan mods they don't.
Fannie Mae, which has owned the property since last year, said it works to prevent foreclosures.
"We have a Mortgage Help Center in Atlanta where homeowners can meet with a trusted housing counselor to discuss their mortgage situation and options to avoid foreclosure," a Fannie Mae spokeswoman said in a statement. "Unfortunately, the homeowner did not seek assistance from our Help Center."
Occupy protesters in Minneapolis hope they'll have better luck with Monique White. Thirty or so protesters have been camping in her living room and kitchen, with some spilling out onto her lawn, since November 8.
"I've never had this many people in my house before. It gets kind of overwhelming sometimes," White said. All the same, she added, "I appreciate everything that they've done for me."
White fell behind on her payments in 2009. The following February, as she was trying to get a loan modification from U.S. Bank, she said, budget cuts cost her her job counseling at-risk kids for a non-profit. "That's when everything started spiraling out."
The Occupy protesters say U.S. Bank should cut White some slack.
"They just had record profits this quarter, and the CEO of US Bank, Richard Davis, just doubled his salary to $19 million," said Nick Espinosa, 25. "So what we're talking about with a family like Monique's is pennies to them."
Government-backed mortgage company Freddie Mac bought her house as a foreclosure in January, and U.S. Bank said what happens is now up to Freddie. Freddie Mac said White's eviction has already been postponed and that the company was considering her for a program that would allow her to rent the property.
White said she has been working a part-time job at a liquor store and is desperately looking for new work.
"Basically what I'm looking for is for U.S. Bank to rewrite my loans in order for me to stay in my home and make it affordable for me," White said. "I'm not asking for a handout. All I'm asking is for time or for Freddie Mac or U.S. Bank, whoever owns the house or is trying to take the house, to come to the table."
Related
Popular in the Community