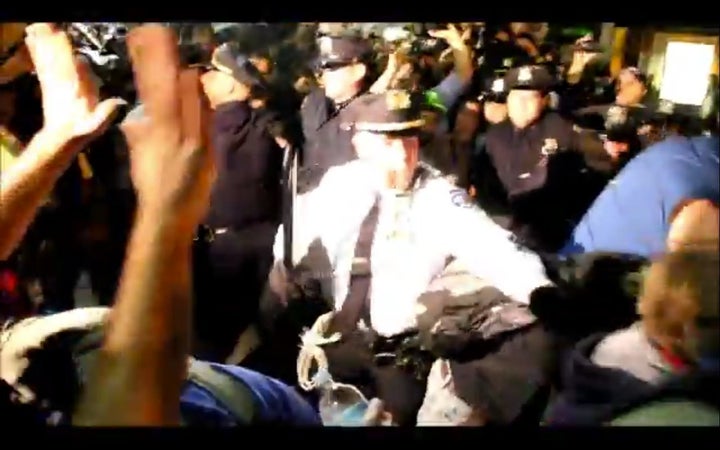 Just before 8 p.m. Wednesday, reportedly at the corner of Broadway and Wall Street, a New York Police Department officer appeared to turn on a throng of activists with the Occupy Wall Street movement, hitting them with a baton. A video posted hours later to YouTube shows the officer wielding the baton with two hands -- like a baseball bat -- as he swings at and strikes the demonstrators. At one point, a woman can be heard shrieking in the background.
The white-shirt cop, most likely a supervisor, had stood next to at least a half-dozen other officers, including other department brass. The video shows the officer appearing to nudge a spectator out of the way, back up and raise his baton. He then gets off three swings before the crowd appears to surge toward him -- digital cameras and video recorders held high.
This may be the first of many videos documenting clashes between the police and Occupy Wall Street. At the end of the video a few in the crowd chant: "The whole world is watching! The whole world is watching!" (UPDATE: New video emerges. May be the most complete document of last night's incident. See second video below.)
It is unclear from the video what provoked the officer's actions, but HuffPost's Matt Sledge, who was at the scene, reports the baton swinging took place after a handful of people had been arrested for attempting to cross a police barricade.
When reached for comment, a New York Police Department spokesman who refused to be identified said he had heard about the video but had not seen it and therefore could not comment.
Throughout the night, activists had reported via Twitter that the police had resorted to using pepper spray and had made some arrests. A spokesperson for Occupy Wall Street later reported some 20 arrests in total.
Fox 5, the local affiliate in New York, reported that police officers had struck the station's journalists with batons and doused them with pepper spray:
Officers swatted protesters with batons and sprayed them with mace, according to video from the scene. Fox 5 photographer Roy Isen was hit in the eyes by mace, and Fox 5 reporter Dick Brennan was hit by what he believes was an officer's baton. Both were all right and continued to cover the protests and arrests.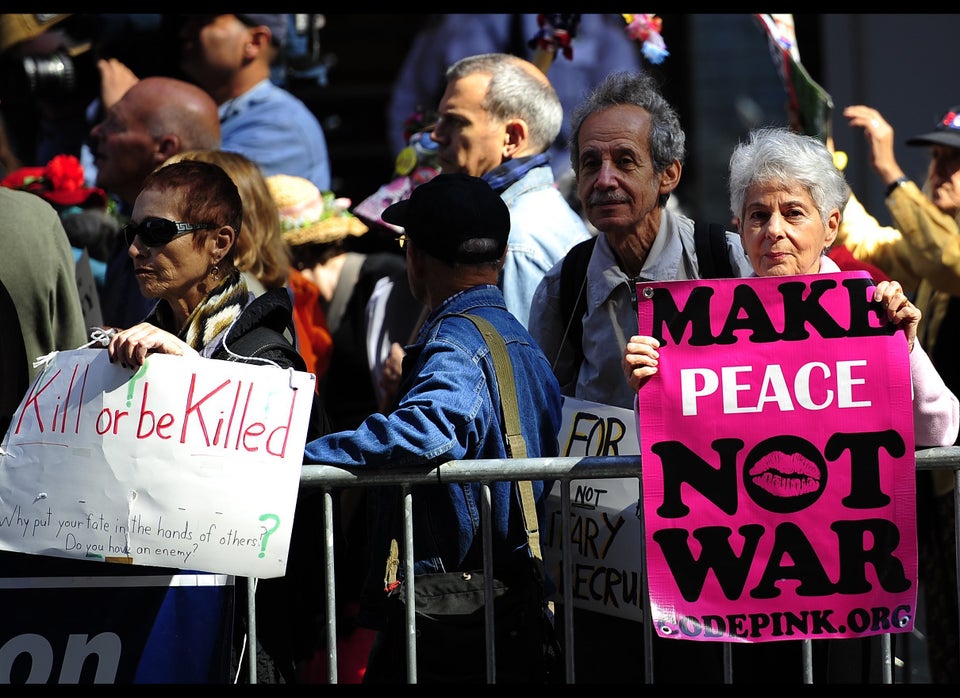 Occupy protests
Matt Sledge contributed to this report.
Related
Popular in the Community