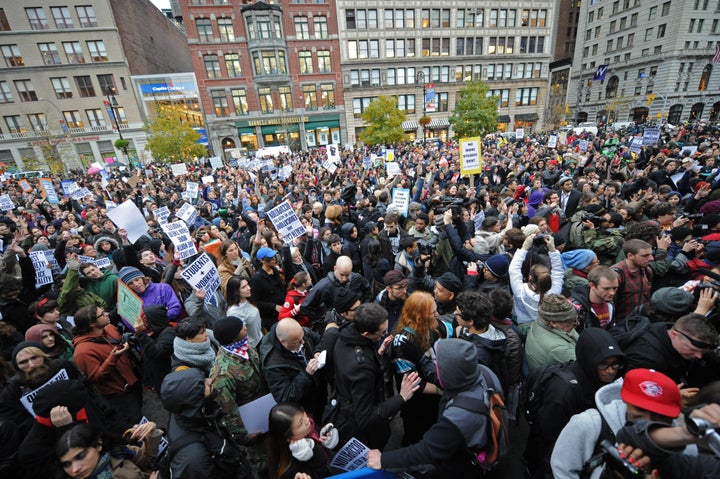 NEW YORK -- On a damp Thursday afternoon, several hundred students walked out of class and gathered in Union Square Park to demonstrate continued solidarity with the Occupy Wall Street movement.
"We need to send a message to Mayor Bloomberg that his cowardly and violent raid in the middle of the night will only fuel our movement," said Caitlin MacLaren, a 20-year-old sophomore at New York University. "Today is an opportunity to demonstrate that the movement is not only still viable, but that it's still very much alive. This movement exists not only inside Zuccotti Park, but beyond it."
MacLaren is part of the New York City Student Assembly, which helped organize Thursday's student-led strike in defense of education. The group convenes weekly in Washington Square Park and comprises students from the State University of New York (SUNY), the City University of New York (CUNY), Columbia University, the New School, New York University, Pratt Institute and the Juilliard School, among others.
Natalia Abrams, 31, who lives in L.A. and helps to organize Occupy Colleges, booked a red-eye flight to New York immediately following the raid on Zuccotti Park.
"To me, it felt like they were tearing down our capital, the symbolic icon of this whole movement," said Abrams, standing in the middle of throngs of students in Union Square Park. "While they might be able to take away our camp, they can't take away our idea. It's imperative that students keep showing up."
And show up they did. "Students and workers, shut the city down," chanted the impassioned crowed gathered in Union Square. After convening an hour-long public assembly, the group marched to Foley Square to meet up with other Occupy Wall Street protesters participating in an all-day citywide show of support.
Rugan Lewis, a 28-year-old student at the New School's Eugene Lang College, held up a sign that read: "Economic justice and education." Over the past month and a half, Lewis has walked out of class on three separate occasions to express his growing discontent.
"I came back to school to try and find better job opportunities," said Lewis, a history major who will graduate next spring with about $30,000 in student loan debt. "But since I became a student, there are even fewer job opportunities available."
"There's a crescendo building around this topic and this sense that this is really the right moment to push for something to finally be done about it," said Andrew Ross, a professor of social and cultural analysis at NYU. Ross is also a member of the Occupy Wall Street Education and Empowerment working group, which is spearheading the campaign.
"It's been soul-destroying to see my students sagging under this heavy burden and knowing it will follow them for decades," said Ross. "There was a point at which I realized my salary was debt-financed and paid in part by the willingness of my students to go into debt in order to finance their education. It seems to me not only immoral, but unsustainable."
Related
Popular in the Community