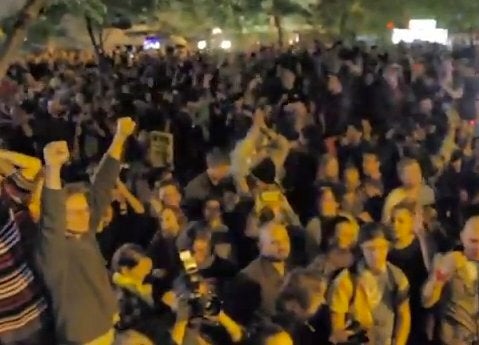 The cleaning, scheduled to start at 7AM, was perceived by many protesters as a ploy to evict them from the grounds. Last night, scores of volunteers took mops and brooms to the park in a plan to pre-empt Brookefield and city officials.
Thousands showed up at Zucotti early this morning before the sun had risen and practiced making a human chain to protect the park. They were ready for a confrontation with police and they were ready to be arrested.
But at about 6:30AM, Gothamist reports, a Direct Action rep turned on the "human microphone" and announced the good news. Watch below as the large crowd bursts into celebration.
The jubilation quickly turned to tension again, however, when a group of emboldened protesters marched on the barricades at Wall Street. Per usual, there were arrests, and some police brutality.
Popular in the Community