Elliot however, who can be seen in the video of the incident (she's the one in front, with the long hair, and wearing the crop tank top) sees a silver lining. She tells The Village Voice:
Ironically enough, and unfortunately, the cops spraying a bunch of white girls, well, our donations have tripled. We're getting media attention. This provokes momentum. It sucks that it had to get to this point, but people aren't going to leave. Even if it doesn't get huge, it's about endurance.
After a lackluster beginning, the protest is now getting its fair share of media attention— even if it's not the most favorable.
A common criticism of the leaderless, "not just hippies and hipsters" 'occupation' of Wall Street, which entered its tenth day Monday, is that it lacks a distinct set of demands.
Whereas protesters in Egypt refused to leave Tahrir Square until some distinct democratic reforms were enacted, it remains unclear what will have to happen in order for the hundreds of marathon demonstrators to disperse from Zucotti Park near Wall Street.
The New York Times' Ginia Bellafante concluded on Saturday that protesters were "pantomiming progressivism rather than practicing it knowledgeably."
Mean cops offer a tangible stand-in for a decade of abstract bullying and bondage by financiers who are unregulated, profiteers who are untaxed, and elected officials who are for sale. Many of the protesters are too young to have registered these shifts in society's tectonic plates as they happened, but are not far from the age when the pigs broke up their house parties.

...altercations with the police are the fastest way to legitimize and draw attention to an otherwise juvenile movement. Arrests provide concrete numbers for headlines and handsome young faces with bloody noses make good homepage photos.
To be fair, there was a singular, initial objective to the #OccupyWallStreet protest when AdBusters called for 20,000 people to take over Wall Street back in July. The magazine was looking for a "Presidential Commission tasked with ending the influence money has over our representatives in Washington."
That message, however, has largely been lost in the melee.
Meanwhile, Queens city councilman Peter Vallone chimed in unsympathetically to the weekend's altercations between police and protesters (see some dramatic photos below). "You certainly cannot take over a New York City street…" he said. "We have emergency vehicles to get through, people actually have jobs to get to, unlike these protestors, apparently."
The NYPD has yet to comment on the pepper spray incident. (Update: Anonymous publicly identified the police officer who allegedly pepper-sprayed the female protesters in Union Square.)
The rally's de facto media spokesman Patrick Brunner said yesterday that the group's "dealing with logistical issues." Among them, according to Gothamist, are keeping people fed, securing media equipment, and keeping shelter over the heads of those staying in Zuccotti Park. "Every time we put up a tent the police harasses us," Bruner said. "Every farmer's market in the city has a big umbrella, but they won't let us keep ours."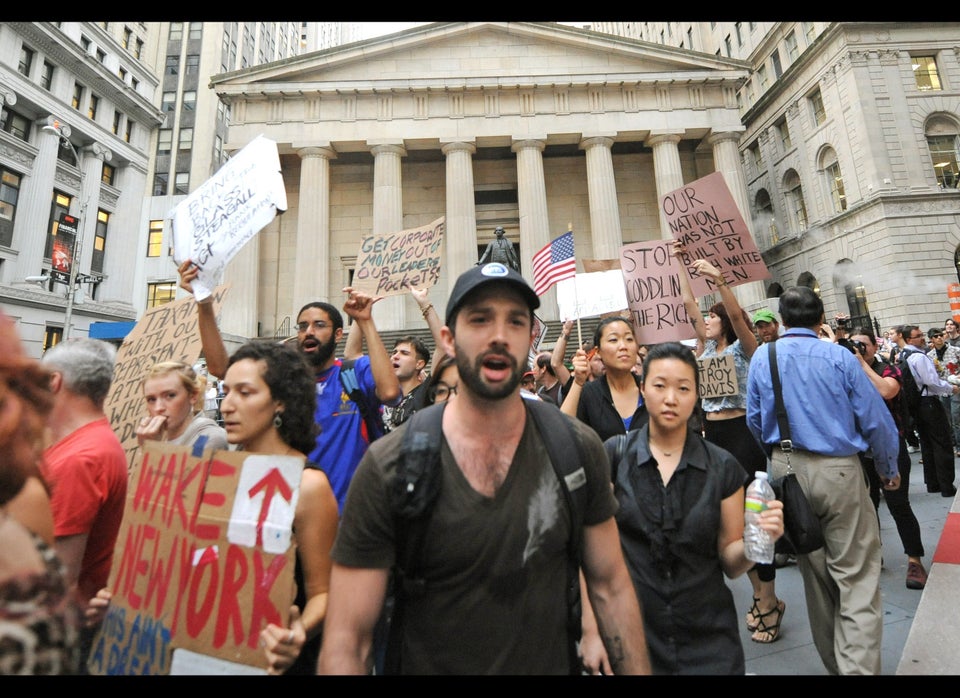 Related
Popular in the Community