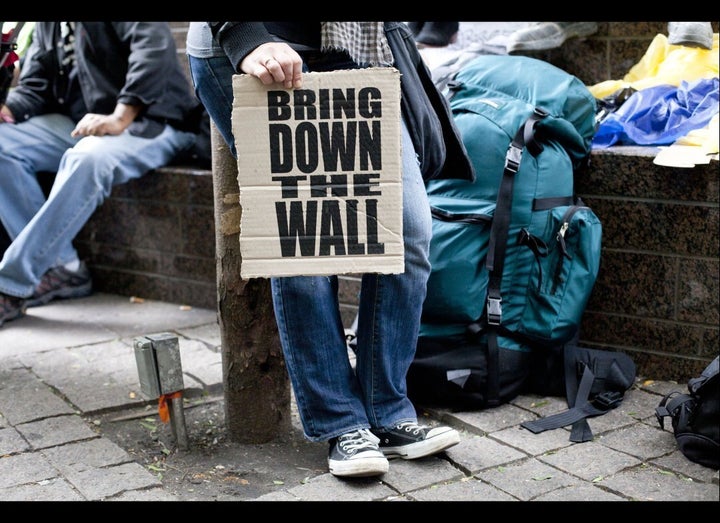 NEW YORK -- The day after the police took custody of an estimated 700 marchers on the Brooklyn Bridge, protesters in Lower Manhattan's Zuccotti Park said those arrests would only strengthen their resolve to demonstrate against corporate power.
The park, renamed Liberty Square by some protesters, was packed on Sunday afternoon with hundreds of tourists, well-wishers, musicians, union members and mostly younger protesters who had slept through the cold, rainy night in well-worn sleeping bags.
The well-stocked kitchen, the constant video livestream and the trickle of people arriving in labor union t-shirts and uniforms attested to the increasing sophistication of the operation. Even Joseph Stiglitz, a Nobel Prize winner and fierce critic of free-market economics, made an appearance to give demonstrators a pep talk.
Sunday afternoon's events were mostly calm, with no major actions planned like Saturday's march. Despite the arrests, the volunteers in the park maintained an efficient system of self-organization. "Mic check!" one leader could be heard yelling. "I need help with the laundry!"
While the time spent out in the elements had clearly taken a toll -- especially in conditions some described as allowing no more than two hours of rest per night -- those who spoke to The Huffington Post were nonetheless quick to assert that they would not be leaving any time soon.
"They couldn't shut us down if they wanted to," said Shane Stoops, a 23-year-old from Washington state who was working as a line cook in the encampment's makeshift kitchen. "This is the global revolution."
Then he announced the sandwich of the day: "spicy rye turkey!"
Stoops was unable to participate in Saturday's march because of what he described as a minor fracture in his ankle, which volunteer medics in the park had treated. He received his injury the Saturday before, after falling off a rock while calling marching orders for the protest that ended with several women pepper-sprayed by a high-ranking NYPD officer.
Those who did make it to the bridge -- and paid the consequences -- were just as resolute.
Alexander Holmes, a 26-year-old from Oakland, Calif., said he had spent the night in police custody after his arrest Saturday. He intended to remain in Zuccotti Park for at least another month. To do so, he had sold most of his possessions and was trying to sublet his room in California.
Holmes said that if anyone thought "15 hours of no food, no water and a jail experience that is not enjoyable would deter us," they were "completely mistaken."
He said he was cited for three violations: disorderly conduct, refusal to disperse and blocking a roadway. Such violations are the legal equivalent of a traffic ticket, but a night in jail may dissuade some protesters from returning. The arrestees who had made it back to the park were showing no signs of a lack of dedication.
"Every arrest brings another 25, 30, 40, 100 people," Holmes said. "It's solidarity. Because they know that we're not being treated the way we should be for exercising our First Amendment rights."
Early Sunday evening the protesters' media team had yet to issue an official response to the NYPD's assertion that the hundreds arrested on the bridge were given ample warning not to enter the span's roadway, where they would obstruct traffic.
"I am ordering you to leave this roadway now," the officer says through a bullhorn. "If you do so voluntarily, no charges will be placed against you."
But the officer stands at the front of a large group of demonstrators, so it seems possible that many in the raucous crowd who were not near him may not have heard his warning.
Holmes said some of the protesters may have intended to take to the roadway "because of the visual -- because of how beautiful it is to be able to occupy a public space like that. But at the same time, we were led to believe that it would be okay by the NYPD. Because we had cops that were leading us, that were directing us, that were not telling us not to do it."
Robert Grodt, a 24-year-old Californian, spent six days hitch-hiking across the country and had been sleeping in the park since Sept. 14. He was arrested on Sunday after being "kettled" on the Brooklyn Bridge, then spent 10 hours in police custody.
He calmly described his time on a bus circling the city, then inside Midtown North Precinct. At one point, he claimed, a police officer pinned him to the ground and ordered him to relinquish his cellphone -- but earlier, the same officer gave him a couple drags off a cigarette.
"We were on the bus just singing for five, six hours, we even sung one of the cops 'Happy Birthday,'" he recalled.
Grodt said he was released at around 3:30 a.m., after receiving a summons for a court appearance in December.
"Looks like I'm going to have to stick around for the revolution, jeez," he said. "I was joking with the cops, I was like, 'Now you realize we have to stay out here, there's no leaving now.' Works out fine with me."
PHOTO GALLERY
Occupy protests
Calling all HuffPost superfans!
Sign up for membership to become a founding member and help shape HuffPost's next chapter
BEFORE YOU GO