 The Occupy Wall Street movement captured public attention while speaking for the so-called 99 percent, but those who actively participated were drawn from a much narrower, more elite slice of American society, according to a new survey.
Those who described themselves as "actively involved" in the Occupy movement were overwhelmingly white, highly educated and employed, according to a new report from the Joseph F. Murphy Institute for Worker Education and Labor Studies at the City University of New York.
"When people are saying, 'Occupy Wall Street is a white, middle-class thing,' I can't really fight them because it's not true, but then, it's not necessarily false either," Michele Crentsil, a 23-year-old African-American Occupy participant said in the report.
The report surveyed the participants at a joint Occupy-labor movement May Day rally in New York City and found that two-thirds of those who described themselves as "actively involved" in Occupy Wall Street were white, while 80 percent had a bachelor's degree or higher.
Those demographics aren't representative of New York City as a whole. Only one-third of New York City residents are white, according to the report, and about 34 percent have a bachelor's degree or higher.
"It confirmed our sense that the people who were doing the occupations were doing it out of self-interest as much as out of a kind of general political awareness," Penny Lewis, an assistant professor at the Murphy Institute and co-author of the report, told The Huffington Post.
Many of these activists claiming to represent the 99 percent were drawn to the Occupy movement after the financial crisis left them underemployed and burdened with student loan debt. The survey found that while 80 percent of respondents said they had a job, about one-third said their employment was "precarious," Lewis said. More than half of respondents under 30 were carrying over $1,000 in student debt, the report found.
"People who are entering the middle class or coming out of the middle class, and looking to college to put themselves forward, are actually graduating with excessive amounts debt," Lewis said.
Lewis noted that since the survey was taken at a rally with labor protesters, the sample likely skewed more towards long-term activists and educational professionals than the Occupy gatherings in Zuccotti Park. Still, actively-involved protesters who the researchers interviewed for the report said the perception of Occupy as a largely white, middle-class movement wasn't entirely wrong.
The group's demographics also dictated in part the issues on which the movement chose to focus. Only 5.4 percent of actively involved participants said they joined Occupy Wall Street to deal with racism or race-related issues, while 19 percent cited student debt and access to education, according to the report.
Occupy Wall Street's largely white, highly-educated makeup also affected the way the movement was organized, the report said. The presence of many homeless people in Zuccotti Park and at the movement's General Assembly (GA) gatherings presented "daunting" organizational challenges to the group, the report said. And though the movement had no official leaders, those who represented Occupy Wall Street in the public sphere were often white, male and highly educated, one protester interviewed for the report noted.
"We ended up recreating a lot of racist, sexist, classist structures," Crentsil wrote in the report. "The people who you would see on TV or as the quote-unquote 'leaders' who are either facilitating the GA or being front and center in any other way shape or form were often white, male and highly educated."
But Occupy Wall Street still took a nontraditional approach to activism, Lewis said. Forty percent of those actively involved in the movement were under 30, and they applied the same "get-your-hands-dirty" millennial attitude they used in brewing their own beer or growing their own food to their political activism.
"There's been for years this kind of focus within millennial culture towards this do-it-yourself world," Lewis said. "What to me is amazing is to see that same kind of ethos of direct action oriented in a political direction."
Related
Before You Go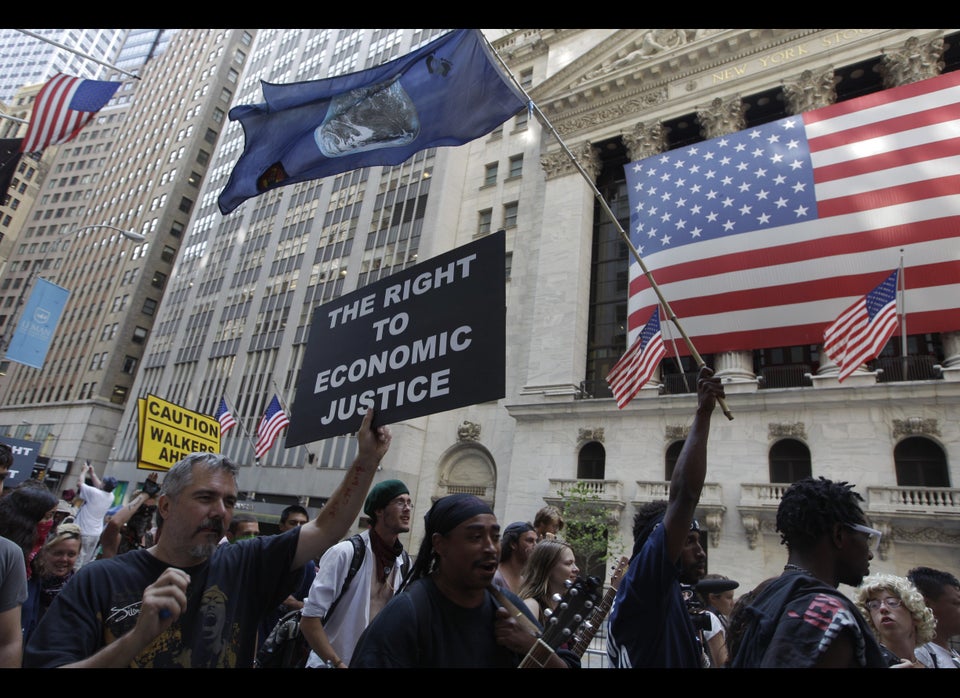 7 Issues Highlighted By Occupy Wall Street
Popular in the Community