NEW YORK -- Occupy Wall Street was back -- if only for a day.
Hundreds and then thousands of protesters took to New York City's streets on Tuesday to mark the second anniversary of the original Occupy Wall Street encampment in Zuccotti Park and renew their cry against financial greed. The day began with a march in Lower Manhattan and ended with another in Midtown, interrupted between by the arrest of a New York state senator and AIDS activists.
"It's sort of like a rallying call, a little bit of a reminder," said Shane Sheehy, an artist who took part in Occupy in its early days as a student, as he held a sign protesting government surveillance. "You see something like this, it definitely is revitalized."
The protest was staid for Occupy Wall Street, but started early, as several hundred demonstrators paraded near Wall Street in the morning. By afternoon, they had marched to Washington Square Park in Greenwich Village.
Protesters held signs against the proposed Trans-Pacific Partnership free trade deal and repeated calls for Wall Street speculators to face criminal charges in the 2008 global financial meltdown.
The New York Police Department, which frequently scuffled with Occupy during the movement's heyday, was out in force. Mounted officers patrolled Wall Street itself, barricades surrounded Zuccotti Park and protesters reported several arrests. The NYPD did not immediately have a number available.
Although some may have moved on from the original Occupy encampment, whose participants were evicted by the police in November 2011, the group's message remains necessary, Sheehy said.
"Obviously the problems haven't been addressed," Sheehy said. "There's still simmering anger."
Sixteen demonstrators, including Democratic New York State Sen. Brad Hoylman, took part in a planned arrest on Second Avenue near the United Nations Headquarters during an evening protest. They called on the U.N. during the opening of its 2013 General Assembly to support a so-called "Robin Hood tax," a small fee on financial transactions, to raise money for HIV/AIDS treatment.
"The hospitals are closing -- the hospitals that serve the poor," said a marcher who gave her name as Vivian after the arrests. The woman, a member of the New York State Nurses Association, she said she did not consider herself a member of the Occupy movement, but said they had a "noble cause," pointing to the potential closure of the Long Island College Hospital in Brooklyn.
"The corporations are taking over the hospitals," she said. "I've never seen it like this."
Before You Go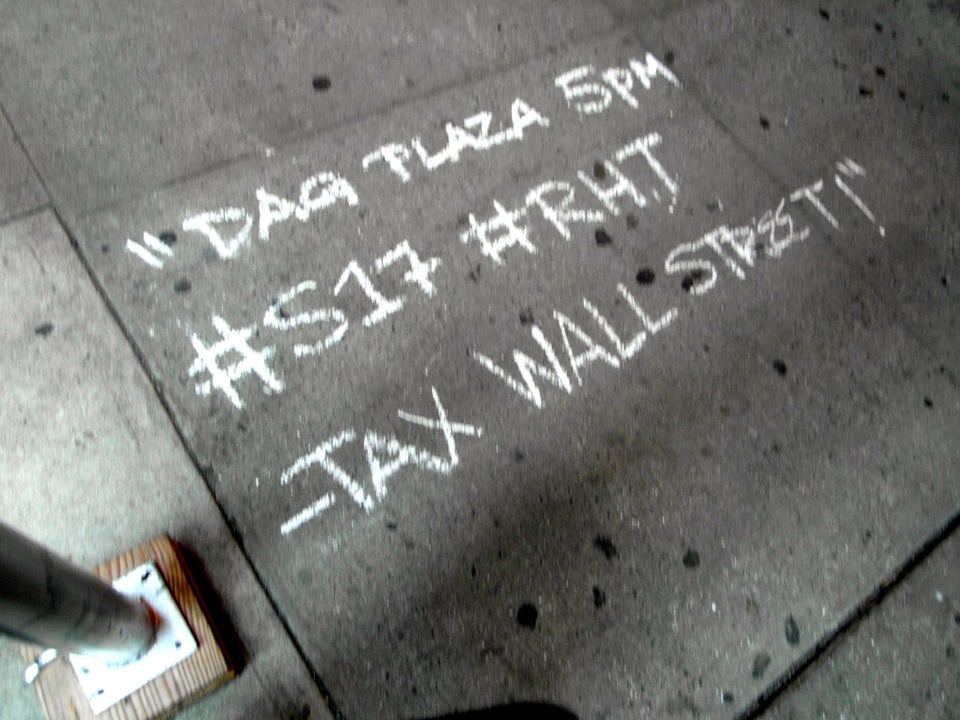 Occupy Wall Street Second Anniversary Protests
Popular in the Community