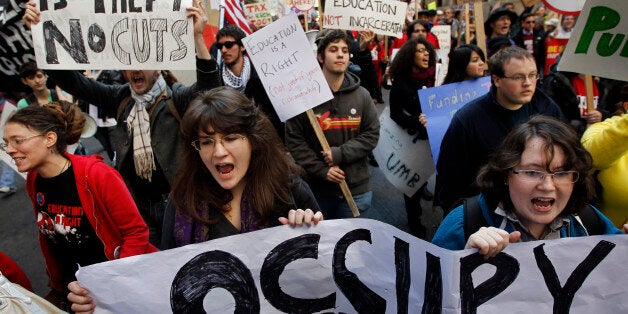 Some 40 million Americans collectively owe nearly $1.3 trillion on their student loans. On Wednesday, a small group of volunteers announced they helped reduce unpaid student bills by a smidgen, thanks to public donations and a desire to help Americans live debt-free.
Strike Debt, a group of anti-debt activists born out of the Occupy Wall Street movement, said it purchased $3.9 million in delinquent private student debt and immediately canceled it.
The debt, which came in the form of unpaid tuition receivables from Everest College, a for-profit school operated by the Corinthian Colleges chain, was purchased in May for about $107,000, the group said. The purchase was funded entirely by donations.
The Rolling Jubilee Fund, a nonprofit formed by Strike Debt with the sole purpose of buying and abolishing debt, canceled an average of nearly $1,400 in debt held by more than 2,700 students. About 99 percent of the unpaid bills were from last year and 2012.
With concerns mounting that student debt risks reducing home purchases, retirement savings and small business formation, officials at the Treasury Department, the nation's biggest banks and the Federal Reserve are trying to find ways to help Americans manage their student debt burdens before it holds back U.S. economic growth.
Senate Democrats reckon that by helping Americans refinance their expensive loans, the savings will translate into added spending. The White House and some Republicans hope that by expanding the number of Americans making payments based on their monthly earnings, households will be better able to manage finances before they're swamped with student loan bills.
Strike Debt is taking a different approach. "Our long term goal is to end student debt, along with other forms of predatory lending. Access to vital common goods, like education and health care, must be available for free, as they are in almost every other wealthy country. To achieve this goal, debtors need to be able to organize together and use their debts as leverage."
The group launched in November 2012 with a modest goal of raising $50,000 to extinguish $1 million in debt, said Thomas Gokey, an organizer at the Rolling Jubilee Fund. It has since raised more than $701,000 and abolished nearly $19 million in unpaid debts, according to figures on the group's website. It stopped raising new money at the end of last year.
The fund has purchased five portfolios of debt since November 2012. Prior to its May purchase, which it announced on Wednesday, the previous four were of unpaid medical bills.
In the coming months, the group hopes to announce at least two more purchases of delinquent debt that it will promptly abolish, Gokey said.
Strike Debt targeted Everest because it's owned by Corinthian Colleges, a publicly-traded operator of for-profit schools such as WyoTech and Heald colleges.
For the past few years, Corinthian has been under investigation by the U.S. Department of Justice, Education Department, numerous state attorneys general and the U.S. Consumer Financial Protection Bureau, the company has told investors.
On Tuesday, the consumer bureau sued Corinthian for allegedly misleading students into taking out unaffordable loans by falsely advertising job prospects, and using illegal debt collection tactics to force distressed students to make good on their payments.
Corinthian said it "strongly disputes" the consumer bureau's allegations. The company, after being forced to wait to access federal student loan dollars as a result of an information-sharing dispute with the Education Department, is selling off and shutting down its nearly 100 U.S. campuses under an agreement with the Education Department that was prompted by fears Corinthian's schools would abruptly shut down and leave students in the lurch.
The Education Department is allowing the school to continue enrolling new students. Unlike the consumer bureau, the department is not publicly warning former, current or potential new students about its concerns regarding Corinthian's schools.
"We bought debt from this school in order to focus public attention on the grim consequences of allowing higher education to be used as a vehicle for private profit," Strike Debt said in a statement. "The students at this college were conned. The schools are now being closed or sold off to other predatory companies, leaving students with no good options."
About 90 percent of unpaid student loans are owed to the U.S. government. Corinthian Colleges students whose campuses are shut down can petition the Education Department to forgive federal student loans they took out to attend their closed schools. The rest will be forced to pay it all back.
"The Department of Education is not doing its job to protect the students. In the short term, we intend to help Corinthian College students pursue a complete cancellation of all their debts," Strike Debt said.
As part of its lawsuit against Corinthian, the consumer bureau is seeking more than $500 million, which would be used to cancel existing private student loans and repay borrowers who had been making payments.
According to Richard Cordray, the CFPB's director, most students who attend Corinthian's schools come from what he described as disadvantaged backgrounds. Many are the first in their families to go to college, Cordray said, and most students lived in households with very low incomes.
In a sample letter Strike Debt said it sent to the roughly 2,700 borrowers whose student loans it canceled, the group said, "Everest College is committing widespread fraud. It targets lower-income students and students of color, offers low quality education, and -- with the help of the federal government -- buries students under a lifetime of crushing debt, all to profit the 1%."
Borrowers who received the group's letter were told that their specific debts were extinguished, "a gift with no strings attached."
CORRECTION: This article incorrectly stated that Strike Debt plans to announce at least two more purchases of delinquent student debt in the coming months. The group intends to purchase other forms of debt.
Popular in the Community