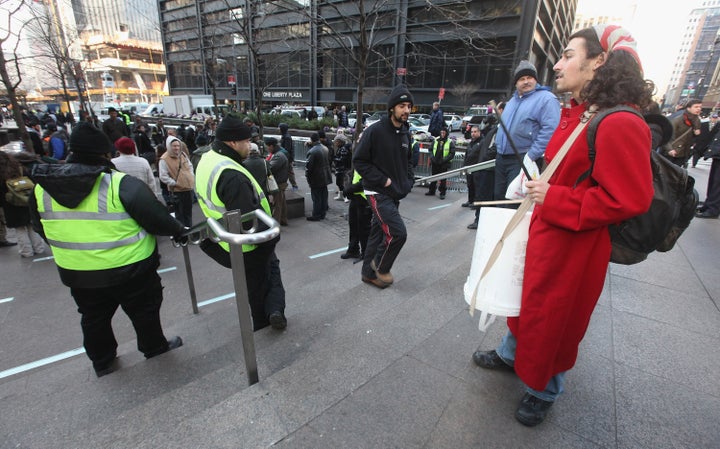 The removal of the barricades around Zuccotti Park could've just been the result of good legal work by civil liberties lawyers.
Or maybe something else was going on here as well.
Mayor Bloomberg on October 7, 2011 expressed concern that the Occupy Wall Street protests will deter tourism. He was eager to pass the 50-million-tourist mark in 2011.
Protests like the demonstrations in London would certainly not have been good for New York City. But tour operators have found that tourists want to see the OWS camp. They want to walk around and take pictures. In the words of a tourist in the following three-minute video by Columbia Journalism student Judy Le, they want to be "part of history in the making."
The Mayor likes to look at the facts, and two weeks after his original distress about the impact on tourism he
that OWS might be a tourist attraction.
Tourist job numbers are now in through November and the industry tourism did fine during the two-month OWS encampment. The November 2011 increase for New York City in leisure-and-hospitality-services employment was close to 13,000 jobs above the year before, and that was nearly twice the corresponding increase in 2010. The percentage increase is 3.7 percent, an excellent number.
OWS can't take all the credit for the good news. The Mayor has been an active promoter of tourism. But OWS doesn't seem to have hurt.
Has the mayor decided to look more favorably on OWS now that it has been market-tested as good for New York City?

REAL LIFE. REAL NEWS. REAL VOICES.
Help us tell more of the stories that matter from voices that too often remain unheard.