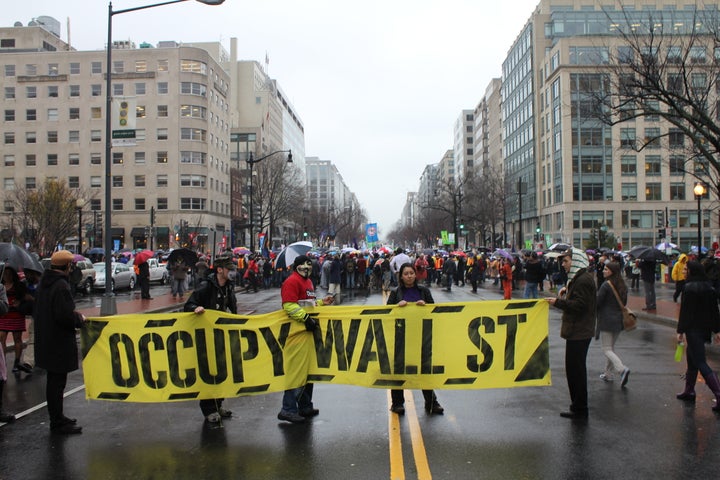 WASHINGTON -- During a recent demonstration in Washington, D.C., several hundred progressives gathered on K Street were protesting the same outrage but had heated arguments over how to protest.
Their differences were emblematic of a key conflict facing Occupy Wall Street today. In its short three-month existence, the Occupy movement has received support and participation from prominent progressives, civil rights leaders, labor unions and other activists, perhaps more than the original protesters expected. But shared goals don't necessarily mean shared methods. The very independent Occupiers are now struggling to figure out how to work fruitfully with more established groups.
On Dec. 8, a day that saw more than 70 arrests of protesters in the nation's capital, two groups -- one led by Occupy DC, the other by labor unions -- demonstrated against the same target: high-dollar lobbyists. As several hundred protesters organized by the Service Employees International Union and OurDC marched down K Street, some self-appointed "safety officials" tried to keep the group within one or two lanes of traffic. When a few hundred Occupy DC protesters met up with them, the Occupy group quickly expressed opposition to the idea that they shouldn't take up the entire street.
Occupy DC has consistently chosen to march in the street, with or without police blocking traffic, often walking directly against traffic and between cars. On that day, Occupy protesters decided to advance ahead of the mainly SEIU protesters and ended up shutting down several intersections on K Street, leading to a standoff with police for a few hours. At one point, the SEIU-lead group walked past and on to the White House and the Capitol. Occupiers tried to get the other marchers to stay and hold K Street with them, and a few arguments broke out.
Rob Fisher, an Occupy LA protester who had come to Washington on a bus with the SEIU, said there wasn't a problem between the two factions, just a disagreement over tactics.
"We've all come to the realization that Occupy is a progressive movement that is seen as radical," Fisher said. "These unions aren't radical. And they're much more controlled and much more dictated to."
The next day at the tent city set up for Take Back the Capitol events on the National Mall, a teach-in was held to explain what Occupy Wall Street is all about to the non-Occupy protesters. People from Occupy sites in D.C., Los Angeles, Boston, Philadelphia and a few other locations met with organizers of Take Back the Capitol that week to discuss how the Occupy movement and labor unions could help each other.
Since the start of Occupy Wall Street, progressive groups and unions have embraced the protesters. At the Conference for America's Future in early October, union leaders such as Richard Trumka, head of the AFL-CIO, and Van Jones, who is now leading the Rebuild the American Dream coalition, boasted about the momentum that Occupy Wall Street had. The crowd applauded wildly in approval.
DC Vote, Catholics United and National Nurses United regularly participate with Occupy DC on events. OurDC and Occupy DC have also worked together on a number of protests. In New York City, Mary Kay Henry, president of the SEIU, was arrested while participating in Nov. 17 demonstrations with Occupy Wall Street.
Although OurDC helped organize the Key Bridge demonstration on Nov. 17 with the American Dream coalition, media attention focused on the presence of Occupy protesters. James Adams of OurDC said he doesn't mind who gets credit for the demonstrations.
"There is a flood of frustration that you see in the District and across this country, and it's like a river cutting its way," Adams said. "Anyone who wants to join is welcome."
Michael Premo took part in planning meetings prior to the Sept. 17 birth of Occupy Wall Street. Before that, he worked with Organizing for Occupation, a group that strives to highlight the housing crisis. Organizing for Occupation and other groups joined Occupy Wall Street in taking over foreclosed homes on Dec. 6.
Premo said that progressives who had been targeting the same institutions at which Occupy Wall Street now aims have found a natural ally. And early on, they began seeking meetings with Occupy organizers to figure out how they could interact. For their part, said Premo, Occupy participants are pushing the older groups to move from traditional coalition building to movement work.
There's a lot of excitement, said Premo. "Now that they know the political and social space has been created by Occupy for these 'radical' actions, they see the value and the transformative potential of the actions."
Mike Rodriguez, a 28-year-old from California who participates in Occupy DC, has been involved in various left-wing protests for the past decade. He said he doesn't see any need to worry about the Occupy movement being co-opted because the movement has taken new and different approaches.
For example, said Rodriguez, "the action the other night with the barn raising seems so out of left field for people to understand -- even I have trouble understanding -- that it almost seems way too theatrical to be considered status quo." He was referring to the temporary construction of a barn-like structure at McPherson Square on Dec. 4.
Fisher argued that major change will only come if Occupy and labor unions work together, but he also believes that unions must be more than Democratic Party enforcers. They need to be "a protector and enforcer for the people," he said.
"We will unify on our actions," Fisher added. "Our desires are the same. It's just the way to go about it is just two different ways."

Related
Popular in the Community