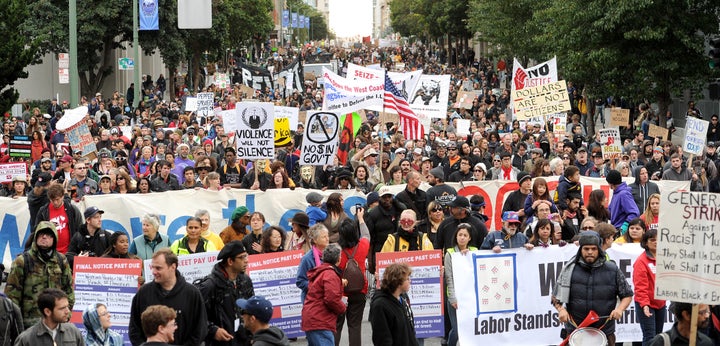 For those who assumed the Occupy movement had fizzled out in San Francisco, think again.
This Friday, Occupy Wall Street West -- a continuation of Occupy San Francisco -- plans to march through San Francisco's Financial District. According to a the group, more than 55 organizations, including the San Francisco Labor Council, Code Pink, Iraq Veterans Against the War and the Rainforest Action Network, will support Friday's march and attendance is expected to reach into the thousands.
(Scroll down for livestream video of protest)
Last Fall, Occupy San Francisco and Occupy Oakland gained national attention when police clashed violently with protesters, raising questions about police brutality. Public support for the movement has wavered in recent months, but activists hope Friday's event will invigorate its spirit.
"Friday's march is expected to be the largest Occupy Wall Street march that San Francisco has seen yet," said Occupy Wall Street West group member Stardust. According to Stardust, the movement has not gone away but has been gathering momentum.
"If you have a centrally organized structure that is pounded, it takes a while to recover," he told The Huffington Post. "Police and politicians targeted the tent camps. But if they were trying to shut down Occupy Wall Street, they severely miscalculated. Now the movement has moved from out of the camps and into society."
Since the dismantling of its various tent camps, Occupy Wall Street West has focused on community outreach with food drives, neighborhood meetings, bank shutdowns and a committee to help those in need find affordable housing. "We've been working with community groups, neighborhoods and universities," he said. "The core group has remained but now we're reaching more and more of the 99 percent."
Friday's events are timed to begin with the opening of the stock market and will include a demonstration at the Ninth District of Appeals in San Francisco, a march on the banks, speakers, a flash mob and a street party at Justin Herman Plaza.
Related
Popular in the Community