 Students from colleges and high schools around the country gathered Thursday for protests and rallies called the National Day of Action for Education.
(CLICK HERE FOR LIVE UPDATES)

Two groups associated with the Occupy movement –- Occupy Colleges and Occupy Education -– organized the event, along with a group called the New York Student Aid Alliance.

Natalia Abrams, an organizer with Occupy Colleges, said that more than 70 schools pledged through the Occupy Colleges website to send at least 100 students each to the rallies, with some schools pledging hundreds more. She estimated turnout to be in the "mid to high thousands."

The event is the second in two days that has drawn attention to what might be described as a second wave of the Occupy movement.

Call it Occupy 2.0. After evictions ended the movement's camping phase a few months ago, the occupation went into hibernation. Activists regrouped and got more organized, focusing on specific issues. Wednesday's march targeted the American Legislative Exchange Council, an organization that promotes policies intended to benefit corporations. Thursday's took aim at the high cost of education.

Compared with the novel spectacle of tent cities that rallied protesters and the media five months ago, this week's events haven't received much attention. Without people camping in public places, the movement isn't quite as conducive to photo ops and headlines. But if it has come to resemble a more traditional protest movement, many Occupy activists say that's a good thing.

Daniel Jones, a sophomore at New York University with years of experience in activism, said that when the movement started he was "really, really critical."

"There was a real lack of strategy and analysis and in a lot of ways the occupations were alienating huge sections of the working class," he said.

He got involved after the camps were evicted and helped organize today's protests at NYU, crediting his conversion to the fact that elements of the movement have grown more focused and strategic in recent months, partly by reaching out to neighborhood-based organizing groups. For example, in an effort to get NYU to divest its pension fund from J.P. Morgan Chase, which had more money in foreclosed homes as of 2010 than any other U.S. bank, Occupy activists on the NYU campus have been working to build relationships with off-campus organizing groups not otherwise tied to the Occupy movement.

These days, said Jones, the movement isn't just about "going out there and saying inequality is bad. Now we're organizing, which means thinking about, well, where does that inequality come from? What is it we're up against? What are the sources of their power? How do we start addressing it? Those weren't conversations that were happening a month ago."

Much of that organizing is taking place on the phone. A group called InterOccupy has set up a website where people from Occupy nodes around the country can connect to each other through something called Maestro, an online program that allows hundreds of people to talk on the phone at the same time. (An all-important mute feature helps prevent the calls from descending into cacophony.)

"There are all of these conference calls going on constantly," said Todd Gitlin, a former president of Students for a Democratic Society and a scholar of social movements at Columbia University whose book about the Occupy movement, "Occupy Nation," is due in April.

"So much of this is going on, I don't know how to judge which of those discussions are fruitful or not," he said. "But they're efforts to think creatively and collectively and that's important."

Both Thursday's and Wednesday's protests were planned and coordinated through the InterOccupy phone system. At NYU today, students marched outside of five locations chosen because they seemed to exemplify what Jones described as "ways that NYU behaves like a corporation." They included a campus-based franchise of Chick-fil-A, a company that has attracted criticism for donating money to groups that oppose gay marriage, among them Focus On The Family and the Family Research Council.

At the University of North Carolina, students and faculty put on skits and took part in "teach-ins." And at the University of Rhode Island, protestors set up tiny fabric tents around the campus, making it look as though the school had been occupied by Lilliputians.

Occupy Colleges started in early October with a student walkout that attracted more than 8,000 participants around the country, according to the organizers. After a pepper-spraying incident at University of California, Davis made headlines in November, the group coordinated solidarity protests at 70 schools around the country. It also encouraged students to set up Occupy camps on their campuses, and many heeded the call. But by early January, most of the tents were down.

Now the campus groups "function more as clubs, where they meet a couple times a week and join us for their conference calls," said Abrams, the Occupy Colleges organizer. Abrams considers herself a "facilitator," not a leader, evoking the consensus-based, horizontal structure that has been an integral part of the Occupy movement since the beginning. Students involved with Occupy Colleges make all their decisions by consensus, she said, just as the protesters in Zuccotti Park did in the fall.

Asked to explain the motives for today's events, Abrams rattled off a list of gloomy statistics. The average student debt is $24,000, under-employment among college graduates is 24 percent, and the cost of a college education has gone up by 66 percent in the last 20 years. (And yes, that last figure has been adjusted for inflation.)

People often ask how colleges can bring down those costs, said Abrams. "Administrators and college presidents make a lot of money," she noted.

Abrams, who is 32, said the high cost of education kept her from enrolling in a full-time college until she was 28. She graduated from UCLA in 2009, and now works part time selling wallpaper at her husband's family business. "Not everybody wakes up and says I want to be a wallpaper salesman," she said, "but a job is a job and in this economy I was grateful to have one."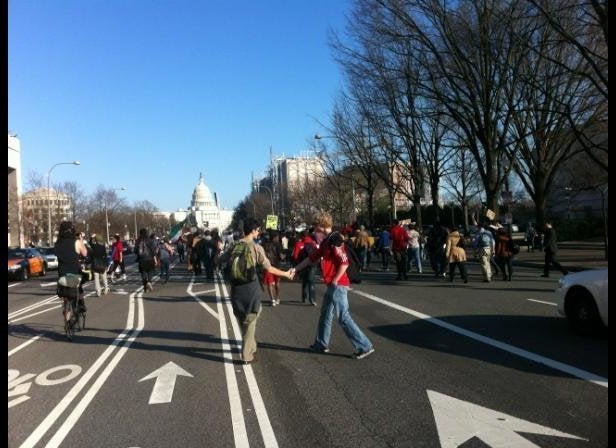 Occupy Colleges Protest
Popular in the Community