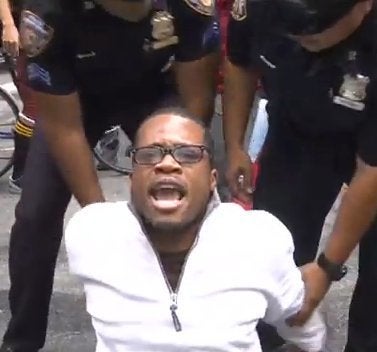 Celebrities, public intellectuals and political figures are coming out of the woodworks to show support of the #OccupyWallStreet protesters, entering their twelfth day of demonstrations in Zucotti Park downtown.
Monday night, Michael Moore stopped by and addressed the crowd and Tuesday morning, Susan Sarandon told protesters they needed to make "their message clear."
Noam Chomsky wrote a letter of support and hip-hop star Lupe Fiasco, who's already visited protesters, donated tents and written them a poem, has been tweeting his support. Yesterday he wrote, "alright #NYPD it was a tough decision but were putting the free donuts and coffee on time out until you play nice!!! #WeAreThe99."
Brooklyn City Councilman Charles Barron of East New York showed up to Tuesday morning's General Assembly. He told The Christian Post, "We are up against a monster, we are up against a strong enemy and that is capitalism, greed, and prioritizing that greed over the need of the vulnerable people in this society."
And finally, prominent Princeton professor Dr. Cornel West (who could be seen throughout the day carrying a sign that read "If only the war on poverty were a real war, then we would actually be putting money into it") spoke to protesters Tuesday night and told them "There is a sweet spirit in this place. I hope you can feel the love and inspiration."
(Note the "People's Microphone" tactic employed by protesters. Without a license to use megaphones, the crowd has adopted the effective, albeit grating, method of repeating every phrase uttered by speakers so that everyone can hear.)
Also Tuesdsay, #OccupyWallStreet wasn't the only protest downtown. According to the International Business Times, "more than 700 Continental and United Continental pilots took to Wall Street to protest slow contract negotiations and misinformation regarding merger integration." They marched quietly, in their uniforms.
Postal workers also demonstrated nearby to protest massive cuts to the USPS. Some Occupy Wall Street protesters tried to join the mailmen, but for most part the groups remained separate.
And meanwhile, there's a debate as to whether the claims made by protester Robert Stephens during a dramatic display of anger outside a downtown bank Saturday (which got him arrested) were valid.
Stephens can be seen in a viral video dropping to his knees in the middle of the street and pointing at a Chase Bank, while repeatedly screaming "That's the bank that took my family's home!"
Glenn Beck's website The Blaze claims to have contacted Stephen's mother who says their home was not being foreclosed. Rather, Stephens' parents were selling their house in a "short sale" due to a "reduction in income." Beck and others see Stephens' Wall Street theatrics as left-wing propoganda. Gothamist is more sympathetic, and notes "that a short sale can be an alternative to foreclosure, and that some large banks are taking illegal cash payments from short sales. Exactly the sort of behavior that would make you want to knee in the street in protest."
The protests, which started with lackluster media coverage, have been garnering all kinds of attention this week. Celebrity appearances helped for sure, as did dramatic YouTube videos, notably this one of the female protesters being penned and pepper-spryaed by an NYPD officer. Police commissioner Ray Kelly says internal affairs will investigate the pepper-spray incident.
But the protesters, for their part (however vague their demands may be) have been furiously tweeting, blogging, and spreading the latest from Zucotti Park. As The New York Observer's Adrienne Jeffries observed when he spent the night with protesters Monday, "the 'media tent', which on Saturday had consisted of a MacBook and an umbrella, now looked like an amateur version of the CNN newsroom."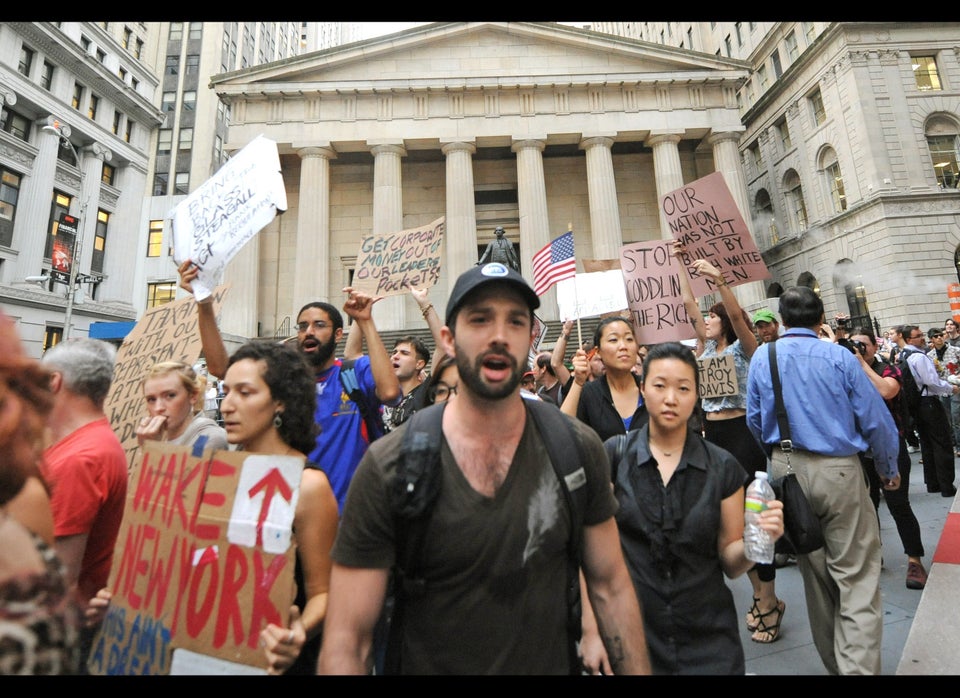 Popular in the Community