 WASHINGTON -- Members of Occupy Washington DC, the protest group that has been camped out in Freedom Plaza since Oct. 6, are calling for President Obama and Congress to establish a "National Peace Memorial."
The nation's capital already has a peace-oriented monument, a neoclassical sculpture at the foot of Capitol Hill that dates to the 1870s
The protesters intend to present a petition to President Obama and Congress asking that the memorial consist of Picciotto's handmade tent and signs, and other protest accoutrements, according to a media release:
The purpose of the petition is to protect the site and all materials and structures currently used in connection with the vigil and honor the tremendous commitment and sacrifice of everyone who has worked for peace. Acceptance of this petition would ensure that the site remains a permanent place for peaceful vigil and mediation.
Occupy Washington DC's connection with Picciotto goes beyond a shared skepticism about elected leaders, a common aversion to war and a determination to maintain a permanent protest on federal land.
After Hallenback's death, his widow Ellen Benjamin inherited the house. Benjamin and Picciotto reportedly had a tense relationship.
According to Kelly's Peace House story, Picciotto says Benjamin hated her because she took care of Hallenback, while Benjamin only wanted Hallenback's money; Picciotto, meanwhile, went around saying Benjamin was a cop. Kelly reported that Benjamin was going to sell Peace House, and that Picciotto had unhappily agreed to leave the house by mid-November. Picciotto told Kelly that she felt "very much abused" in having to leave Peace House.
But in early January, Occupy Washington DC announced that "approximately a dozen occupiers" were moving into Peace House. Picciotto would be able to keep using the house as well, to support the Lafayette Square protest that the demonstrators today ask the President and Congress to permanently enshrine:
The creators of the Peace House, William Thomas and his wife Ellen Thomas, maintained and supported a 24 hour a day, 365 days a year, 30 year protest of nuclear war on the north side of the White House. The disarmament vigil, founded on June 3, 1981, is courageously maintained by Concepcion Picciotto who joined Thomas a month after it began. Picciotto will continue to use the Peace House when she takes breaks with Freedom Plaza occupiers filling in to continue the vigil.
Kevin Zeese, an organizer of Occupy Washington DC, told The Huffington Post by email that Benjamin still owns the Peace House. "We have a 6 month lease option," he said. "But need to find an investor or two to buy it."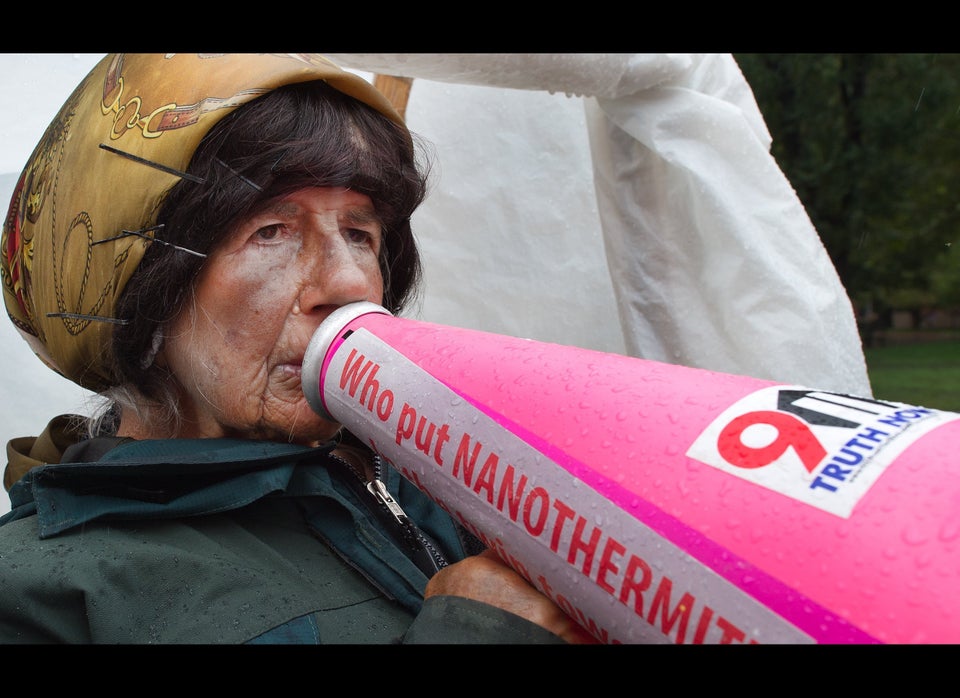 RELATED VIDEO: A 2010 Russia Today segment on D.C.'s long-term protesters, including Concepcion Picciotto.