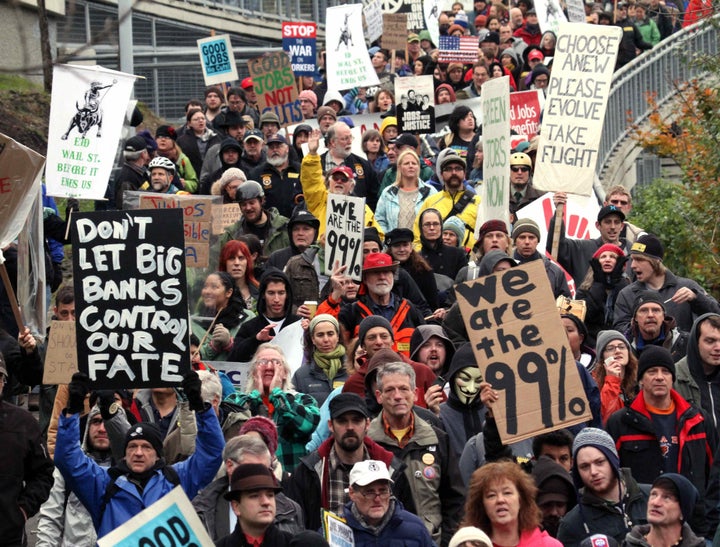 UPDATED: Monday, November 21, 2011. 5:45 p.m.
As the message of the 'Occupy' movement grows stronger, a handful of cities are looking to nail down some sure staying power.
With an influx of donations for supplies and a desire to use funds to help the greater movement, a number of movements are seeking nonprofit status.
Occupy Las Vegas is well on its way, currently listed by the Nevada Secretary of State as the nonprofit corporation Opportunities Las Vegas. Its status as a 501(c)(3) is pending, though they expect it to be established sometime this week, Robert Kern, a lawyer and protester with Occupy Las Vegas, told the The Huffington Post.
Occupy Denver, a group considering nonprofit application, is seeking self-sufficiency and a better allocation of money.
"The treasury committee is looking to start a co-op and/or a 501(c)(3), and they're going to do things to make sure that we are self-sufficient and sustainable regarding all of our donations," Patricia Hughes, camp medic and volunteer, told Denver Westwood. "We would prefer not to have to rely on outside entities, and a tax exempt status would definitely help."
Beyond oversight in managing funds, nonprofit status would also facilitate collaboration with local organizations.
"We're entirely in support of local business," Angela Johnson, a member of Occupy Wilmington's financial workgroup, told the Greater Wilmington Business Journal "The biggest message we want to send is a lot of small- and medium-sized business members are among our ranks."
Occupy Wilmington has already set up a toy and clothing drive, and plans to offer job skill training for the community, according to the release.
But filing for nonprofit status has gotten messy within some movements. Members of Occupy Portland filed articles for incorporation with the secretary of the state's office, registering the group as a nonprofit called Occupy Portland, Inc., according to KATU.com .
Arlo Stone, one of Portland's occupiers, told Willamette Week that the money issue -- which leaves the movement essentially broke -- "underscores the camp's dysfunction" as it tries to operate without steady leadership or resources.
No "Occupy" group has reached nonprofit status yet, and it could be weeks or months before Wilmington reaches that status.
Calling all HuffPost superfans!
Sign up for membership to become a founding member and help shape HuffPost's next chapter