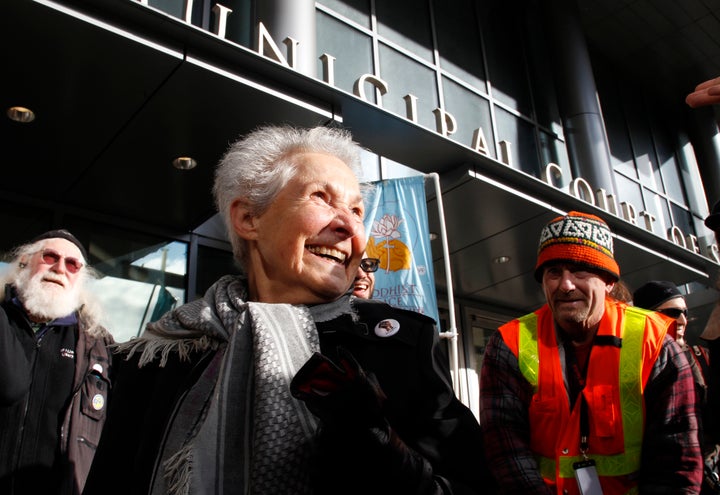 International Women's Day was celebrated in Seattle with an entire day of events on March 10. Activities organized across the city included a conference on women's issues, a public rally, grassroots teach-ins and several music concerts.
Occupy movement participants gathered with other folks from around the community at Westlake Park around 11 a.m. This event was organized by the Occupy Seattle Gender Equality Caucus. A long list of speakers at the park addressed the crowd on a wide range of subjects including reproductive rights, sexual abuse, transgender issues and media stereotypes. Despite the persistant rain, spirits were high among the activists and their supporters. However, many of the speeches included angry criticisms directed at both Rush Limbaugh and the advertisers on his national radio program.

Occupy Seattle member Dorli Rainy told some of the folks at Westlake Park that Limbaugh's sexist remarks should be a warning to all Americans that, "we still have a long way to go" before gender equality is established in the United States.
But during her speech, Rainy kept promoting hope and optimism in spite of the continued oppression of women.
"All over the world the streets are filled with people today - In Syria, Sri Lanka, Berlin, and Spain - all demonstrating for equal rights for women. We are not a minority - we are the majority! But we have to keep working to secure our rights."
Over loud cheers, Rainy explained, "This struggle has a long history. The movement to secure rights for women in the US first began over 164 years ago. How many of you realize that we still do not have an Equal Rights Amendment to the US Constitution? I'd like to know how a country can call itself a 'democracy' without providing equal rights for women?"
The rally and speak-out at Westlake Park continued into the evening. At 6 p.m. a group of hip hop musicians took the stage for a dance party.
Meanwhile, in South Seattle, the International Women's Day conference was held at Freeway Hall. Speakers included Margo St. James, founder of COYOTE, the first prostitutes rights organization in the US. Patricia Anne Davis from the Choctaw-Navajo nations discussed gender relations from an indigenous point of view, and María Guillén Valdovinos from Decolonize/Occupy Seattle gave a presentation about immigration detention centers. Radical Women organizer Gina Petry addressed the conference on how current government budget cuts disproportionally affect women.
The International Women's Day events in Seattle may have been dedicated to women's issues, but participation was certainly not exclusive. A message that was sent out by organizers from the women's conference stated,
"We encourage you to invite your friends and bring your sons, brothers, nephews, and husbands...that is of course if they were not already planning on joining us!"
A 19 year old community college student named Rodney said he was invited to the events at Westlake Park by his girlfriend.
"I'm here in solidarity with all of the mothers and sisters and daughters who are here today, and all of the women around the world." he said. "We should all remember that according to the most recent United Nations statistics, the majority of the earth's human population consists of non-white females who are under the age of 25. They are the future! This is their day, but more importantly - this is their world!"
Mark Taylor-Canfield is a Seattle musician, activist and independent writer. if you would like to contribute as a citizen journalist to The Huffington Post's coverage of political activities in your area, please contact us at www.offthebus.org.
Popular in the Community