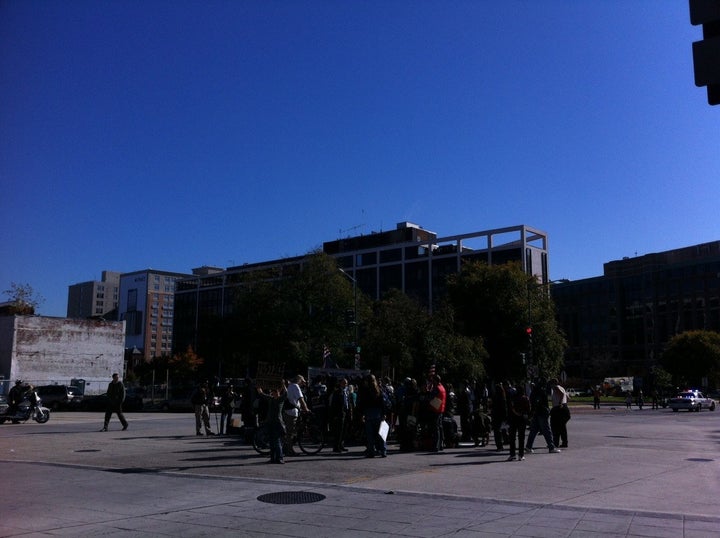 WASHINGTON -- Occupy DC protesters gathered at two intersections near the Walter E. Washington Convention Center on Monday where including one where four demonstrators were hit Friday night by a silver Lexus driven by a man identified in reports as Shawn Connolly Valentine.
At least two dozen people gathered to hear victims and eyewitnesses describe what they saw and experienced. Demonstrators expressed their belief that Valentine deliberately drove into them. The crowd first gathered on L Street NW between 7th and 9th streets before moving to the middle of the intersection at New York Avenue and 7th St. NW.
The Metropolitan Police Department announced on Friday that no charges would be filed, since the protesters were at fault. At the press event, demonstrators called for MPD to investigate.
The demonstrators stand accused of their own bad behavior at Friday night's protest. Some publications have fingered the Occupy DC protesters in pushing an elderly woman to the ground outside the convention center on Friday night. Andrew Breitbart reportedly told this woman that she is a martyr to the anti-Occupy cause, which seems to be gaining some traction online.
District of Columbia Mayor Vincent Gray issued a statement on Monday saying that he is "concerned about reports that recent actions by some individuals associated with Occupy D.C. have turned more aggressive. We will not tolerate behavior that jeopardizes public safety. I urge all involved in the Occupy D.C. demonstrations to show restraint and to ensure that their protests are peaceful and not discredited by violence."
Metropolitan Police Department Chief Cathy Lanier said on Monday that the Occupy DC protesters have become "increasingly confrontational and violent...[T]hat is no longer a peaceful protest." The Washington Post reports that Lanier said that Occupy DC protesters have become "confrontational and violent toward uninvolved bystanders and motorists" and "jeopardized the safety of their own children by using them in blockades."
Today we proved that there were two hit-and-runs by one driver against people protesting the big corporations that ruined our economy and corrupted our democracy. The statement by Chief Lanier was false and timed to distract from the fact that we proved today that statements given by police to the public about last Friday's two hit-and-run incidents have been consistently false.

There is no evidence to show that protesters directly caused any injuries to anyone. The injuries cited by police were perpetrated by others against peaceful Occupy DC protesters – making today's police statement all the more dishonest.

Besides the driver who sent four of our protesters to the hospital, the only additional case where the cause of injury is directly known involved a man from the conservative conference who pushed a woman over.
A video of one of the Friday night hit-and-run victims -- Occupy DC's own martyr, perhaps -- has been released. Occupy DC also released a video of the elderly woman who was pushed over during the demonstration on Friday night -- a video the demonstrators say decisively shows that the woman was pushed over by her companion, not by any member of Occupy DC. That video is below.
Popular in the Community