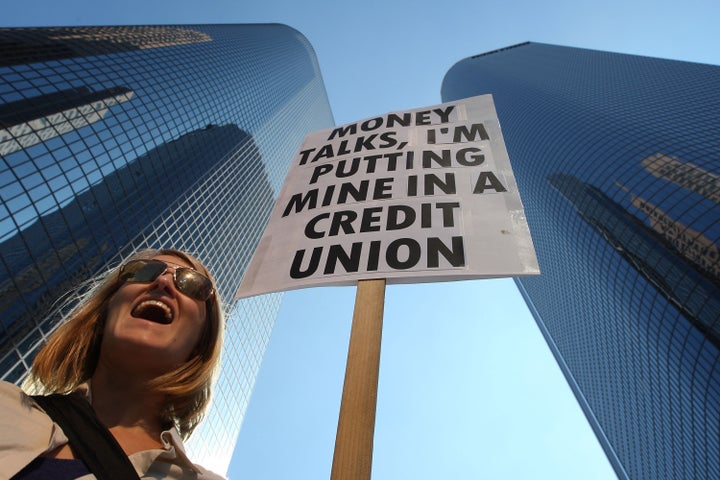 Occupy Denver staged a peaceful march with more than 1,000 protesters through downtown Denver on Saturday, a marked change from last weekend's violent clash with Denver police, The Denver Post reports. The protesters message was the same as their usual Saturday marches, but this weekend they also celebrated Bank Transfer Day and urged people to move their money from traditional banks into not-for-profit credit unions.
The Colorado Independent reports that the Bank Transfer Day has made an extraordinary impact already -- according to the Credit Union National Association, over 650,000 people have joined credit unions in the last four weeks. In Colorado, that amounts to 14,000 new accounts and over $100 million in new deposits.
Known as Bank Transfer Day, an independent Nov. 5 movement unaffiliated with, but embraced by the Occupy movements that encourages anyone who is fed up with bank fees to make the move to a credit union, has become popular with occupiers and consumers alike.
The frustration with big banks has reached new heights in the last several years, but most recently when Bank of America proposed a $5 fee in September -- an unpopular plan that they eventually dropped -- which only applied to bank customers with less than $20,000 in combined accounts. Fox31 spoke with Kristen Christian, the Los Angeles woman that founded Bank Transfer Day who said of the fee, "I definitely felt that this was targeting the impoverished and working class."
Christian spoke with journalist Ian Masters on his "Background Briefing" radio show over the weekend about the rapid and unexpected popularity of the bank transfer movement and encourages people to participate for the simple reason that "credit unions fail less than banks do so your money is safer with a credit union."
Listen to Christian's entire interview with Masters here.
Calling all HuffPost superfans!
Sign up for membership to become a founding member and help shape HuffPost's next chapter