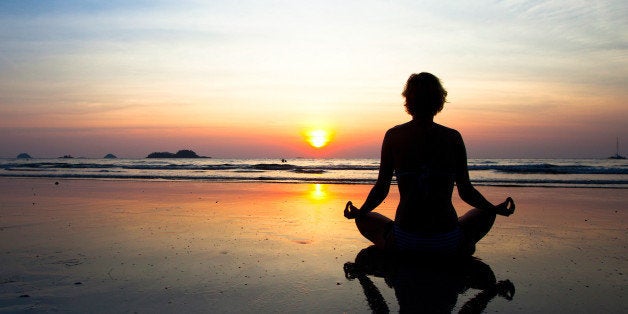 Dr. Jeffrey Schwartz applies Buddhist teachings to his work with obsessive-compulsive disorder (OCD), and bucks the mainstream belief that the brain is a static organ that dictates our actions. So it is no wonder that he is a controversial figure.
The amazing thing is that he has proven to be right, and has shown that mindfulness meditation can be effective at reducing the effects of OCD. In part, by utilizing what he calls "self-directed neuroplasticity." In other words, the idea is that we can use meditation to physically rewire our brains. A process I believe I have utilized myself to improve my outlook and health.
Steve Volk's new book OBSESSED: The Compulsions and Creations of Dr. Jeffrey Schwartz, is the first offering by Discovery magazine's Discovery In-Depth series. It is available via Kindle single on Amazon.
In the book, Volk examines Schwartz as a scientist and a person. He describes Schwartz as a "pariah among his academic peers," and "a man battling demons of his own." Schwartz is often combative, and has a tough time with personal relationships. However, Volk says Schwartz was very open and willing to let Volk spend a lot of time with him, which Volk says is rare in the scientific community. Volk believes Schwartz really just wants to be understood.
Despite his quirks, Schwartz has made substantial contributions to the understanding and treatment of OCD. Volk says his ideas used to be taken lightly, but "he helped produce this shift where now people take mindfulness very very seriously as an effective therapy."
I find his work fascinating because it relates to the existential question of who we are. As Volk explains it, some scientists believe "our whole selves and our choices are all dictated by physical processes in the brain, and a lot of people take this to mean we don't have any free will."
But what if we choose to be different, and in doing so change our brain physically? It sounds fantastic to be able to change the inner workings of our brains by thought alone, but it is now believed it happens, and it is called neuroplasticity. Volk explains, "Schwartz says his therapy, which involves shifting your attention in particular ways in regard to your illness, he says this shows we do have free will and we are not our brains."
Years ago I learned through studying meditation techniques, methods similar to what Schwartz teaches, and they have helped transform my life. Buddhists teach that in mindfulness mediation one can view their thoughts and self impartially. In doing so one can identify behaviors that are not helpful, and purposefully change the way they react to certain situations. In this way we can choose to alleviate our own suffering, which Buddhists believe we cause ourselves.
For instance, let's say you get flipped off on the highway on the way to work. That can be kind of frustrating. Some people are prone to get really upset, and then have a terrible morning. In mindful mediation one lets go of emotional static to reflect on oneself and the ways we cause our own suffering.
In reflecting upon why we had a bad morning and realizing it was because somebody flipped us off, we can see that it was our reaction to this event that caused the suffering for the rest of the morning. We can then choose to react differently. I have chosen to smile and wave at people who flip me off, and wish them a good day. I then leave the situation chuckling, while the flipper offer continues on their grouchy way.
This is us choosing to modify our behavior. It may be difficult at first, but as we continue to act out this new behavior, neuroplasticity is at work changing our neural pathways and making this reaction easier to accomplish. One thing I remind myself in these situations is that I cannot let another's dysfunction become my dysfunction. Just because their brain is wired to be a total jerk, doesn't mean I have to let mine be wired that way.
In using these methods to help OCD patients alleviate their symptoms, Volk says in his book, "what Schwartz had proven was that his patients could rewire their brains (and reinvent their lives) through sheer force of will, with thought alone."
Volk says he was inspired to write the book because he has also benefited from "self-directed neuroplasticity." Beyond that, Volk says, "I really enjoy being able to tell the story about this guy operating on sort of the fringes of things."
Related
Popular in the Community