On Saturday a team led by 24-year-old Boyan Slat will haul a 600-meter boom system from San Francisco out to the Great Pacific Garbage Patch to clean up marine plastic. The launch of this much-anticipated project from his organization, the Ocean Cleanup, marks the culmination of five years of research — surveying, prototyping, testing, redesigning and more testing — not to mention $31.5 million in funding.
"Hopefully in the next few months, we will be able to prove that it works by taking the first plastic out of the ocean to land. And of course, that will be a very historic moment," says Slat, who dreamed up the project when he was 18.
The Great Pacific Garbage Patch, which covers more than 600,000 square miles between California and Hawaii, contains roughly a third of the plastic debris floating in the oceans. It's one of the world's five major ocean gyres — huge regions where circular currents gather trash.
Slat's system is essentially an autonomous boom that floats around the ocean powered by wind and currents. "The ocean is a very challenging environment to engineer for," he says.
The team eliminated mechanical parts and kept the boom structure flexible to help it contour to waves. (It should survive waves up to 20 meters high.) A skirt that hangs from the boom to 3 meters below the surface is a screen, not a net, to keep animals from getting entangled. The designers factored in extra buoyancy to cope with plants, algae and other organisms that will attach themselves to the system. There are sensors to track it and estimate when it is full of plastic so a vessel can go empty it.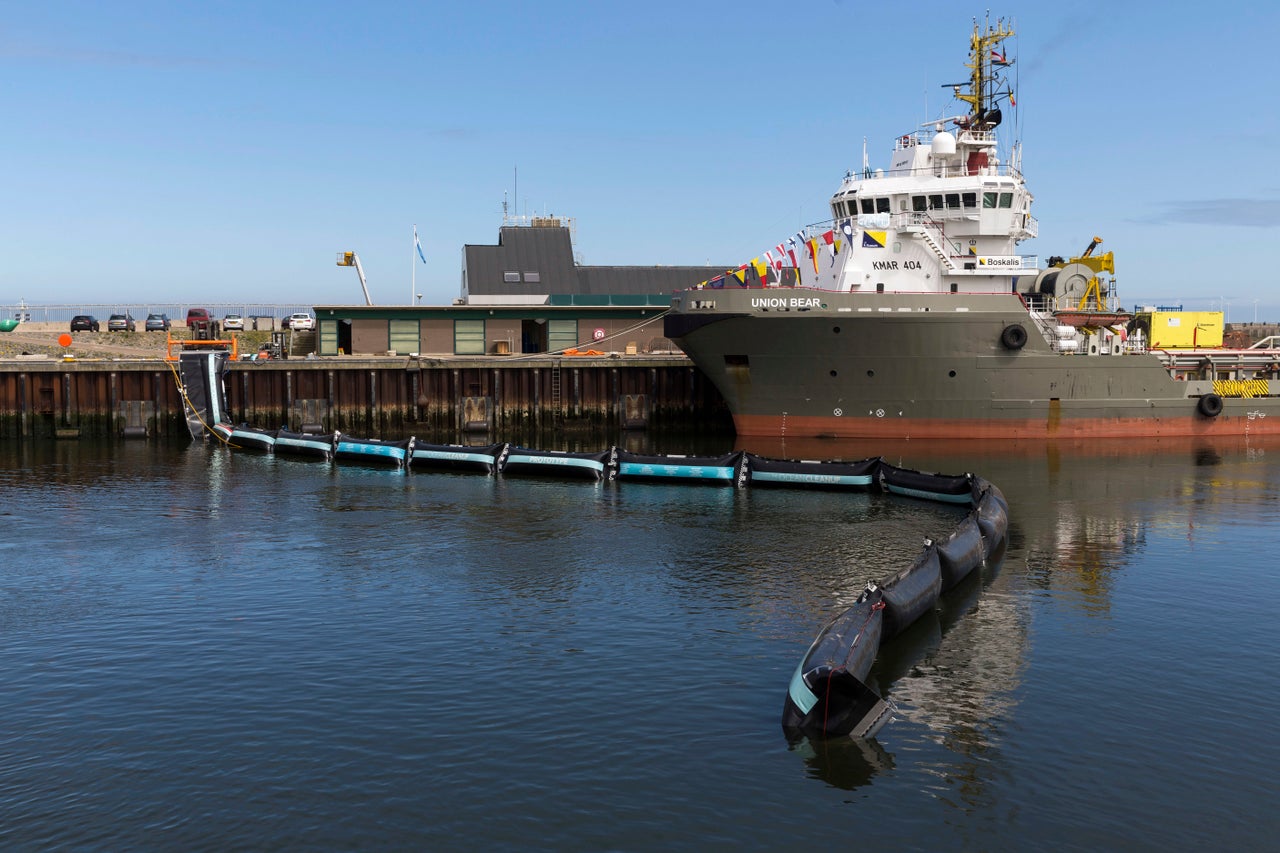 After the launch, team crew members will remain with the system to determine whether it traps plastic. By April, they will know if it can withstand winter storms. "It'll be an exciting few months ahead," Slat says.
If successful, this system will bring back 50 tons of plastic after a year in operation, he says, adding that if the project is scaled up to a maximum fleet of 60, it would be able to clean up half the patch every five years.
But marine debris floating in the gyres is just a small fraction of the plastic waste entering the ocean every year. Research suggests that 4.8 to 12.7 million metric tons of plastic waste enter the oceans per year, and estimates of what's in the Great Pacific Garbage patch range from 79,000 metric tons to 96,400 metric tons.
The total amount of plastic floating in the world's oceans is "less than 1 percent of one year's production of plastic," says Marcus Eriksen of the California-based Five Gyres Institute, who was involved in a 2014 global survey that measured ocean plastic. "After 50 years of trash going out onto the ocean, only 1 percent of one year?"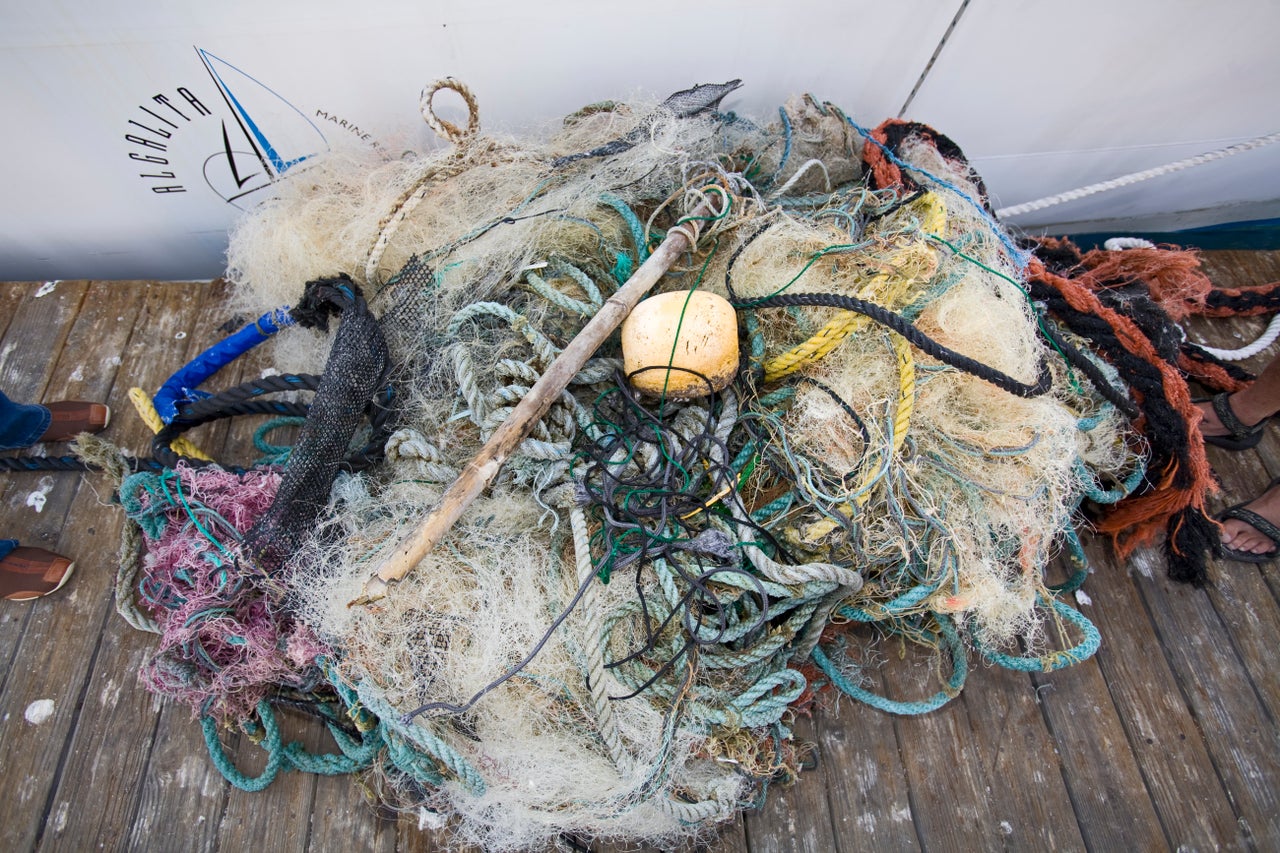 He says the vast majority of plastic is likely collecting in coastal areas. "We believe much of it that's leaving the coastlines is washing back up on shores," he says.
That's why there has been a movement to pick up plastic and other trash on beaches and riverbanks for more than 30 years. The International Coastal Cleanup — an annual event organized by the Ocean Conservancy — for example, will be held this year on Sept. 15.
"This feels overwhelming, and we tend to look for technology and innovation to try and solve these problems," says Emily Woglom, the executive vice president of Ocean Conservancy. But a simple beach cleanup does produce results, she says. In 2017 some 500,000 volunteers picked up 9,000 tons of trash worldwide in a single day.
"There are many ocean mechanisms at play that are pulling plastic out of the system rapidly," Eriksen says, such as tides washing plastics onto shores. "If we can slow down the input, I'm convinced in 10 years we can see a decline. There is no need to put so much emphasis and so much money and so much effort in cleanup."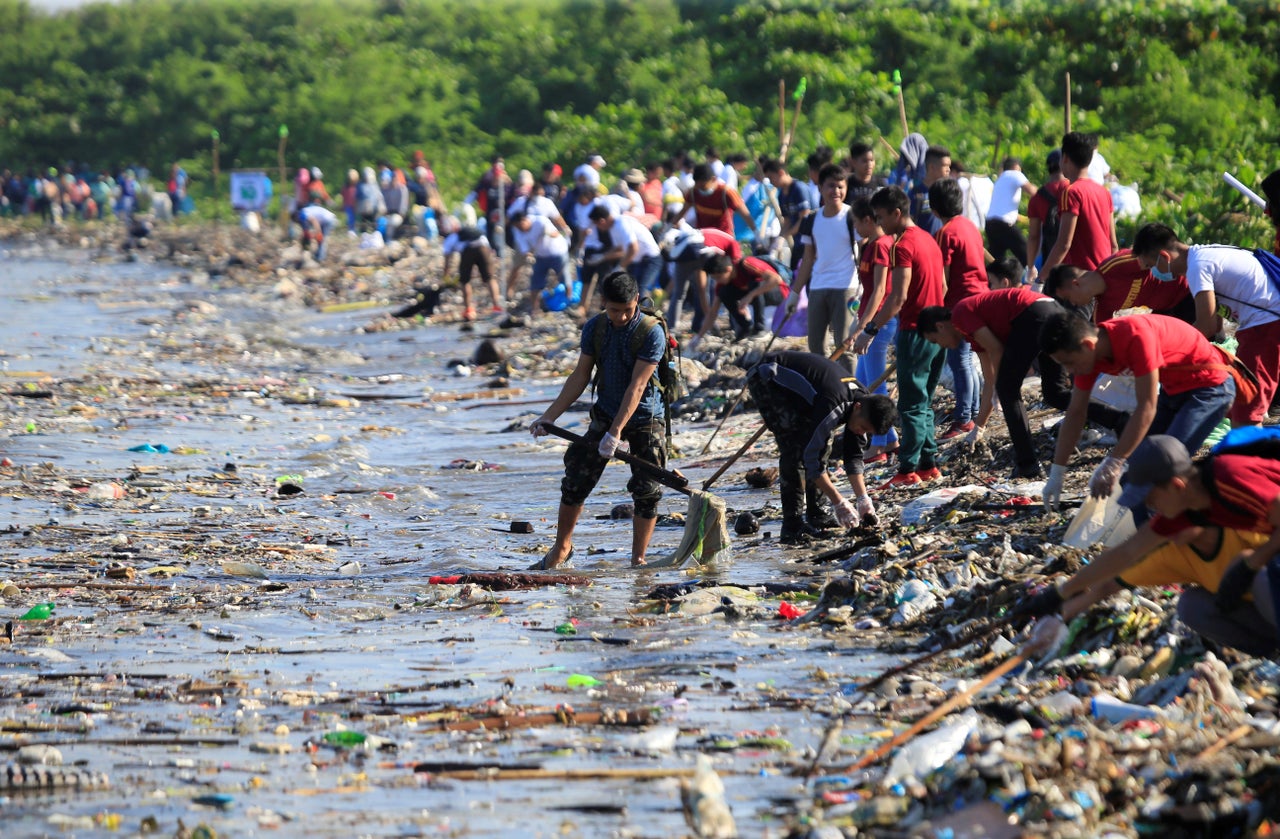 Still, reports of a dead pilot whale with a belly full of plastic and a sea turtle with a plastic straw stuck in its nose are hard to ignore. The Ocean Cleanup's plan could lessen wildlife suffering, provided it works.
And if it does, what could be done with the marine plastic it hauls in?
That will be challenging, says John Warner, a co-founder of the Warner Babcock Institute for Green Chemistry in Massachusetts, who helped invent a pair of ocean-plastic sneakers for Adidas in 2016. Because marine plastics include many different compositions, qualities, sizes, shapes and colors, separating them into pure streams for traditional recycling would be cost prohibitive. But using a mix of plastics might compromise performance.
"It's going to take creativity and invention and finding uses" for the material, he says. That also means consumers and manufacturers must change their expectations of ocean-plastic products: They will be expensive and will probably look strange.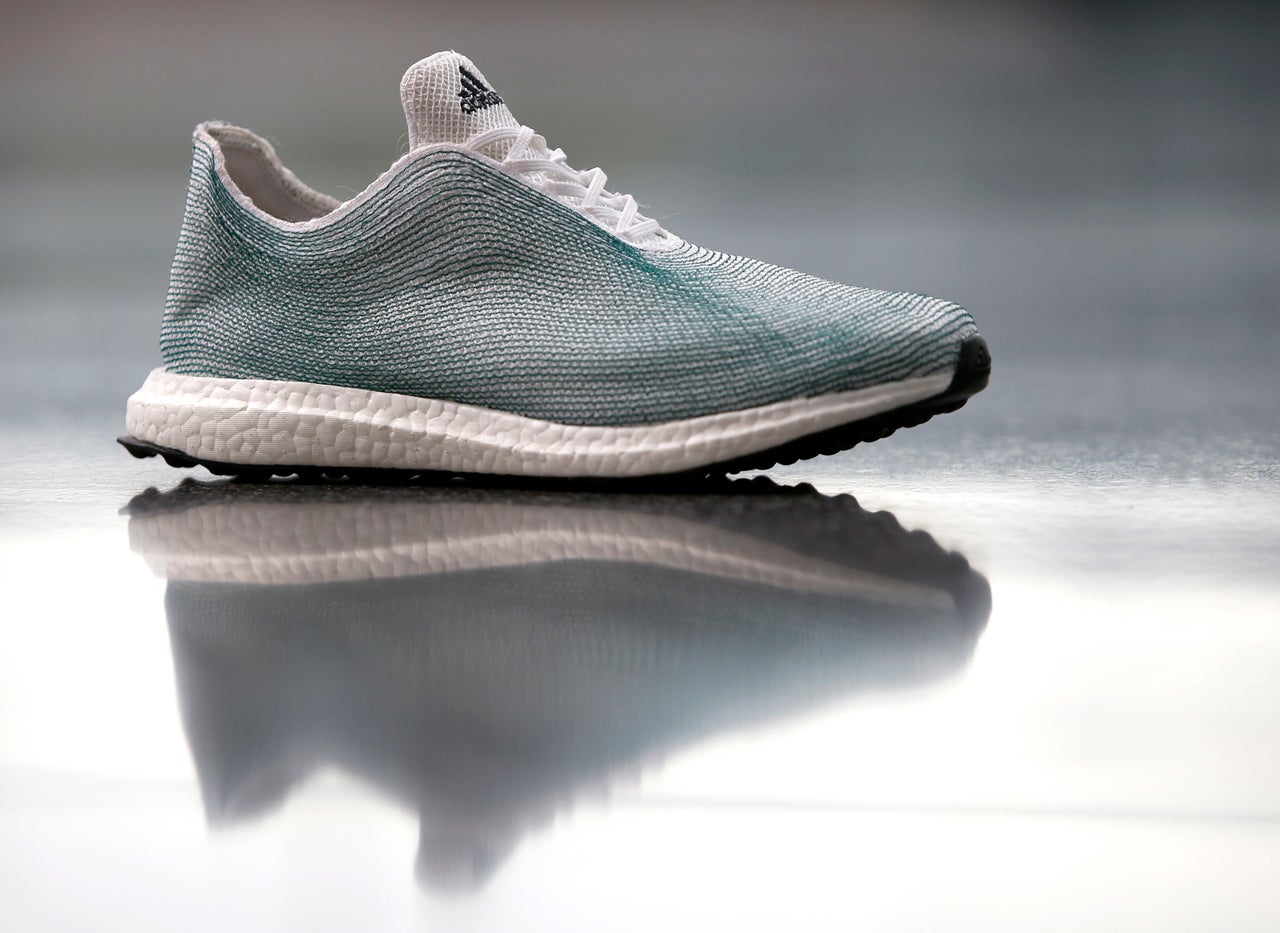 Mixed ocean plastic usually produces a material that is speckled or grayish-brown. But that's a look we should embrace, says Warner, instead of try to color over. "If the goal is to make it indistinguishable from virgin plastic, we're missing the point."
He says the extra cost for ocean-plastic products is justifiable, especially because it must be a temporary solution. "We don't want to cycle through this process forever," he says, of the treadmill of producing, polluting, cleaning up and then making ever more products.
In the long term, the goal is to reduce plastic use (and eliminate single-use plastics such as coffee stirrers), to stop trash from leaking into natural environments and to reinvent plastics to be degradable or recyclable, with cost-competitive products held to high performance standards. But in the short term, existing plastic pollution needs to be reclaimed — on land, in rivers and in the oceans. Giving trash a dollar value would help accelerate cleanup, especially in rapidly developing communities that lack proper waste management infrastructure.
For small island nations susceptible to plastic pollution like the Federated States of Micronesia, turning that plastic waste into energy is an attractive option, says Jim Holm, a sea captain and founder of Clean Oceans International. It's a process that some campaigners have criticized for adding to air pollution and perpetuating an energy system built on fossil fuels, but advocates say it's a good solution for destroying existing plastic waste with nowhere to go.
Holm is working on a small converter that could fit on a boat — unlike large, expensive waste-to-energy facilities in Europe — and turn plastic trash into a synthetic oil. An interisland supply vessel, for instance, could drop off supplies and refuel with plastic waste and collected debris. Remote island communities often lack recycling capabilities or landfill capacity needed to properly manage plastic waste. Fuel produced by an onboard converter could supplement the boat's energy needs and offset fossil fuel consumption.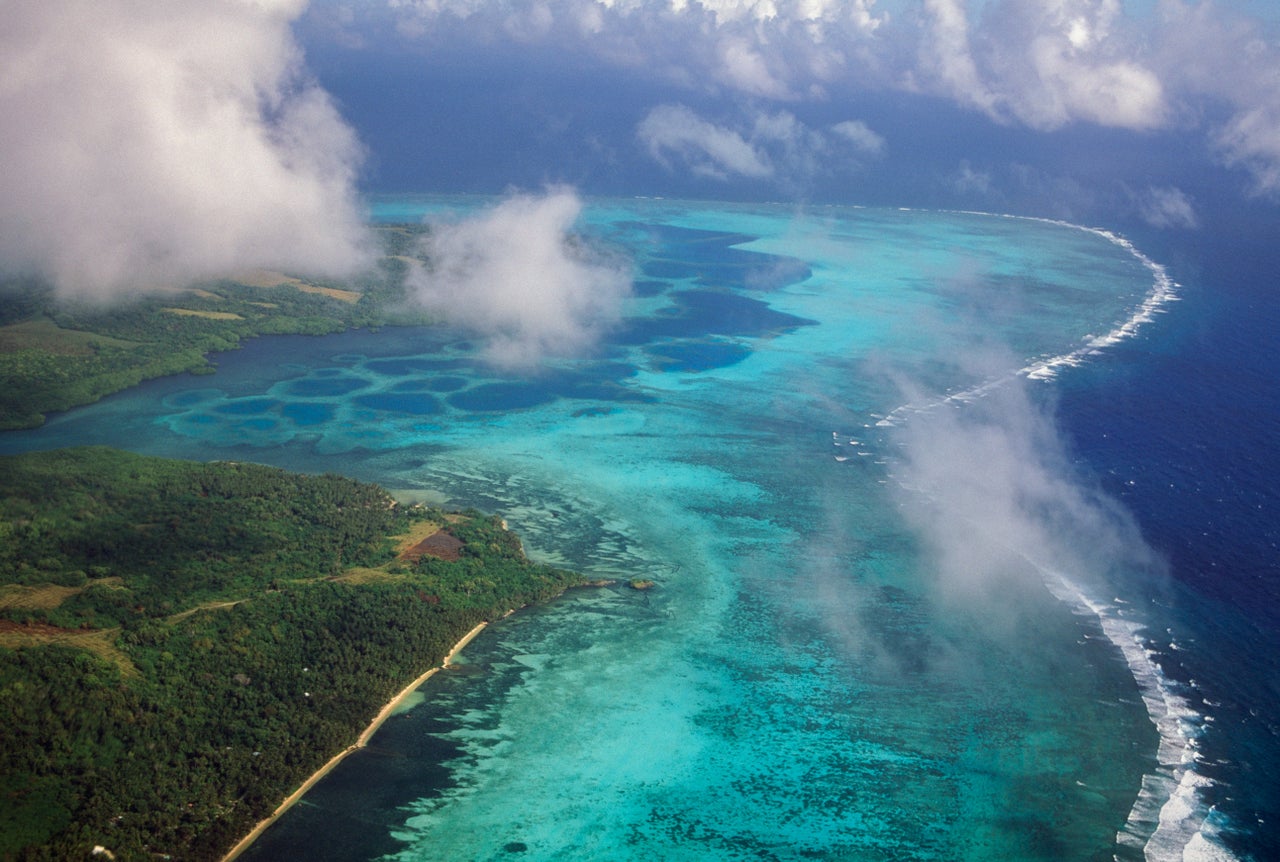 "This brings the benefits to the people who have the problem and motivates them to clean up the beach," says Holm. "It's saving on carbon footprint, saving on economic footprint and managing the plastic problem right where it is happening now."
But it cannot be overstated that the best solution is prevention. Reducing plastic use as much as possible, building up strong waste management, redesigning materials to be easily reused and recycled and never leaving anything at the beach or in any other natural environments are all part of the puzzle.
"There's a whole suite of things that we need to do, all the way from the consumer level up through the plastics supply chain and the major corporations and consumer goods companies, all the way to local governments and municipalities up to national, international development funding and the U.N.," says Ocean Conservancy's Woglom. "We're going to need to tackle this from all sides."
CORRECTION: A previous version of this story misstated the name of the Federated States of Micronesia.
For more content and to be part of the 'This New World' community, follow our Facebook page.
HuffPost's 'This New World' series is funded by Partners for a New Economy and the Kendeda Fund. All content is editorially independent, with no influence or input from the foundations. If you have an idea or tip for the editorial series, send an email to thisnewworld@huffpost.com
SUBSCRIBE AND FOLLOW
Get top stories and blog posts emailed to me each day. Newsletters may offer personalized content or advertisements. Learn more
PROMOTIONAL FEATURE FROM CROWNE PLAZA
PROMOTIONAL FEATURE FROM CROWNE PLAZA
For more content and to be part of the "This New World" community, follow our Facebook page.

HuffPost's "This New World" series is funded by Partners for a New Economy and the Kendeda Fund. All content is editorially independent, with no influence or input from the foundations. If you have an idea or tip for the editorial series, send an email to thisnewworld@huffpost.com
Related
Popular in the Community