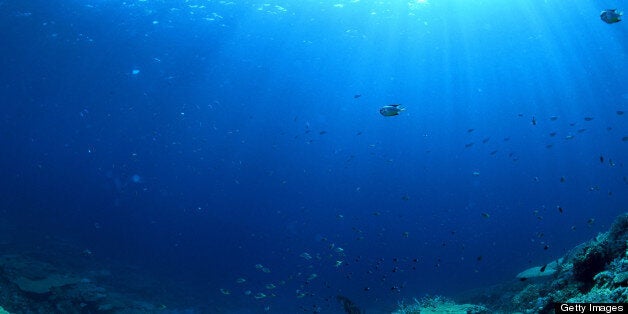 Click here to read an original op-ed from the TED speaker who inspired this post and watch the TEDTalk below.
We've mapped less than 10 percent of the ocean with the resolution we've mapped 100 percent of the Moon and Mars, and yet when we send rovers to Mars what's the first sign of life they probe for? Water. David Gallo's 'Underwater Astonishments' reminds us of how little we know about our own blue marble planet and the 97 percent of its livable habitat that is saltwater. Remember that we air-breathing terrestrials only inhabit about 300 feet of space from prairie dog burrows to the tops of the trees where birds nest. Above that is only heaven and space. Hundreds of people have now gone into space, calling it "the last frontier," but last year Jim Cameron became only the third human being ever to reach the lowest point on our planet, seven miles down in the Pacific's Challenger Deep. Here in the early 21st century we're just beginning to fully discover our ocean planet's unique alien creatures and habitats like walking sharks and vampire squid and deep-sea coral gardens and hydrothermal vents and seeps awash with life even as we put them at risk. Every time I go diving I discover something new and wondrous, and too often signs of human disruption.
"Our oceans face an unprecedented set of challenges from climate change, pollution, energy extraction, and more," warned Senator Sheldon Whitehouse of Rhode Island, the opening speaker at a Blue Vision Summit held in Washington, D.C. in mid-May. He also reminded us that we have the power, "to move from takers to caretakers of the sea." The Summit, the fourth of its kind, brought hundreds of watermen and women to the nation's capitol including ocean explorers like 25-year-old submersible pilot Erika Bergman and famed 77-year-old National Geographic Explorer in Residence and TED prize winner Sylvia Earle along with other scientists, activists, business people, artists, surfers, agency folks from NOAA and the Coast Guard and policy makers such as Senator Whitehouse and Senator Brian Schatz of Hawaii, and Representative Ed Markey of Massachusetts, an ocean champion now running for the Senate.
Hundreds of people have now gone into space, calling it "the last frontier," but last year Jim Cameron became only the third human being ever to reach the lowest point on our planet, seven miles down in the Pacific's Challenger Deep. -- David Helvarg
We surged onto Capitol Hill for a day, citizen-activists from 21 states including 20 adults and teens from Colorado who understand that every state is a coastal state. We held over 100 meetings with our senators, House members and their staffs to let them know about the growing constituency for a healthy ocean and to promote a commonsense national ocean policy and two bills for safer seafood and against pirate fishing.
Representative Sam Farr of Monterey California closed the 4-day Summit by reminding us that while the threats to our public seas and the communities that depend on them are real and daunting, "the politics of the ocean is still fresh and the blue revolution still young."
He talked about an earlier battle in the 1980s against plans for a massive expansion of oil drilling off the coast of California and how people fought that by creating one of the largest marine sanctuaries in the United States along 350 miles of the central coast including Monterey Bay. The bay contains a submarine canyon larger and deeper than the Grand Canyon, now the sight of ongoing scientific discoveries of marine life similar to what David Gallo showed us in his TEDTalk. California, the most populous state in the nation, and the world's eighth largest economy, is also an example of how people can learn to live well with their coast and ocean. In my new book, 'The Golden Shore," I quote Sam Farr saying, "California is the only place where you can get elected or lose your job based on your position on coastal protection and offshore oil." We came to Washington D.C. to take that message and fair warning to our elected representatives from the other 49 states. We will return in ever greater numbers committed to restoring the blue in our red, white and blue and assuring future generations get to share in our wonder and underwater astonishment.

David Helvarg is an author and Executive Director of the ocean conservation group Blue Frontier. His new book is, 'The Golden Shore -- California's Love Affair with the Sea.'
Ideas are not set in stone. When exposed to thoughtful people, they morph and adapt into their most potent form. TEDWeekends will highlight some of today's most intriguing ideas and allow them to develop in real time through your voice! Tweet #TEDWeekends to share your perspective or email tedweekends@huffingtonpost.com to learn about future weekend's ideas to contribute as a writer.
Related
Popular in the Community