Imagine getting drafted by your favorite sports team. Or being cast in a role alongside your favorite actor. While it sounds awesome, the chances are pretty slim.
But for professional surf photographer, Zak Noyle, it was a dream come true.
Noyle, like many others in Oahu, Hawai'i, grew up collecting the yearly posters that promoted the "Quiksilver in Memory of Eddie Aikau," the most prestigious surf competition hosted on the island. But Noyle couldn't have guessed that a few years later, his own photograph would be featured on the same poster he had covering his walls.
"I've always had the posters from The Eddie, and everyone always has [it], you go into people's house and that's the poster people put up on their wall, so to have my image used and on the shirts and on the banners, was insane," he said.
And for Noyle, this was only the beginning.
Even though he was raised by a commercial photographer, Noyle wasn't originally attracted to the activity. It wasn't until he fell in love with the beauty of the ocean, that his desire to capture it became a lifelong passion.
"What I really like to capture with my photography is [something that] someone like my mom, or someone that won't ever go in the ocean like I do, is [now] able to see. It's like an insider's view of the waves and the water and the surfing. It's something that makes a viewer want to be there; feel like they are there," Noyle said.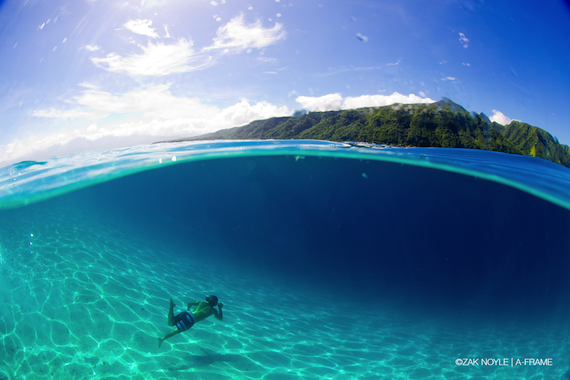 Photo: Zak Noyle | A Frame
That is what makes him unique, and staying true to that philosophy has helped make him one of the most successful surf photographers in the world. Another unique aspect of Noyle's photos is their ability to do more than just entertain, but also tell a story.
Such as the images he risked his life to capture while on a trip to Indonesia. Images which gave him a new title beyond photographer: Activist.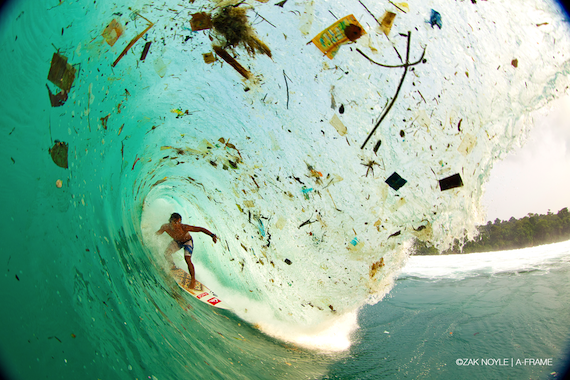 Photo: Zak Noyle | A Frame
"[While shooting] all of a sudden there's these waves of trash coming through...the place that we were at was kind of like a bay, it was getting pulled right into there with that swell and the incoming tide. And it just got to a point where it was just so overwhelming."
The photos of the trash-filled waves garnered tons of publicity, and were a huge part of bringing attention to Indonesia's horrific trash problem.
This instance is just one example of the risks Noyle takes for an art he is truly passionate about.
"I think it's so much fun to get caught or be out there in the waves, that's where I want to be. I'd rather be there than on land shooting," Noyle said.
In the world of surf photography, Zak Noyle is a household name, and his awe-inspiring and impactful photos won't stop appearing on people's walls anytime soon.
Related
Popular in the Community