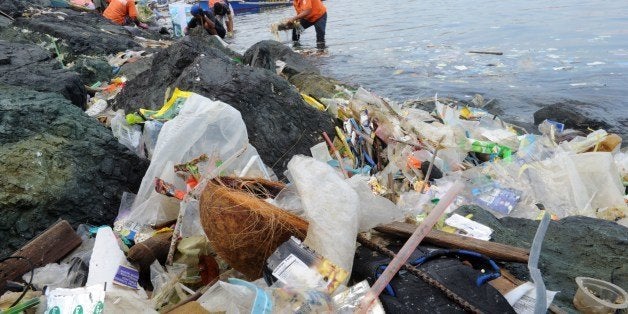 CASCAIS, Portugal -- Giant patches of garbage floating in the ocean have received a lot of press in recent years. But they're just the tip of the proverbial iceberg when it comes to marine plastic pollution, as ocean advocates will tell you.
"The part that floats is the part people are concerned about, but it's only a small part," said Andrew Morlet, chief executive of the Ellen MacArthur Foundation, in a panel discussion on marine pollution at the World Ocean Summit on Thursday in Cascais, Portugal.
The total amount of plastic pollution in the world's oceans is staggering: about 130 million metric tons. And the world is adding some 5 to 13 million additional tons a year, according to a paper published in the journal Science in February. At that rate, there will be 250 million tons within the next 10 years -- or about 1 pound of plastic for every 3 pounds of fish, according to the Ocean Conservancy.
"That's a startling amount," said Emily Woglom, vice president for conservation policy and programs at the Ocean Conservancy.
But the good news, if there is any good news to be had on the topic, is that the Science paper found just five countries are responsible for half of the new plastic inputs into the ocean. They are China, Indonesia, the Philippines, Vietnam and Sri Lanka. (Don't get smug -- the United States is among the top 20 worst and worse than China on a per-capita basis.)
Woglom and her colleagues in the Trash Free Seas Alliance are working on solutions. The alliance -- which includes scientists, environmental groups, and companies like Dow and Coca-Cola -- plans to release a report in September that looks at what leads to plastic pollution and how to address it.
What they're trying to do, Woglom said, is to "tackle this percentage of the global problem by tackling these five countries."
They've found that in China, a major problem is the lack of waste collection infrastructure. Nationally, only about 40 percent of waste is collected, and in rural areas, that figure can be as low as 4 or 5 percent, Woglom said. Solutions there will require better waste management systems to keep plastics from ending up in the water.
In the Philippines, they found, there are already good collection systems in place, but many trucks will dump trash into waterways rather than pay the fees to deposit at official waste disposal sites. When the waste does reach the dumps, often they are open sites situated near bodies of water, so the trash ends up in rivers and other waterways anyway, Woglom said.
"We think about waste management as a municipal issue, but what the ocean is telling us is that there are global impacts to this," said Woglom. "So [we're] figuring out ways to harness resources and political will at a global level, to then direct at the local sources."
Other researchers also contend that the answer to the problem of plastics in the ocean is relatively straightforward. "I don't think there are technological barriers to a lot of the things we want to do," said Stephen de Mora, chief executive of the United Kingdom-based Plymouth Marine Laboratory. "What we're lacking is the political will and the economic investment to do that."
Related