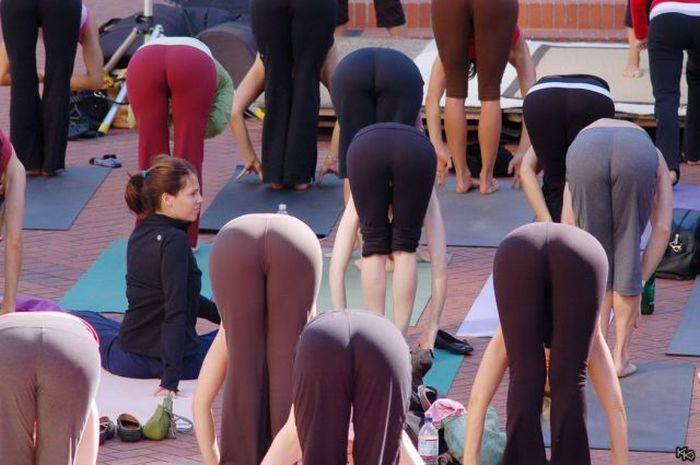 In case you don't live in Barrington, RI and haven't heard the (now national) news: we've got a bit of a situation here. You see, on Wednesday, a local man's letter to the editor was printed in The Barrington Times with the headline "Please, women, put away the yoga pants."
You can read the full (hideous, mean-spirited, disrespectful, fashionably unconscious, and borderline misogynistic) article here. But let me just pepper you with some highlights now. "Not since the mini-skirt has there been something worn by so many women who should not have it on in the first place…on mature, adult women there is something bizarre and disturbing about the appearance they make in public…TMI…I struggle with my own physicality as I age. I don't want to struggle with yours."
He then goes on to compare women wearing yoga pants in public to men wearing Speedos at the supermarket. "Yuck!" He defends. He suggests we women wear "tailored slacks" instead.
Now, granted, this letter comes from the guy who seems to enjoy playing the part of our local curmudgeon, the town Scrooge, if you will. He often takes pen to paper and vomits his vitriol in the newspaper, as if we all might benefit – dare I say, learn - from his sage pronouncements and skewed belief system. You've probably got one of those in your town, too.
Only, now he's gone too far.
If you are as creative and clever as one woman in my town, you mobilize through Facebook and organize a Yoga Pants Parade. Oh, yes. The women in Barrington are donning their yoga pants on Sunday (I mean the ones who aren't already wearing them on Sunday), then meeting at a local school, and taking a leisurely stroll past this guy's house.
Body shaming is not okay.
Telling women, en masse, what they can and cannot wear, is not okay.
Ageism, sexism, and size-ism are not to be tolerated, at least not in our little part of the world.
However, 186 women (and counting) taking a stroll together in their yoga pants, feeling connected by community, sisterhood, and the wonders of stretchy spandex? That's more than okay – it's damned brilliant.
("And to think, they call it 'Borington,' channel 10 News Sunrise anchor Frank Coletta chuckled, when reporting the story on air this morning.)
If you plan to be in attendance on Sunday, consider bringing along your mother, your daughter, your sister, your best friend. And please bring new, unopened toiletry items and sanitary products for collection to benefit Sojourner House.
Should you feel inspired from afar, wear your yoga pants with pride on Sunday, and do something friggin' awesome in them. Because, I don't know about you, but turning to positive, social action as a response to hatred makes me want to dance and sing all day. In my yoga pants, natch.
Popular in the Community