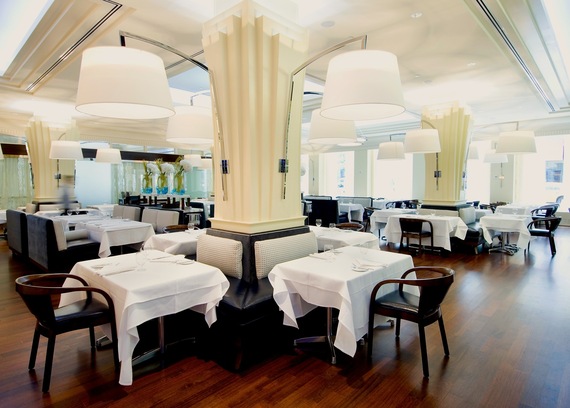 Ben Pollinger, Executive Chef at the 23-year-old Oceana, has a fine cookbook, School of Fish (Gallery Books, $35), that shows page by page how evolved seafood cookery has become over those years. Of course, he was one of the pioneers of a movement that brought such cuisine out of the doldrums of a time when first-rate product was difficult for chefs to find, even in the NYC market (it remains so in most of the U.S.). If the late Gilbert Lecoze of Le Bernardin was the very first to prove that very little need be done to perfect product, then Pollinger learned that lesson early on.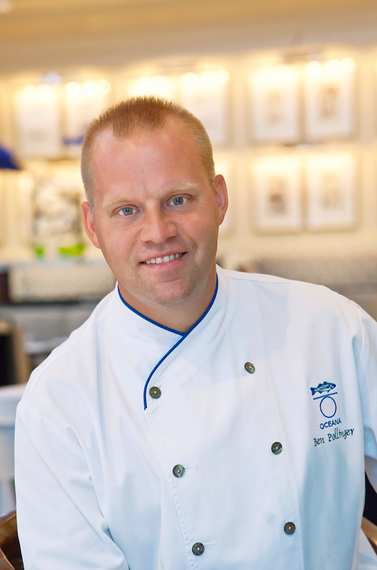 As he details in his book, when he worked at Alain Ducasse's Louis XV in Monaco, he would "plead for" the locally caught bass to go through rigor mortis "just so I could get it filleted and into the pan on time." He writes about shrimp in Genoa "still quivering" and how to cook only according to the season. All that, and what he learned in NYC from master chefs Jean-Jacques Rachou and Christian Délouvrier is invested in his cuisine at Oceana, and he passes that knowledge on to his readers.
So the publication of the book by this New Jersey native seemed a good reason to revisit Oceana after three years' absence, a 150-seat restaurant across from Rockefeller Center and Radio City, with big marble raw bar up front and dining rooms done in polished cherry wood, marine artwork, and a beautiful glass-enclosed private dining space in the middle of the room. Tables are spacious and well set, though for some mystifying reason four of them in the middle have no tablecloths. Sound levels in the bar are high but wholly civilized in the dining room.
Oceana is another of the Livanos family of restaurants, with managing partner Paul McLaughlin, so the attention to detail, even in a restaurant this large, is impressive. Wine director Pedro Goncalves, from Portugal, has expanded the list at Oceana to more than 1,050 selections, with 30 wines by the glass (none over $20) and starred selections "offer the best value." There are also six sakes. Goncalves is a man to consult on what's new and interesting.
Our table of four tried to order from the various categories of a menu that needs not be quite so extensive--Oysters, Chilled, Seafood Tower, Appetizers, Main Courses (nine of them), Seafood Paella for two ($78), Fish in a Plate, Meats, Sauces, Sides, Vegetarian, and Desserts. A little editing would not hurt a kitchen that can also do up to 500 people for parties.
The array of oysters alone numbers eleven species, all from North America ($3.50-$4 per piece), and while you may also order chilled seafood on its own, there is a seafood tower for one ($28) to up to six ($145).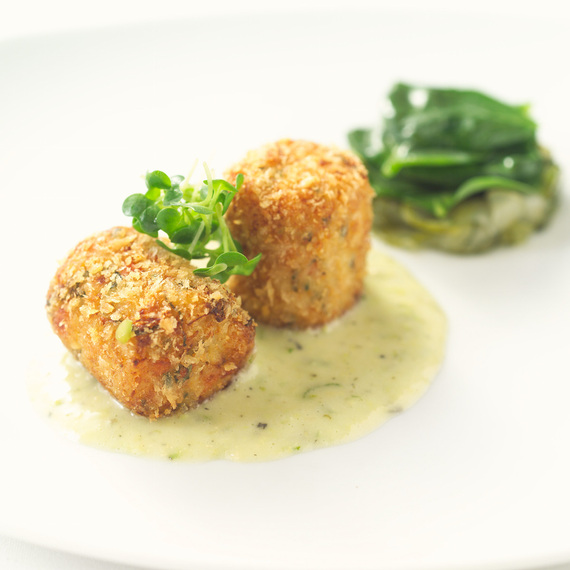 Our party couldn't resist ordering jumbo lump crab croquettes ($19) of remarkable lightness, a virtue also in the fried cornmeal-crusted calamari ($18). Squid ink corzetti pasta (shaped like coins) were marvelously flavorful, with baby cuttlefish, radicchio, and a pistachio-mint sauce ($21) without being in the slightest fishy tasting, as this dish often is if the cuttlefish are not in peak condition. Unexpected on such a menu were some delicious, puffy stuffed sweet plantains ($17) with bacalao, tangy lime cream, and a house-made barrel-age fermented hot sauce.
All these were new tastes to my friends, winemakers from Slovenia, not least the last of the season's crispy soft-crabs ($36), which amazed them when I said you eat the whole body and claws for the first time. I also took the liberty of ordering a three-pound steamed Maine lobster ($35 per pound, which is a bit steep) with clarified butter and a romesco sauce. My friends contended there was no way they could finish such a huge crustacean, but, with a little help, they of course did with delight.
Sea scallops à la plancha were impeccably cooked ($33), and wild Alaskan King salmon ($46) with buckwheat, tomato, dill and cucumber jus proved yet again what an abomination farm-raised salmon are. This fish had delicacy, near translucence, and a flavor that reminded me of what Pollinger had said he learned in Monaco and Genoa.
French fries ($9) were excellent, as was creamed spinach laced with roasted garlic, lemon and crème fraîche ($11).
Executive Pastry Chef Colleen Grapes turns out a wonderful cookie plate ($12-$21) and a rum-fudge sundae ($12), while there is also a commendable cheese selection (three for $14, five for $19).
It's difficult for me to conceive of anyone going to Oceana for a meat or vegetarian meal, which is like going to an exhibition of Rembrandt and only looking at his etchings. There are great chefs doing great seafood all over NYC, but Oceana, along with Le Bernardin, Sea Grill, Milos, and Marea, is a paragon for the form and Pollinger an acknowledged master among few.
Oceana is currently open for Breakfast and lunch Mon.-Fri., for dinner Mon.-Sat.
OCEANA
120 West 49th Street (near Avenue of the Americas)
212-759-5941
oceanarestaurant.com