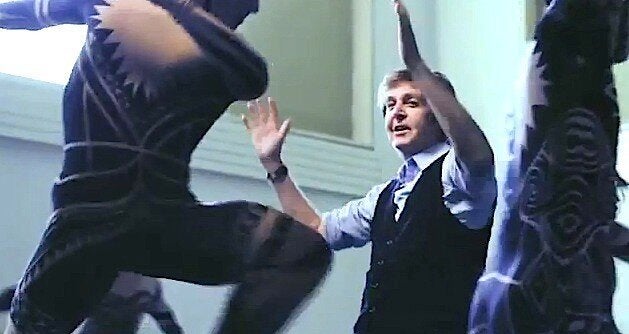 The New York City Ballet's Ballet Master in Chief, Peter Martins, is well-aware that nobody is going to the ballet tonight to see the ballet.
"Every single person in that theater... is there for one reason -- not for the ballet, because of Paul," Martins said of the Paul McCartney-scored ballet, "Ocean's Kingdom," which premieres at the New York City Ballet tonight. In a new interview, McCartney and Martins explain how it all coalesced.
According to McCartney, he had already made some headway on the ballet score before he even got involved.
"I started a piece of music for another project that didn't work out... so when Peter asked me would I consider, I immediately thought of this other piece of music and I thought, yeah, this is what I should do with this other piece of music," McCartney said.
Martins made it clear that the music isn't the only element McCartney had his hand in -- he "determined what the whole ballet should look like." The costumes, for one, are designed by Stella McCartney and part of his "DNA."
"You did some nice paintings and suggestions as to what these four scenes should look like," Martins continued. "The only thing missing is the choreography, and even that he's made suggestions [inaudible]."
Aside from the interview, the video shows a good deal of Paul backstage with the ballerinas, making director-like motions with his hands, and joining them in a dance circle as his music plays in the background.