 "The Help" star Octavia Spencer may be nominated for an Oscar, but when it comes to where she may house her potential golden statue, reporters couldn't care less. Spencer took to Facebook to vent about a much weightier question that's been thrown her way one too many times.
"Would these questions ever be asked of my male counterparts?" Spencer asks via the social networking site when it comes to the media's emphasis on her weight. "Better yet, underweight actors or actresses? Nah, I don't think so!"
But Spencer has obliged these questions of tipping the scale and unknowingly put her foot in her mouth in the process. After Spencer revealed that she was "less valuable" because of her weight, blogs and entertainment destinations were running rampant with headlines like "Octavia Spencer is worried about her weight ... Octavia Spencer feels she is less valued because of her weight," according to Spencer.
But now, she's setting the record straight.
"Here's what I am not doing ... I am not worrying about my weight," Spencer writes. "I am not trying to conform to an unrealistic model of beauty. I am, however, being proactive in being the healthiest I can be. And before you ask, no, awards season is not the reason ... Right now, believe it or not, I'm pretty damn healthy! Twenty LBS (max) is all I intend to lose."
"Oh, Ellen. Let me tell you, I couldn't party that night [Screen Actors Guild Awards] because I was being pinched in places I didn't know it was possible," Spencer explained. "And I ran into Melissa McCarthy, who is in "Bridesmaids" and brilliant and one of my closest friends, and I was like, 'Oh my God, Melissa! I'm about to die! My Spanx are killing me!' She said, 'I just went to the bathroom and took mine off.'"
McCarthy, who will go head-to-head with Spencer for Best Supporting Actress on Oscar night, has similarly shared a disproportionate amount of press when it comes to her weight, telling Anderson Cooper that her body is a "work in progress."
Spencer is not only frustrated with how her weight has been portrayed in the media, but how her falsely reported relationship with her own weight may be perceived by a younger generation.
"The weight obsessed media is destroying not only us but our children," Spencer opines. "Our culture is at the precipice of redefining who we are. Right now in this salacious age of the internet coupled with the 'beauty and fashion' industries respectively only promoting a 'certain' kind of pretty, we've seen a dramatic increase in bullying, eating disorders and body dysmorphia among male and female teens. This is no joking matter."
From the number of "Likes" (145 as of now) and comments Spencer has received on her public declaration of freedom from weight, it's clear that fans are behind the Oscar hopeful regardless of her dress size.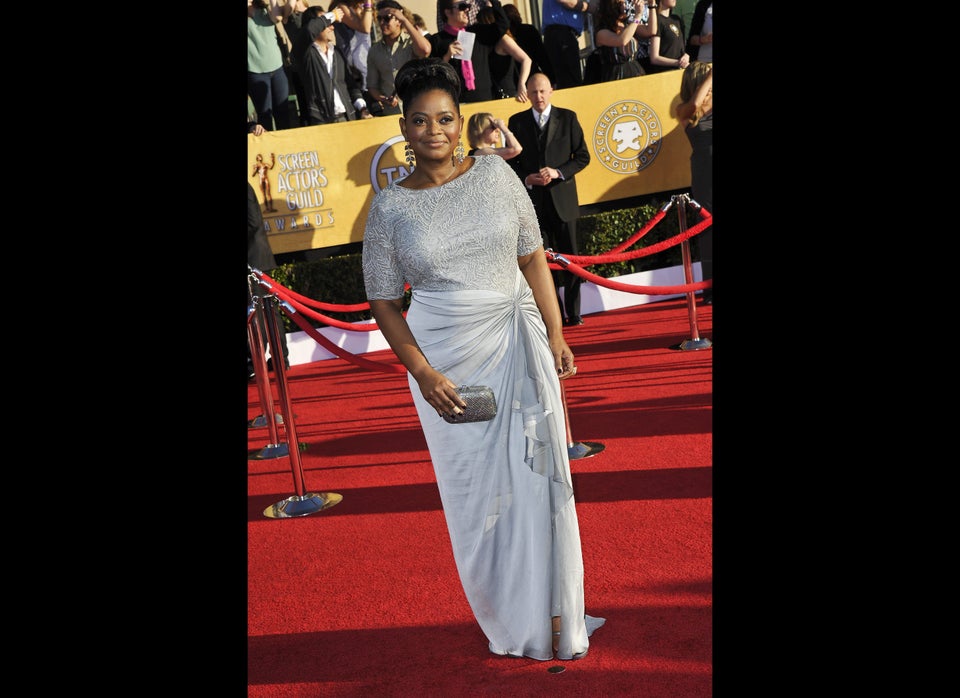 SAG Awards
Popular in the Community