In the course of making our final plans to travel to Washington DC's Freedom Plaza next week for the historic October2011 events, our Minnesota peace group delegation did not think to ask along any First Amendment legal scholars who often prove invaluable in situations like this. So if there are any legal beagles with nothing to do at Georgetown, American University or one of the Capital's other famed legal institutions, can we perhaps stop and pick you up?! As readers can see from our Minnesota group's draft press release below, we're all so concerned about the present dire situation in this country, that we're not only scraping together our meager funds and sprucing up our tents and sleeping bags for the trip to DC, but we're really brainstorming how to non-violently exercise ALL of our First Amendment rights in the most creative and effective ways possible. We hope to make the founding fathers proud as we exercise the freedom of speech, freedom of assembly, and freedom of press the founders so brilliantly incorporated into that First Amendment.
Of course we're planning to exercise our conventional speech making during visits to Minnesota's elected representatives, and we understand there are musicians and bands lining up to play and sing out on the Freedom Plaza stage. But some of the more creative ideas our group is hoping to carry out: flying peace kites on the Mall, displaying messages for the greater public on our tents and tarps and using artistic license in chalk painting, are intended to be more provocative and make our country's most powerful politicians really think.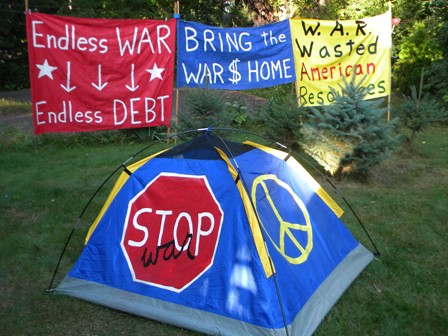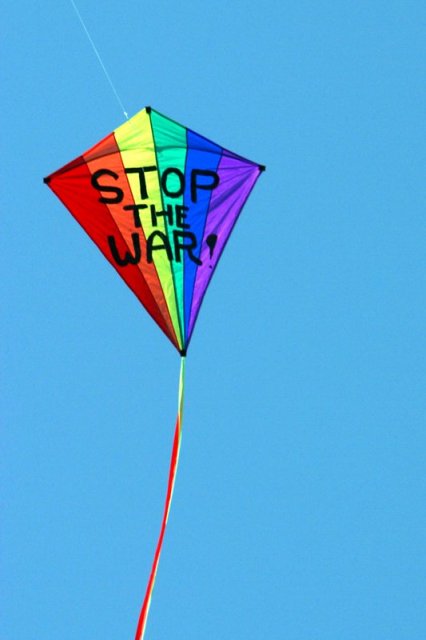 Unfortunately there are those for whom thinking is now dangerous and you never know how they might react to the invitation.
Police challenges could undoubtedly arise as have happened repeatedly to us in recent years in Minnesota when exercising our rights in more creative ways. On each occasion, however, we've succeeded in legally overcoming wrongful curtailment of the First Amendment. When it comes to knowing how to exercise our free speech rights in colorful and relatively unprecedented ways, we have amassed a good track record, having won the following four out of four times in Minnesota since our protests against the wars began in earnest:
1)Back in 2005, when our weekly peace vigil in Eagan, Minnesota began across from Lockheed-Martin, police wrote out tickets and threatened to arrest us for standing with our signs on the intersection's pedestrian islands next to the stop lights. This, despite the fact that no Minnesota law existed prohibiting anyone from standing on the public sidewalks and intersection islands. However, after fuller discussion with the police and better understanding regarding the free speech and public safety considerations, Eagan police were led to change their minds about arresting us and tear up their tickets.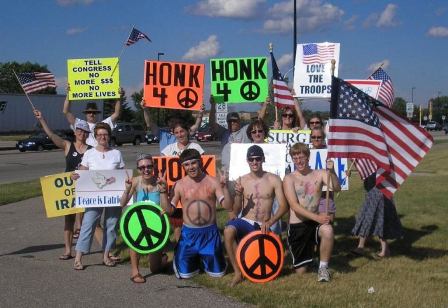 2)In late 2007, Minnesota State Troopers confiscated our "Support the Troops--End the War" banners we were holding on a footbridge over a highway near the Mall of America. This time we were lucky to get ACLU help in citing the Otterstad case by which the Minnesota Supreme Court had previously decided it's perfectly legal and safe to display messages on signs and banners to car traffic. (Some of the troopers had even tried to argue that the difference between our homemade banners and highway billboards was that "corporate advertisers paid for theirs".) The State Troopers eventually agreed to give back our banners and give better training to their officers so future wrongful confiscation and harassment would not happen again (see story here and here). We went on to hold numerous successful bannerings:
3)For two years, beginning in August 2007, the Burnsville Police warned and threatened us with arrest if we did not put down our "Honk for Peace" signs. The Burnsville Chief would not listen to our appeals regarding First Amendment rights but instead sent police officers to film and conduct surveillance of us. Eventually the Burnsville police began a sting to catch "improper honkers" by constantly cruising through the intersection and ticketing anyone who honked in response to our peace signs. Motorists who honked were given $200 tickets although a review of the entire prior decade showed that, before our peace vigil, there was no history that any motorist had ever been stopped or ticketed in Burnsville for "improper honking". Finally a consent decree was reached with the legal help of the ACLU that stopped the Burnsville police from going after "honking for peace". In 2009, however, in the course of police surveillance, one of our group was himself ticketed for "honking for peace", and was facing a draconian penalty of 90 days in jail and/or a $1000 fine. A free speech minded ACLU-volunteer attorney took the honk-for-peace side and won the case! In the process, the ACLU attorney effectively cross examined the officers which revealed their bias in using the old Minnesota honking law to attempt to shut down our peace vigil. (Full story here and here and ACLU report here )

4)In 2009, we began a weekly anti-torture vigil by wearing "Gitmo orange jumpsuits" and black hoods in front of our Federal Building. The federal security force guarding the building told us we could be arrested under Minnesota's 1800's vintage "anti-masking" law. We looked up the old law which contained exceptions allowing Minnesotans to wear masks over their faces for amusement, cold weather, and religious reasons, altho' it didn't explicitly spell out an exception for first amendment protected speech. We decided that the federal security force was wrong in threatening us with the archaic law, riddled as it was with exceptions and that it was wrong of them to stop our symbolic demonstration of solidarity with Gitmo detainees. Perhaps the police figured this out too as they never followed through on their threats to arrest the hooded participants in our anti-torture protests.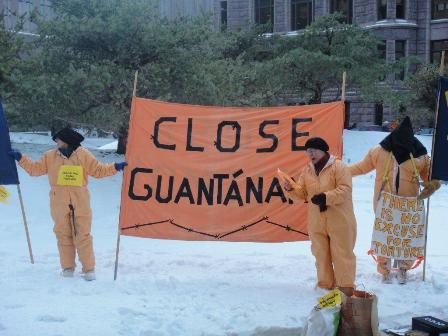 (photo taken on Human Rights Day 2010)
Constitutional lawyer Glenn Greenwald recently reported:
In sum, there is a sprawling apparatus of federal and local militarized police forces and private corporate security designed to send this message: if you participate in protests or other forms of dissent outside of harmless approved channels, you're going to be harmed in numerous ways. As Yves Smith put it this week: "I'm beginning to wonder whether the right to assemble is effectively dead in the US. No one who is a wage slave (which is the overwhelming majority of the population) can afford to have an arrest record, even a misdemeanor, in this age of short job tenures and rising use of background checks.
Yikes!! Isn't it time to clean the rust and corrosion off our good old First Amendment? Isn't it true that there's been no time in recent history when the First Amendment's protections of the American people's rights to peaceful assembly, speech and press has been needed more to counter the corruption of government corporatocracy and military industrial congressional media complex?
We do plan to use every bit of our Free Speech guarantees in line with our Founding Fathers' wisdom this next week in Freedom Plaza. (But if history is any guide, we will probably need some good lawyers to stand with us.)
-----P R E S S R E L E A S E ---------
Minnesotans head to Freedom Plaza in Washington DC
Contact: Ross Rowley (952 465-2866)
Over thirty Minnesotans are expected to join thousands of their fellow Americans in Washington DC on October 6 for the start of "October 2011-- Stop the Machine! Create a New World!" an occupation of Freedom Plaza in the same spirit as Cairo's Tahrir Square and the Arab Spring that inspired the world.
Finding no responsiveness from elected politicians in Washington who are beholden to campaign funding from the wealthy, corporate and special interests, this movement jumps up to forcefully express, through demonstration and non-violent resistance, the frustration and anger at solutions that benefit these powerful interests and reward their cozy relationships with the Government, leaving us, We the People, behind.
October 2011 draws on the same energy of average fed-up Americans across the country, fueling actions from Wisconsin to Ohio, to the "Occupy Wall Street" movement that is nearing its second week in New York City and countless other actions in towns and cities across the country. Poll after poll has shown that most Americans have a clear idea of the direction our country should be going: stop the wars, and end the corporatism and militarism that have warped the American Dream and are destroying our democracy. The slogans of October 2011 say it simply: End Corporate Welfare; Get Money Out of Politics; End the Wars, Bring the Troops Home; Protect the Planet; Human Needs, Not Corporate Greed; Tax the Rich and the Corporations; Put Workers Before Profits.
"October 2011" is supported by more than fifty national organizations working toward a more just society for all and covering the gamut of American experience--from Veterans for Peace to the Organic Consumers Association to the Network for Spiritual Progressives to CODEPINK. Along with a number of other musicians, the "Junkyard Empire" group from Minnesota are on the roster to perform on the Freedom Plaza stage on October 6.
Check out the website: www.october2011.org (http://www.october2011.org/) and come to Washington. To contact the Minnesota contingent, email: vfpchapter27@gmail.com or call Ross at cell phone 952 465-2866). America is at a turning point and the much vaunted change we want will only come from us showing up.
In 1989 Reagan faced the Berlin Wall and said, "Tear down this wall!" Well, there is a wall in Washington, and the only way through it is with money and power. The October 2011 movement comes to Washington to say,
Tear down this anti-democracy wall of privilege and power! This government, is of, by and for We The People, and we intend to take it back. Now is OUR moment. This is now OUR time." Join us in Washington!
Popular in the Community