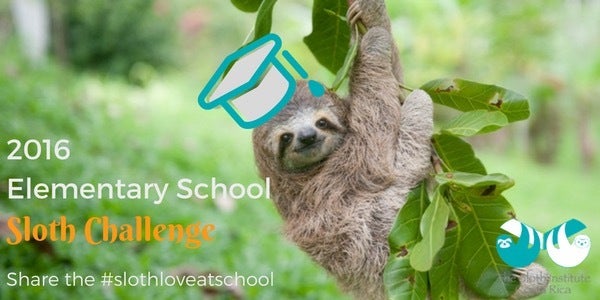 Not long ago I was cruising around the internet and came across a "sloth selfie" that had gone viral. In the photo, a happy hiker appears below his selfie stick and that of the face of a (seemingly) grinning sloth. My curiosity was hooked. I had never really thought about sloths before and what they mean to our ecosystem and to be honest, all I ever knew about them was that they're "slow."
After a couple weeks of reading articles (especially this one from Mashable) and watching videos I came across The Sloth Institute (TSI) of Costa Rica - a non-profit organization specializing in research and education with a particular focus on the behavior, health, and welfare of recently released, wild and captive sloths. As I got to know more about TSI I realized that I would love to be involved and offer any expertise I may have that can help the movement - this resulted in me becoming part of their advisory board.
The Sloth Institute is always coming up with fun and creative ways to spread awareness and education about sloths and during the month of October TSI is celebrating sloths in a big way! October is International Sloth Month and TSI wants young people around the world to take part in their Elementary School Sloth Challenge.
Throughout the month of October classrooms will receive (free) weekly lessons and activities to teach their students all about sloths, meanwhile inspiring kindness to animals and the environment. Students are then encouraged to come up with an anti-pet trade campaign to submit by October 31st. The winning campaign will receive a 15-minute Skype call with the Co-Founder and Sloth Director of TSI AND A SLOTH!
To learn more about this exciting and worthwhile initiative I sat down with Sam Trull and her team and asked a few questions about the big month!
Can you tell me about Sloth Month and why Sloths are important to the greater ecosystem?
International Sloth Day was started by AIUNAU many years ago and it is the third Saturday in October each year….meaning this year it should be on the 22nd. Last year in order to celebrate International Sloth Day, we decided to try our first elementary sloth challenge…but in order to prepare for this challenge and keep the learning going we will be celebrating International Sloth Day for the entire month of October.
Sloths, just like all wild animals, are an integral part of their ecosystem. They consume resources and provide resources that are essential to continuing the circle of life.
Where do sloths live? Sloths live throughout Central and South America
Why is it important for children to know the significance of sloths? We decided to focus on teaching elementary children about sloths and why respecting them is important because your childhood is what shapes you as an adult. Saving sloths isn't just about completing certain tasks and projects, it is also about inspiring people all over the world to do what they can to help and educating them about to live a more conscious life.
Each individual can make a difference and even if you live thousands of miles away from sloths, you have the potential to impact their lives in the wild. One of the easiest ways that anyone (regardless of their nationality) can help save sloths is to NOT support the pet trade and to be a responsible tourist when visiting countries where sloths are found.
Why are sloth selfies a bad idea? Sloth selfies are a bad idea because they are born out of our selfishness. Walking up to a sloth in the wild or paying someone on the side of the road or even at what may seem like an accredited wildlife facility, in order to touch, hold, feed or take a photo with a sloth is in NO way helping the sloth.
The sloth does not enjoy your presence and in addition to the immediate stress it feels from your close proximity the inhumane treatment it endures to be 'ready' for your close up, is NOT worth the 5 minutes of happiness you feel being next to them. If you really care about sloths, you should be excited to see them happy, healthy and free in the wild and at a safe distance for both you and the sloth. In addition, sloths are wild animals. This means they can very easily transmit diseases and bite or scratch you.
What types of activities can children come up with? Depends on how creative they are! We just ask that they be environmentally conscious with their activities and use resources wisely.
REAL LIFE. REAL NEWS. REAL VOICES.
Help us tell more of the stories that matter from voices that too often remain unheard.