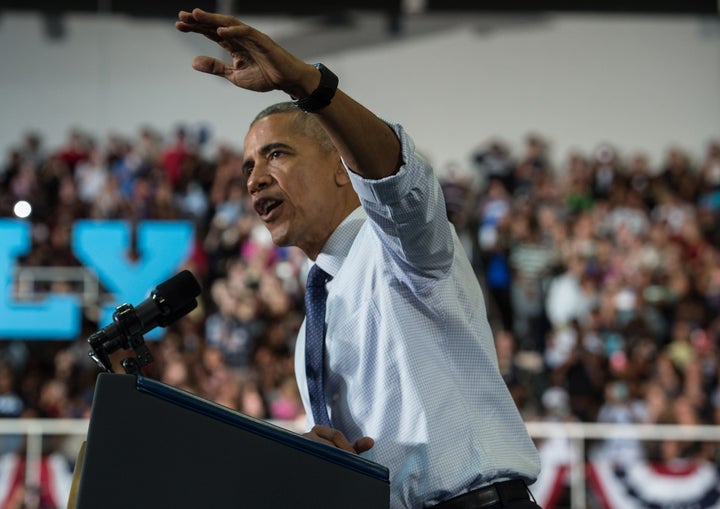 WASHINGTON ― On the last Friday before the 2008 election, the full brunt of the recession was just beginning to take hold. America's unemployment rate jumped from 6.1 percent in September to 6.5 percent in October. Within a year, it would peak at 10 percent.
The signs of unfolding economic catastrophe were visible in other places. By Oct. 31, 2008, the Standard & Poor's 500 index had plunged almost 17 percent that month, its worst-ever monthly point decline. That same day, it was reported that at least 7.5 million Americans were underwater on their mortgages. When the October jobs report came out in early November (after the country had voted), the headlines were chilling.  
Payrolls had shrunk by 240,000 in October. It was the 10th straight month of rising unemployment. And the yearly job losses up to that point were 1.2 million. 
By 2012, things had improved, but still weren't great. In the second-to-last monthly jobs report before Election Day, the Labor Department reported that the unemployment rate had fallen slightly from 8.1 percent to 7.8 percent, with a paltry 114,000 jobs created. Yet people thought this was such good news that CNBC contributor Jack Welch, the ex-CEO of General Electric, infamously accused the Obama administration of cooking the books.
"Unbelievable jobs numbers," Welch wrote on Twitter. "these Chicago guys will do anything ... can't debate so change numbers."
As America prepares to elect its next president, the country's economic landscape looks remarkably different -- and demonstrably better.
Four years later, as Obama closes the books on his time in office and America prepares to elect its next president, the country's economic landscape looks remarkably different ― and demonstrably better.
The economy has continued its record consecutive streak of growth, creating 161,000 new jobs, the Bureau of Labor Statistics announced Friday.
And there is even rosier news: Average pay rose 0.4 percent ― bringing total wage growth to 2.8 percent in the past 12 months.
"Workers deserve a raise, and they've been long overdue for a raise, and we're seeing in this report solid evidence of a sustained tightening job market, which means real wage growth," U.S. Secretary of Labor Tom Perez told The Huffington Post.
The October jobs report speaks to the monumental economic progress that Obama has presided over ― and one increasingly at odds with the dystopian framing from GOP nominee Donald Trump's presidential campaign.  
Indeed, a look at the job market might turn the idea of a "third term" for Obama, hurled as an insult by Trump and his backers, into an unwitting compliment for Trump's opponent, Hillary Clinton. The U.S. is in the middle of a 73-month streak of total job growth, which is a record. The Affordable Care Act, which was supposed to decimate the jobs market, has done no such thing.
Of course, the Great Recession devastated the economy so much that most economists think the labor market has not yet fully recovered, despite the gains. 
To someone who is unemployed or whose wages haven't gone up, the jobs report can seem like fiction. Recent research shows that unemployed Trump supporters, for instance, tend to think the unemployment rate is much higher than it is. Trump himself has repeatedly said the past year's worth of low unemployment numbers are phony.
Beyond the numbers are tales of real human suffering. The ordeal of Jeff Adams, a 61-year-old resident of San Diego, California, reflects the remaining gaps in the job market. The bad economy drastically changed his life, disrupting his career as a defense contractor and leaving him looking for a low-paying retail job that can carry him to retirement.
It's his second unemployment spell since the Great Recession, which officially started in 2007 and ended in 2009. Adams lost his job as a procurement specialist in 2010, and weeks later, found out he had pancreatic cancer. He said he kept looking for work even as he underwent chemotherapy.
"I continued to [look for work] to increase my odds of finding something good, but if someone called, there were times I couldn't have made it to the interview," Adams said.
Nobody called. Adams said he didn't get any offers for two years, a duration of unemployment that afflicted nearly 2 million people at the time. (Even today, the number of Americans seeking work for 99 weeks or longer is historically high.) In 2012, he won a contract position to do procurement again, but it ended in 2014. Next, he worked as a home health care aide until he was laid off in June. Adams is looking forward to retirement and is not interested in another high-stress defense job. He's optimistic about his retail prospects.
"If you've got your health and enough money to feed yourself, those are two things that are so important, and I realized time is the most important thing we have," Adams said.
The next president will have to find a way to help people like Adams. The lack of jobs in the economy has persuaded many people to give up looking for work altogether.
"We're not at full employment," said Elise Gould, a labor economist at the Economic Policy Institute, a progressive think tank. She says full employment means "typically marginalized groups also have opportunities in the economy ― not just on average, but at the bottom. Young and old workers alike, and black and white workers."
The prime-age employment to population ratio, which accounts for Americans who have dropped out of the workforce entirely and excludes workers under 24 and over 55, just surpassed the low point of the two downturns before the recent Great Recession.
"We are seeing consistent 'singles,' to use a baseball term," Gould said. "We need to keep seeing it month after month, and we will see all those workers on the sidelines come back to the job market." 
But it's fair to say that on the aggregate, the country is remarkably better off than it was the last time Americans went to elect a new president.
This story has been updated to include comment from U.S. Secretary of Labor Tom Perez.
HUFFPOST READERS: What's happening in your state or district? The Huffington Post wants to know about all the campaign ads, mailers, robocalls, candidate appearances and other interesting campaign news happening by you. Email any tips, videos, audio files or photos to scoops@huffingtonpost.com.
REAL LIFE. REAL NEWS. REAL VOICES.
Help us tell more of the stories that matter from voices that too often remain unheard.
BEFORE YOU GO
PHOTO GALLERY
Obama's Last State Dinner