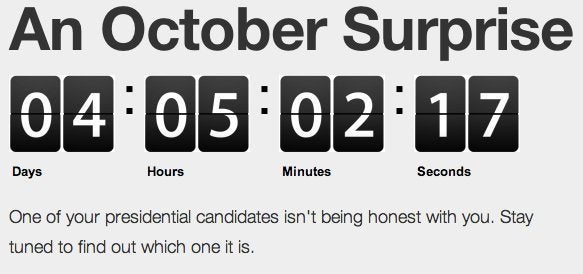 Mark your calendars: An earth-shattering revelation about President Barack Obama or GOP presidential candidate Mitt Romney will be revealed on Monday at 7:30 p.m. ET. Or will it be at 5:30 p.m. ET on Monday?
A new website, octsurprise.com, popped up this week, and has taken the Internet by storm with the assertion that "one of your presidential candidates isn't being honest with you. Stay tuned to find out which one it is." A timer on the website counts down to 7:30 p.m. ET, though a corresponding Twitter account, @OctSurprise, is telling followers that the secret will be revealed at 5:30 p.m. that day. That's just hours before Obama and Romney meet in Boca Raton, Fla., for the final presidential debate.
Speaking of debates, the Twitter account claims that whatever the surprise is, it was mentioned during the vice presidential debate last week, as well as the second presidential debate on Tuesday.
The revelation, according to the Twitter account, will be in the form of six documents:
The Twitter account offers other piecemeal clues about what the revelation could be, and what it won't be. But little is known beyond that, including who is behind what will either be called a game-changing piece of news or a massive publicity stunt. A search of domain name registration records reveals that the domain was registered on Oct. 15, and whoever owns it paid GoDaddy some extra money to hide their identity in what is called a private registration. Users on Fark.com have claimed to have found who is behind this, and says its the same people who were able to Rickroll 20,000 people in 2007.
But still, it's anyone's guess what this is. What do you think?
UPDATE, 5:10 p.m. ET -- The New York Observer's Politicker blog has confirmed the identity of two of the men behind the site: Jeff Hopwood and Anthony Maro, who both work for Discovery Communications. Hopwood told Politicker that the site took about a half hour to create, for a third party that contacted a developer he's friends with.
Hopwood said he doesn't know who the third party is.
"I don't know the identity. I don't know anything, political affiliation or anything like that," Hopwood told Politicker.
"I tend to think it might be some type of marketing thing because of the way they contacted us," he added.
UPDATE 2, Oct. 19, 9:08 a.m. -- This site was a hoax. The Rickroll video plays upon visiting OctSurprise.com, along with the message "Sorry folks. Did NOT expect this level of interest. Apologies! Jokes! Vote!"
Calling all HuffPost superfans!
Sign up for membership to become a founding member and help shape HuffPost's next chapter
BEFORE YOU GO
PHOTO GALLERY
Painfully Awkard Debate Moments