The saga of the world's favorite restoration FAIL has taken another turn for the insane, solidifying the fact that this Internet meme will likely never die. That's right, Cecilia Gimenez, the octogenarian famous for turning Garcia Martinez's 19th century fresco into what we lovingly refer to as "Beast Jesus," is back in the headlines. And this time she's not apologizing.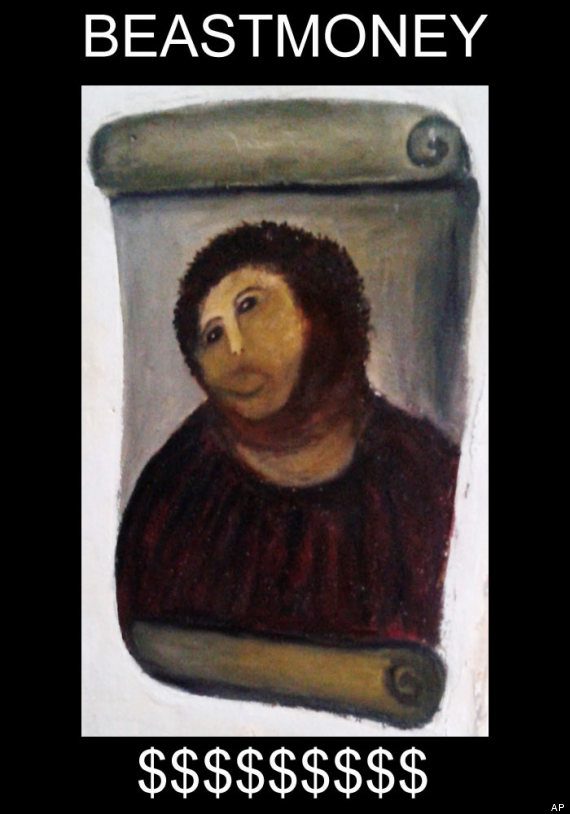 According to Techdirt, the sweet restorationist is demanding a cut of the tourist profits raked in by her church after the venue started charging visitors for a glimpse of the Beast in all its glory. The small Spanish church has raised over €2,000 ($3,237) since it began monetizing the tourist explosion last Saturday and Gimenez hasn't seen a penny, reports Spanish newspaper El Correo.
So now Gimenez has lawyered up, and is allegedly attempting to claim copyright on her work and vie for a portion of the spoils. It's an interesting twist of events, given that we were speculating whether or not the old lady would have to reimburse the church for her botched art endeavor, which caused her a series of anxiety attacks in the days following the media frenzy. But it seems after weeks in the spotlight, the church has likely collected more money that it could have ever imagined to receive from Gimenez, let alone from its small alms-giving community, through this newfound tourist trade.
Who knows if this will be the end of Gimenez's revenge. She could always team up with Ryanair, which according to El Correo has started offering special €12 ($19) flights from surrounding cities to Beast Jesus' home in Borja, Spain. Or maybe she'll take to the web and try to cash in on the meme ironic art fans love to hate.
Let us know what you think of the octogenarian's fight for the Beast Jesus profits. In the meantime check out our favorite comments from the original story below:
Popular in the Community