We've always imagined the work of an art restoration to be a painstaking process involving highly-trained individuals crammed in the basement of a museum, slaving over old texts and using many, many tiny paint brushes. We certainly did not picture an elderly volunteer sneaking around in a church, haphazardly painting over a classical image of Jesus until he resembled less the son of God and more a furry, sci-fi creature.
But that seems to be exactly what happened to a fresco in Spain when an octogenarian decided to take art restoration into her own hands, according to Gawker, who came across the work on Reddit.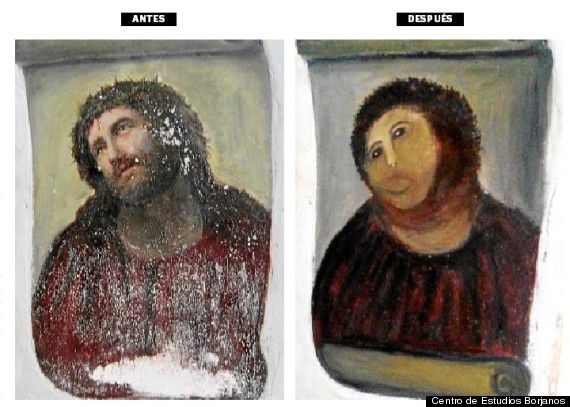 Image on the left shows the painting as it appeared in July of this year, while the image on the right shows the amateur restoration job of the elderly woman.
The DIY project took place a couple of weeks ago at the the church of Santuario de Misericordia in Borja, Spain, when an elderly woman reportedly took it upon herself to repair a fresco by 19th century Spanish artist Elias Garcia Martinez. Replacing nearly all of Martinez's original brushstrokes, the woman's reimagination of Christ went horribly awry when she turned the detailed figure into what appears to be a featureless monster.
The Independent reports that the amateur paint-job was discovered by the Centro de Estudios Borjanos, an archive of regional religious paintings in the same town as the church. They had recently received a donation from the granddaughter of the original fresco artist, Martinez, and decided to send someone to photograph the "Ecce Homo," only to stumble upon the restoration nightmare. A photograph provided by The Telegraph shows how the painting appeared in 2010, with minimal white specks of paint missing from the fresco. But as the photographs above show, the painting was scrubbed into disrepair in July of this year, perhaps when the woman first decided the work needed refurbishment, and later painted beyond recognition.
Borja's culture councillor Juan Maria de Ojeda claims that the botched art repair was undertaken without permission, according to an article by El Pais. Though the elderly restorer turned herself in to authorities and made it clear that the project was begun with "good intentions," de Ojeda points out rather obviously that "she had gotten out of hand."
The city council in Borja has contacted Martinez's family, who have volunteered to donate a sketch of the work by the artist. The council is now trying to determine the materials used in the improvised restoration, recruiting a professional restorer to assess the damage on Monday, according to El Pais.
So, what do you think of this woman's DIY restoration? Do you prefer 19th century Jesus or the 21st century homage?
Check out a slideshow of our favorite comments about the story:
Related
Popular in the Community