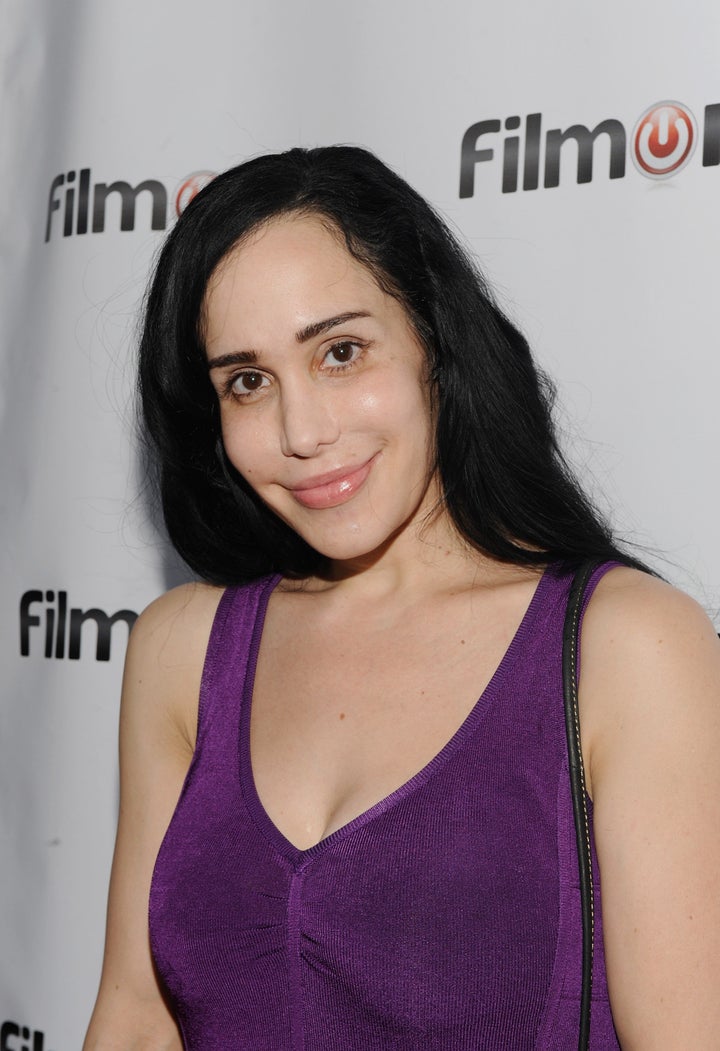 The Octomom and her kids may soon be looking for a new house.
Nadya Suleman and her 14 children are facing eviction from their La Habra, Calif. home, the Los Angeles Times reports. Still, she may get a bit of a reprieve because the foreclosure sale could be delayed until late April. According to Jeff Czech, who told the LA Times that he is Suleman's attorney, he was able to have the foreclosure delayed for "a short while," adding, "We are working on it. The foreclosure sale is not likely this month."
But Czech may not be authority on the issue. He told the Associated Press earlier this week that Suleman is "not doing well [and that] she's struggling financially," claims she denied in an interview with The Huffington Post. She also said she hasn't worked with Czech since last May.
The 36-year-old mother and reality star has been struggling to pay her mortgage for years, prompting others to look for ways to help the Octomom while still making a profit. In 2010, Vivid Entertainment co-founder Steve Hirsh, who once offered Suleman $1 million to perform in one of his adult videos, offered to purchase the $450,000 bank note connected with the home, but quickly dropped the offer.
Hirsch did send a check to cover Suleman's 2011 February mortgage payment, but said she wouldn't accept it. Hirsch told the OC Register, "[Suleman] completely understands that she is in no position to turn down a gift ... [She] has made it clear she doesn't want to perform in an adult movie, which we respect. She's a fascinating personality and we had hoped to be able to help her with her financial situation."
More recently, Suleman agreed to pose partially nude for Britain's Closer magazine to help pay her debts. "I got $8,000 [for the photos]. I have to do what I have to do to take care of my family, and I'm not ashamed. I'm not ashamed at all," she told Anderson Cooper on his talk show "Anderson" airing March 30.
But Suleman isn't the only celebrity dealing with mortgage trouble these days. Even teen popstar Justin Bieber, who has raked in millions of dollars, is having trouble getting approved for the mortgage he wants on a 9,000 square foot home near Hollywood, according to TMZ.
Related
Popular in the Community