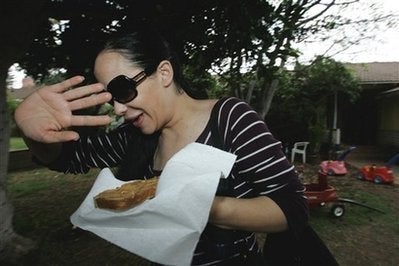 At the end of January, a woman in California gave birth to octuplets. Last October, a woman in New York gave birth to sextuplets. The mother in California, Nadya Suleman, was dubbed "Octomom" and has spawned bills limiting embryo implants; the mother in New York was dubbed 'miracle mom' and later given front page coverage in the New York Daily News, in an article headlined "6 in the City". The reaction to these developments and the disparity in treatment of the two women provides a glimpse into society's attitudes towards women's reproductive rights.
On January 26, when Nadya Suleman gave birth to octuplets in Bellflower, California, this was not her first attempt at motherhood. Ms. Suleman had six other children and they all lived together in her mother's modest three-bedroom home. Disability income and food stamps were the resources Ms. Suleman utilized to provide for her family.
On October 6, 2008 when Digna Carpio gave birth to sextuplets in New York City, she was dubbed "miracle mom." Digna and her husband Victor had one previous child, a 7-year-old boy. According to reports, local Councilman Tony Avela organized an appeal and public support has been pouring in. Administration for Children Services has stepped in to supply the family with two home health care aides. Anyone wishing to assist the Carpio family can send donations to the post office box provided in the Daily News. Deja vu? Sounds familiar? Well it should. The McCaughey sextuplets -- the world's first set of septuplets to survive infancy -- received the same treatment just over a decade ago. They too were lauded with media praise and showered with gifts.
To date it is not known whether the Carpios used fertility drugs. But news of Ms. Suleman's expansive brood has touched off a firestorm of debate. Lawmakers -- Sen. Ralph Hudgens of Georgia and Rep. Rob Schaaf in Missouri -- have proposed bills restricting embryo implants. Using guidelines promulgated by the American Society for Reproductive Medicine, the legislation seeks to limit the number of embryos implanted in a woman, based on her age and the likelihood of a successful pregnancy.
Last week I attended a forum titled "Race, Reproductive Rights Policy and the New Administration hosted by the Women of Color Policy Network. I followed up with panelist and law professor Dorothy Roberts, author of Killing the Black Body: Race, Reproduction and the Meaning of Liberty, since I wanted to learn about her reaction to the proposed legislation. In an email reply Prof. Roberts wrote, "I support government limits on the number of embryos that doctors can implant in women because the health risks entailed in multiple births are so high. But we have to be very watchful of proposed legislation whose aim is to restrict women's reproductive decision making, either by imposing social litmus tests on who gets to use reproduction assisting technologies or stealth barriers to abortion rights. There's a big difference between a bill like the one in Missouri that restricts the number of embryos implanted and the one in Georgia that goes far beyond that to guarantee 'the ethical treatment of the human embryo'."
There is no doubt fertility clinics and in vitro fertilization -- by and large an unregulated industry -- are in need of review and closer scrutiny. According to Prof. Roberts, "Nadya Suleman brought scrutiny to the fertility industry only because she's single, unemployed, and not clearly white. And all the concern about who's going to support her children has avoided the more fundamental question of why the multi-billion dollar business exists in a country that has the worst infant mortality rate in the developed world... While welfare reform laws aim to deter poor women from having even one additional baby, virtually unregulated fertility clinics regularly implant more privileged women with multiple embryos... For me, it all boils down to whose childbearing is valued in our society."
Undoubtedly the fertility industry is in need of oversight. However, lawmakers attempting to capitalize on Ms. Suleman's situation should proceed with caution. As Prof. Roberts pointed out, "The impetus behind legislation focused on the "personhood of the embryo" is to chisel away at women's right to abortion, and not to protect the health of women and children... These bills have nothing to do with race and gender equality; they are all about restricting women's reproductive decisions by subjecting them to greater state surveillance. We should apply a reproductive justice lens to these bills, one that ties women's ability to control their reproductive lives to the struggle for social equality."

Popular in the Community