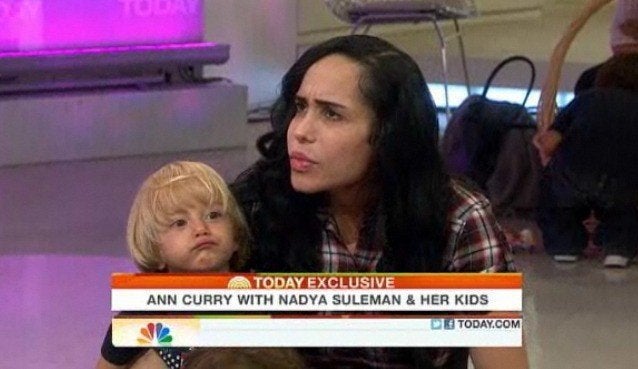 Octomom Nadya Suleman made her Today Show debut this morning with her eight babies and one of her older children in tow.
Ann Curry interviewed the California mother of 14 children, who sat cross-legged on the floor with her brood and answered questions about how she supports her massive family.
Suleman said that it costs about $15,000 a month to support her family. To do this she's recently hired a manager and started doing paid appearances, as well as becoming a fitness trainer, a job she says she's held since last summer.
"I'm in the process of earning my personal training license, but again thats peanuts compared to the total amount of dollars I will need to support all the kids every month," she said.
Suleman told Curry that she's never been on public assistance in her life and never will be. "I would feel like a failure not only as a mother, but as a human being," she said.
To which Curry astutely responded, "You may not always have enough money, but you do have a lot of children."
Proof of how exhausting it must be to care for 14 children happens at about 3 minutes and 26 seconds into the video when one of Suleman's kids takes a dive and Curry rushes to retrieve him.
Suleman also used the interview to dispel rumors that she recently told InTouch Magazine, "I hate the babies, they disgust me. My older six are animals, getting more and more out of control, because I have no time to properly discipline them."
Popular in the Community