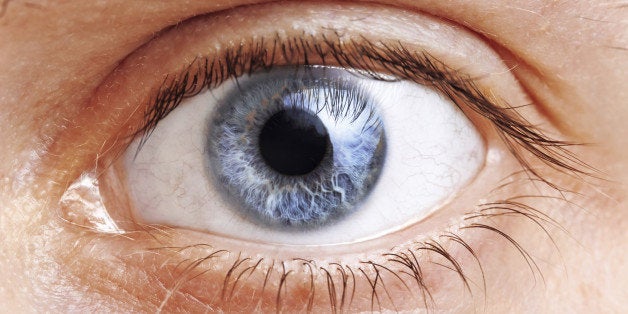 You have cancer. Three words no one ever wants to hear, yet this was what I was being told on a Monday morning in early July. I had traveled with my mom to Philadelphia to see an ocular oncologist, one of the best in the country, to determine if the tumor in my eye was a mole or ocular melanoma. Three months before this day, I never even knew ocular melanoma existed. I was aware of skin cancer, but never knew that people could get cancer in their eyes. The fact is that not many people do. Ocular melanoma is a very rare cancer, with only about six in 1 million people diagnosed per year.
Everything started happening very fast in the exam room that day. It was a small room packed with myself, my mom, my ocular oncologist, a nurse, fellow and numerous medical students. I felt like I was on display with everyone watching me to see what my reaction was to the news that I had cancer. I was told that I would need to have a radiation plaque surgically placed in my eye and that the first surgery would be taking place that coming Thursday. My head began swimming with thoughts and questions -- I had never had surgery before. Would this take care of the tumor? What was I going to tell my kids? My doctor highly suggested I have a biopsy done before the radiation plaque therapy to determine my genetic risk of the melanoma spreading to other areas of my body. She was talking and explaining to me that ocular melanoma has a high rate of metastasis, but I was too in shock over my upcoming surgery to really hear what she was telling me. Nevertheless, in my opinion knowledge is power, so I opted for the genetic testing. It would be weeks before I dealt with truly comprehending that I would be dealing with this health issue for the rest of my life.
Tuesday and Wednesday in Philadelphia passed by in a fog to me. I tried not to let myself get scared about the upcoming surgery, and my mom and I made the best of the time playing tourist in this new city we were not familiar with. I was still keeping my emotions inside for the most part, too frightened to let them out or share what I was thinking with anyone else.
Thursday morning I arrived at the hospital and had my first surgery to implant the radiation plaque into my right eye. I am fortunate in that my tumor was caught early and that I had some blurry vision, floaters and bright flashes that prompted me to go see my local optometrist. The majority of ocular melanoma patients never have any symptoms to alert them to the tumor. I was told that my blurry vision was a blessing, and that we caught my melanoma when it was still small. After recovery I went back to my hotel suite where I would stay until Monday morning when I would have a second surgery to remove the plaque. It was very strange to not have use of my right eye at all. I could leave and go to breakfast in the hotel one time on Saturday morning, but otherwise had to stay in my room. I did not have issues staying in semi-isolation, as I used the time to stay in touch with friends and family. I am very grateful that my mom brought me delicious food and was there for me for whatever I needed. She could stay in the room with me, we were just told we should stay a few feet away from each other so as not to expose her to the radiation. Because the bandage over my right eye prevented me from being able to wear my glasses, I listened to a lot of Wheel of Fortune, Jeopardy and HGTV during those days. I also listened to music and felt like Imagine Dragons' "Radioactive" was my new theme song, complete with my wristband stating I had radioactive material in my body. I was afraid to cry too much with the bandage on my eye because I did not want it to turn into a soggy mess.
I had the radiation plaque removed the following Monday. I had some dissolvable stitches in my eye and after the smaller bandage was removed I had to work to keep my eye open for short bursts of time. After almost four weeks I had no problem keeping it open. I had to use dilation drops and an ointment for the first three weeks. Even after I stopped that medication my eye remained dilated for a few weeks. I am now able to get a better understanding of what my vision will be like in that eye. It is likely that is will change over the next few months to a year.
After having been home and feeling like my eye was healing as it should be, my focus shifted to the upcoming genetic test results and concern over whether I would be at an increased risk for metastasis. Without genetic testing patients are told they have a 50 percent chance that their ocular melanoma will spread to other parts of their body. This was the time that the reality really began to sink in. I've always tried to appreciate all of the good things in my life, but nothing puts things into perspective like a cancer diagnosis. I have had a lot of different reactions from friends -- some are there for me no matter what time it is day or night to offer support and others do not know what to say or how to deal with the situation. I am very grateful to my friends and family for their love and concern. I cannot imagine this journey without them. My gratitude also extends to my excellent medical team.
I feel like I am a buoy out in the middle of the ocean with strong seas. It is hard for me to allow myself to feel vulnerable to others and it is something I am working on for my own personal growth. In my head it makes me look weak at a time when I need to be strong. I also worry that I may scare others away because of my neediness. I have had times when I would go into the shower to cry so I wouldn't upset my kids, times where late at night I have broken down sobbing with fear over the uncertainty of my future. But then it occurred to me that none of us know what the future holds. People die in accidents every day that no one could have ever predicted. None of us has any guarantees and that is why we have to make the best out of each and every day we are lucky enough to be alive.
I have been more focused on what is important in my life. I want to live a life with lots of passion -- I want to breathe it in, really feel it and cherish it. I want to spend more time with the people who are most important to me. I want to travel and see more of the world. I want to get in the best shape of my life. I want to be the best mom I can be. I want to help others who are facing both ocular melanoma and other rare cancers. I want all of this and much, much more.
I know I will continue to have emotional highs and lows, especially over the next couple of months as my doctors and I formulate a plan as to how to best manage my preventative care. And preventative is the key word -- right now the only cancer in my body has been treated with a radiation technique that has a very high success rate. I have a lot more life to live and I intend to live it to the fullest, cancer or no cancer.