Anheuser-Busch recently launched a new tequila-flavored beer called Oculto. If you've been in Miami during the last month, you've probably noticed their adverts splattered everywhere. It's a multimillion dollar campaign that culminated in a two-weekend celebration at Soho Studios in Wynwood. The following is not an understatement: the Oculto launch was one of the best events ever produced in Miami. It really was some mind-blowing, Alice in Wonderland next level shit.
Upon entering a main room you chose one of three doors to enter: 8pm, Midnight, or 4am. Each door led to three or four rooms. Each room was designed with a certain theme. The design of each room was curated with the precision and detail of a Hollywood set. Each room had actors whose job was to engage you, get you drunk, make you feel special, and then move you along to the next room. The rooms all spit you into a main ball room where the Swedish electronic band Little Dragon played an hour long set to a crowd probably ten times smaller than they are accustomed to.
There were bars everywhere serving free beer and tequila.
After the band all the rooms opened up for you to explore.
The first installation or room was a birthday celebration party at the office. Totally screamed Mad Men complete with the music and nuanced 60s details to a tee --
Room 2 was a pool party with big bouncy white balls covering a four foot deep pool surrounded by tropical foliage with an 80s soundtrack -- every room had seats with free beers in a bucket. Lifeguard actors made you feel part of the scene and not alone.
Room 3 was a weird American Horror Story freak show steampunk boudoir with a dressing room for female burlesque performers. It was draped in red velvet with racks of vintage clothes and a piano-- and beautiful, beautiful people.
Honestly, it all turned a little blurry, which is fun. There was a hotel room. A wedding chapel. A police station. It was cool. Definitely inspiring. You have to give Anheuser-Busch props for blowing Miami up, creating jobs for locals, and throwing a kick-ass free party without pretension or entitlement. It really made me wonder why the Miami-based company Baccardi doesn't host events like the Oculto launch.
The beer was pretty good too.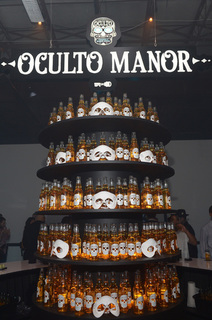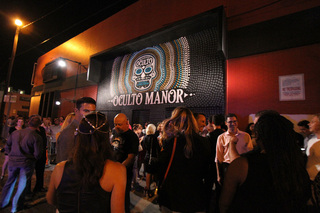 Local painter and awesome dude Luis Valle painted the logo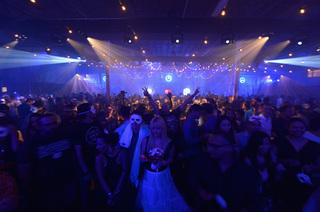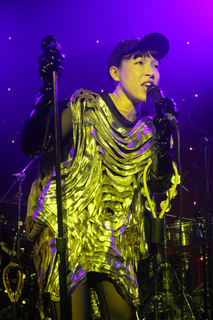 Little Dragon droppin a little sumpin sumpin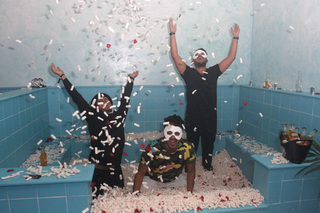 I don't even remember this...
Calling all HuffPost superfans!
Sign up for membership to become a founding member and help shape HuffPost's next chapter