On the Sunday before Thanksgiving, the U.S. Catholic bishops ask their parishioners to donate to the needy, but this annual special collection is not charity. Rather, the funds are earmarked for the Catholic Campaign for Human Development (CCHD), which since 1970 has supported grassroots community organizing.
How can that be, in an institution so famously hierarchical? Indeed, on a public radio segment about parish closings, when I noted [at 7:35 here] that there needs to be more transparency (particularly about the legal fees related to the cover-up of pedophile priests), I added, "But what do you expect from a top-down institution?" Then there is the fact that the U.S. Conference of Catholic Bishops (USCCB) is known for loudly promulgating stances that gender rights activists, and a growing percentage of the public, consider profoundly unjust.

Even more Americans are in favor of progressive economic policies -- most people, actually -- and here the USCCB is with them. Indeed, on every issue not related to sex/gender, official, traditional Church teaching is not conservative. Many bishops do obscure that fact, given that most of them likely vote Republican. Even so, the USCCB has long taken a progressive position on most issues, as with the bishops' call for curbs on perceived corporate excesses, from questionable trade deals to agribusiness tax subsidies, and this places them on the opposite side of the Catholic justices on the Supreme Court.

Moreover, the hierarchical nature of the Church is less all-encompassing than it seems, as indicated by, for example, the Catholic doctrine about the importance of one's conscience. And as I noted on that public radio call-in segment, "We are a top-down institution, but we are also...the Church as the Body of Christ: Christ in the center, and the most important people being the marginalized."
In this vein, the Catholic Campaign for Human Development constitutes one of the nation's largest organizations in support of grassroots community organizing. "The belief that those who are directly affected by unjust systems and structures have the best insight into knowing how to change them is central to CCHD," its website notes, adding that "CCHD works to break the cycle of poverty by helping low-income people participate in decisions that affect their lives, families and communities. CCHD offers a hand up, not a hand out."

This pattern of support dates from the very founding of community organizing by Saul Alinsky: a Jewish, self-proclaimed radical who, in a sense, was joined at the hip with Bishop Bernard J. Sheil of Chicago. "Alinsky brought his ideas first to Bishop Bernard J. Sheil by 1940 Alinsky and Bishop Bernard J. Sheil had formally organized the Industrial Areas Foundation," according to a study of the IAF.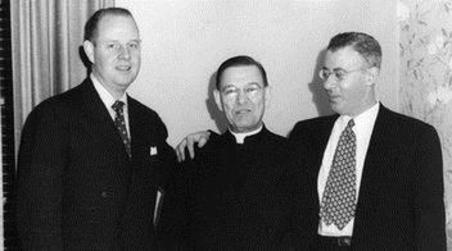 Bishop Bernard J. Sheil of Chicago, center, and community organizing founder Saul Alinsky, right, 1940s
Conservative Catholics have long objected, and when former community organizer Barack Obama ran for president in 2008, they attacked the Campaign for Human Development. But although the word "Catholic" was added, and although CCHD now makes clear that it does not solely fund community development, the organization's basic mission remains unchanged. Its "Community Organizing" webpage* states that "community organizing involves bringing people and groups (often including churches) together to collectively address issues of common concern, for example, availability of affordable housing, access to services and businesses, decent education, and jobs with living wages, and other issues of economic development and justice."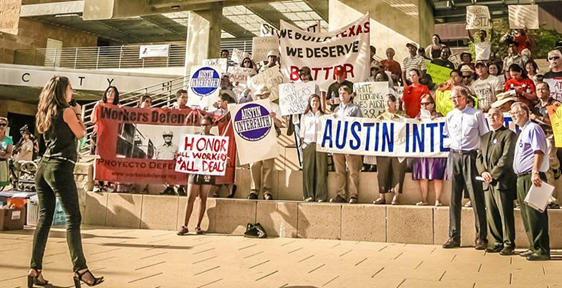 Part of the IAF community organizing network: Austin Interfaith (including the bishop of Austin, in black suit), lobbying for labor rights.
Alinsky protégé and "genius grant" recipient Ernesto Cortés, Jr. cites Catholic social teaching as influential in the development of community organizing, and when the nation's largest denomination holds that Thanksgiving-week special collection of mostly small donations, it will be supporting one element in a broad-based coalition aimed at empowering ordinary folks. As Ernie Cortés notes, "The only answer to organized money is organized people." For all the efforts that are furthering that vision, we can truly give thanks.
Related
Popular in the Community