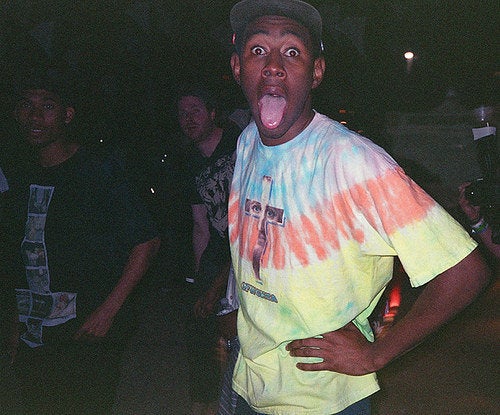 Somehow managing to ride the line between overwhelming pop ubiquity and anarchic underground independence, the L.A.-based hip-hop collective Odd Future (full name: Odd Future Wolf Gang Kill Them All, or OFWGKTA) has written its own rules yet again.
Just yesterday, only a month after Funny or Die lampooned the idea of the group receiving major-label backing, it was confirmed that the mostly teenage members of Odd Future had done just that, partnering with Sony's RED Distribution to create their own label-within-a-label. According to a statement from their management, the group's members will "release music-based content consistent with their vision" under the Odd Future Records banner.
"RED and Sony know that it's in everyone's best interest to maintain the group's authenticity and control," the statement said. "They built it, they deserve it."
Sustaining full creative control over their material and brand gives the collective's diverse members -- who include visual artists, filmmakers, skaters, producers, savvy social-media types, singers, and beatmakers -- a way to capitalize on major-label support, while also staying true to the anti-everything brand they've spent the past year creating.
"We kinda joke that they signed to themselves, but it's actually the truth," their manager, Chris Clancy, told MTV News. "When it comes down to building this label within itself, it's going to be all of us sitting down and doing it and building a schedule. Full creative control, it's not just the creative control, it's the business control."
The fact that a group like Odd Future can make this type of deal with a major label is unique, considering they have no hit singles or full albums available in retail form. Their buzz, aside from a cover feature in Billboard, has up until now been mostly confined to music blogs and websites. Its members rap about rape, drugs, misogyny, murder, and their unabashed hatred of comedian Steve Harvey, all with an occasionally unnoticeable tinge of irony.
Their grainy, self-produced YouTube videos, which rack up an astronomical amount of views, contain images of kids bleeding from their chest, drinking a blended milkshake of pills, cough syrup, and beer, pulling nails off their fingers, and vomiting blood. And, in the group's most recent video, which has amassed close to 7 million views, its de facto leader, Tyler the Creator, hangs himself. Kanye West Tweeted it as "the video of 2011."
The high-octane live shows are already legendary; in fact, they've sold out every single one they've ever put on. At SXSW in Austin this year, one fan likened an Odd Future show to seeing Nirvana in 1991, as packed houses of underage kids screamed their most well-known chorus, "Kill People, Burn Shit, Fuck School." In New York, at Webster Hall last November, they packed the house with industry elite, music nerds, and diehard fans, alike. At one point in the show, Tyler took a hit from an asthma inhaler.
Back in February, Tyler the Creator and another group member, Hodgy Beats, performed on "Late Night with Jimmy Fallon" wearing ski masks, growling their way through their song "Sandwitches" with the Roots as their backup band. Fog encircled a garden gnome at the front of the stage, while a zombie-esque girl straight out of "The Ring" wandered around aimlessly, plugging her ears and freaking out the audience. The Internet went wild, and anyone who hadn't yet heard of the group was now paying attention.
"Talented, hilarious, villainous, immature, precocious, and viral," Pitchfork wrote of them last October. "The perfect rap crew for our time." The question now is whether they can sustain their unique appeal amid major-label backing, or, conversely, if this deal with Sony has no effect whatsoever on the insular world they've created among themselves and their fans.
But before they carry out their plan of world domination, they hope to see the return of their popular member, Earl Sweatshirt. Last year, Earl's parents shipped him off to Coral Reef Academy, a reform center for teens in Samoa. The center's website says its hope is to allow teens to be "nurtured back to wholeness while being challenged toward responsible adulthood."
On April 9th, Tyler the Creator tweeted to his fans that when Earl does return, "OFWGKTA will rule the world."