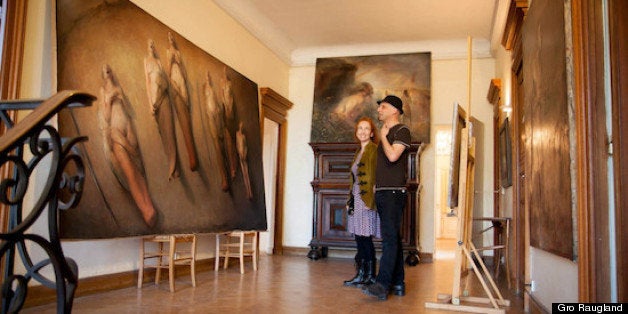 Recently I was privileged to be able to attend an exhibition of over 100 paintings by my friend and mentor Odd Nerdrum who opened his home and studio in Paris to the public for three days. Here is my account of this special event as well as a video and photographs from the opening.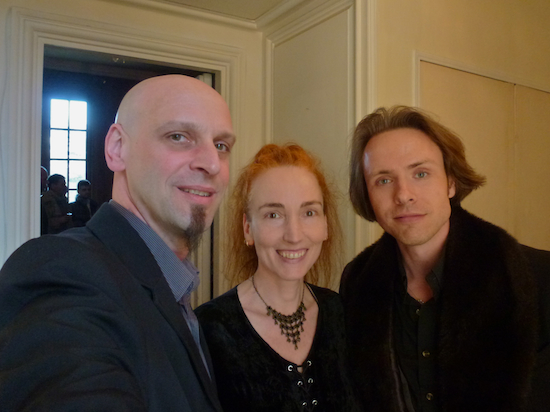 L to R: Painters Brandon Kralik and Nanne Nyander with composer Martin Romberg
On an otherwise sunny day, a dark thundercloud passed over the sprawling gardens of the Nerdrum's home in Maisons-Laffitte. "Nature providing a little drama for Odd," commented the artist's son Bork Spildo Nerdrum as the rain passed and an international group of collectors, painters and admirers gathered from around the world to see this most special exhibition of paintings.They crowded the huge rooms to see over 100 works by this most interesting, and arguably the best, of all figurative painters and to hear the special concert arranged by the composer Martin Romberg as wine and hors d'oeurves were served.
Romberg composed a piece to accompany Nerdrum's latest masterpiece, "To the Lighthouse" and the composer stood by as pianist Michael Cheung performed it in front of the painting. Cellist Markus Eriksen and violist Sarah Niblack joined Cheung for live performances of Sibelius and Arvo Pärt compositions as well. The entire event was presented in grand style at Nerdrum's private residence and studio outside Paris which was opened to the public on April 19, 2013 for just three days. A miracle of rare device!
The event was arranged by the Nerdrum Museum, Galleri Pan of Oslo and Galerie L'Oeil du Prince of Paris, and was opened by Gerald Bliem of Galleri Pan who spoke of the challenges that Odd Nerdrum has faced during the past decade with regards to his cruel treatment from the Norwegian tax authorities. The Norwegian Supreme Court recently overturned a 2 year 10 month prison sentence and now the painter awaits a new trial which will present new evidence in the case. Nerdrum's new book, Crime and Refuge, depicts these challenges by presenting a collection of Nerdrum's paintings with its focus on the theme of the refugee.
Nerdrum's son, Bork, presented the book which was released for the first time at the opening. The forwards to the book are written by Norwegian author Nabintu Herland, who was on hand for the opening and Gregory David Roberts, acclaimed author of Shantaram and although he could not attend the opening, his wife, Princess Françoise Sturdza of Switzerland were among several hundred people in attendance.
To see Nerdrum's work in person is important if one is to understand how large his contribution is, both literally and figuratively. Every room in the house was full of paintings by this man who has chronicled his life and the full range of human experience as no other painter has. From the soft, gentle paintings of children in their mothers arms, of families and groups of individuals bathing and lounging in the sunset by the waterside, to the despair, the alienation, and backstabbing that seems to inevitably accompany human beings as we fumble for grace during our dance to the grave.
The huge stone staircase leading up to the second floor of the exhibition was lined with paintings of mistreated animals which, alongside haunting images like "Dustlickers" and "Five Singing Women" gave the viewer a distinct impression that Nerdrum knows exactly what he is doing. He is no mad artist.
In the Cognac room there were many books by Nerdrum containing not only paintings but also volumes of essays, prose and plays. In this one room, the smallest of all the rooms, were dozens of small portraits of former students who have come from all over the world to learn from him and Nerdrum has given freely to those who have wandered his way.
An iMac on the table played the films that he has conceived and which have been made by his sons, Øde and Bork. Although the other rooms were spacious with inlaid wood floors, chandeliers and vaulted ceilings, the paintings were so large that there was room for only one per wall in most cases. The life size figures floating midway on transparent lakes, suspended in space or singing by caves, measureless to man, allows one to forget that these are paintings at all and transports the viewer into the full emotion of the song, into the longing for the dawn.
For me that is an important aspect of Nerdrum's work, to forget that it is a painting, to be absorbed by ancestral voices, and in doing so, to catch a fleeting glimpse of what was there, who we were before the turmoil, when there was just eternal emptiness. Peace. The fact that hundreds of people traveled to enjoy this experience with me reminds me that I am not alone.
Throughout the house were easels and palettes and evidence that he had been there, although Nerdrum himself was customarily not present.
In his studio, with the huge fireplace the guests found themselves in the company of five over-sized paintings on easels, the figures communicating through gestures, through paint. Beyond the brushes soaking in oil, the 200 ml tubes of paint with indentations from large hands, lids missing and piles of discarded paint scrapings, stood a skeleton wearing Nerdrum's clothing. In his timelessness, he takes us beyond his own death, in this life, by giving us an exhibition of paintings that all who made the effort to attend can be eternally grateful for.
Watch the video from the opening, featuring paintings by Odd Nerdrum and the music of composer Martin Romberg
Photographs from the Open House: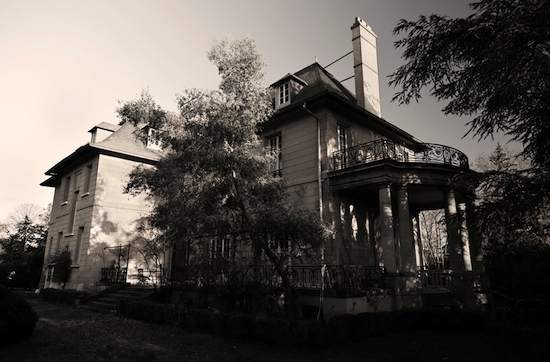 Odd Nerdrum's Paris home and studio -- Photo: Øde Spildo Nerdrum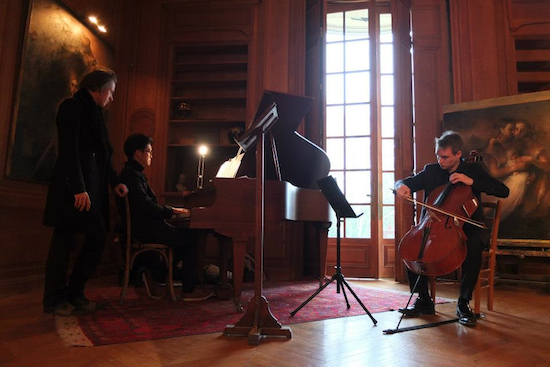 Composer Martin Romberg, Pianist Michael Cheung, Cellist Marcus Eriksen -- Photo: Delphine Margau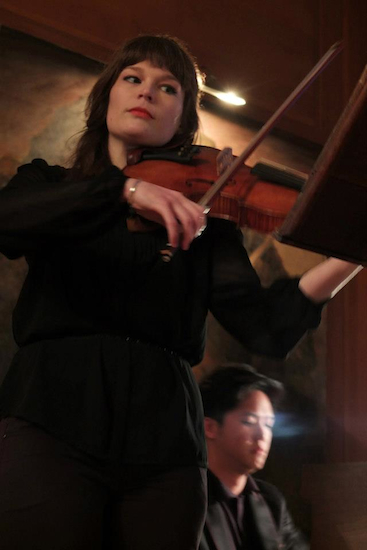 Violist Sarah Niblack, pianist Michael Cheung -- Photo: Delphine Margau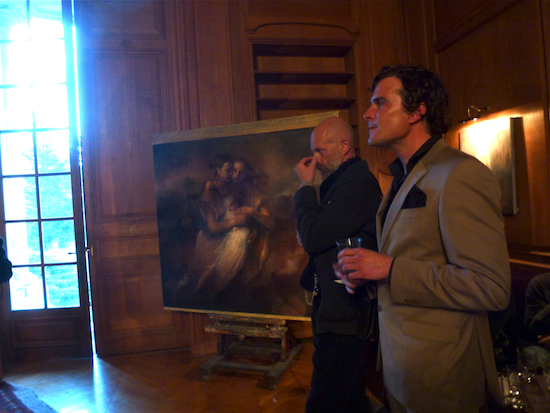 Painter David Della Venezzia and Galleri Pan owner Gerald Bliem with Nerdrum's "To the Lighthouse" -- Photo: Brandon Kralik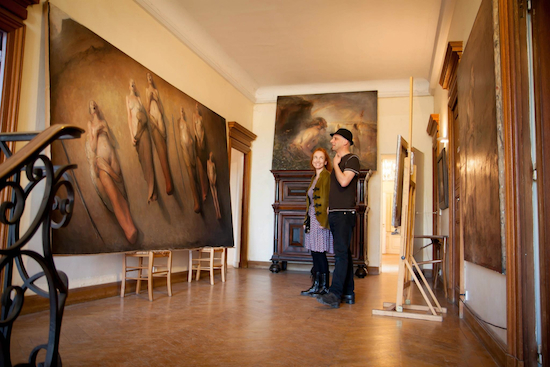 Nanne Nyander and Brandon Kralik with Odd Nerdrum's "Five Singing Women" -- Photo: Gro Raugland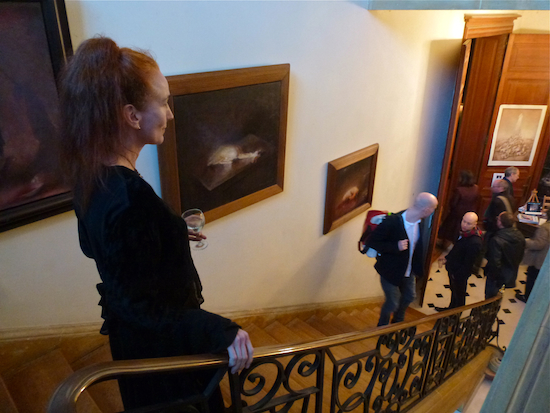 Nanne Nyander descending the staircase with Nerdrum's "Tortured Animal" series on view --
Photo: Brandon Kralik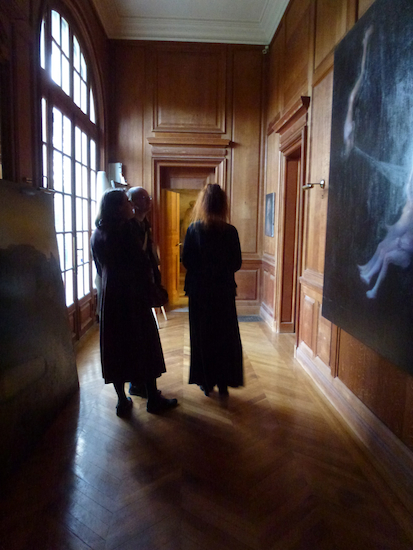 The hallway leading to Nerdrum's studio -- Photo: Brandon Kralik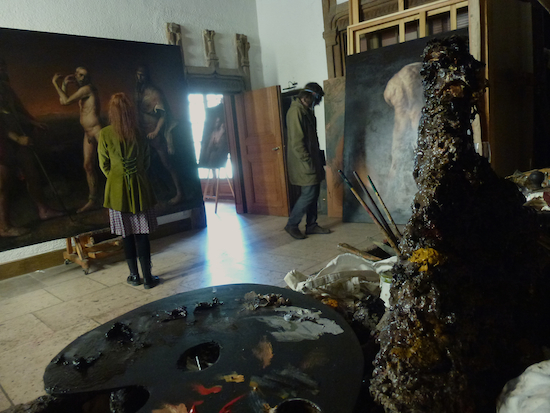 The painter's studio and palette -- Photo: Brandon Kralik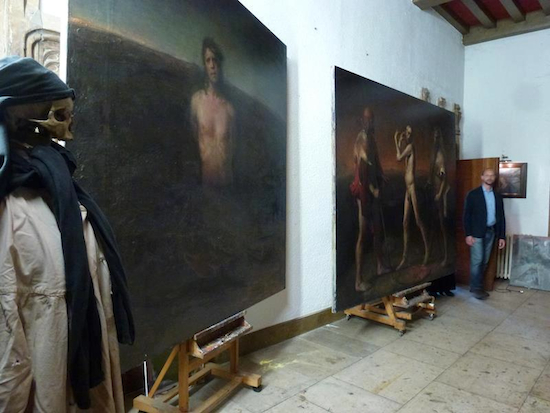 Nerdrum's Studio -- Photo: Nixon St. Hilaire
Support HuffPost
The Stakes Have Never Been Higher
Related
Popular in the Community