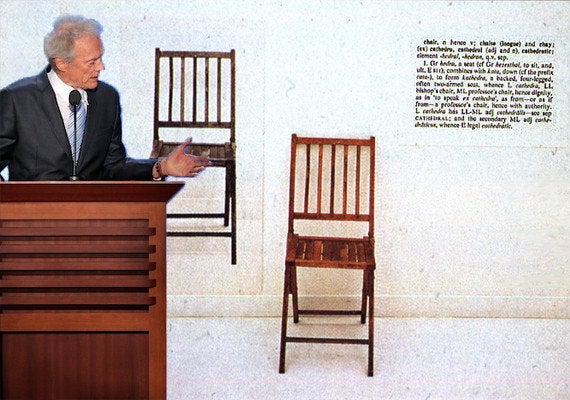 We are finally on the final countdown to Election Day, after what has arguably been the longest presidential campaign in the history of politics. And as the dust settles from all the primaries, polls, and party conventions, for me, one of the iconic moments of Campaign 2012 remains the image of Clint Eastwood talking to an empty chair during the Republican National Convention, a convention that kept repeating the question, "Are you better off now than you were four years ago?"
The clip has been replayed over and over and over again in the weeks since the Republicans gathered in Tampa. But what I'm thinking about today is the moment I saw it "live" on a television with muted sound in the lobby of Keck Hospital at USC, where I sat for 12 hours while my partner Louise was in surgery. I remember saying to her brother Fred, "Is Clint Eastwood seriously up there talking to an empty chair?" as we tried to figure out what the deal was.
Of course, like the rest of America, I later found out that that was exactly what he was doing, attempting (evidently) to make the point that an empty chair represented the empty achievements of the Obama administration over the last four years. And so, in this final campaign countdown, I want to see Clint Eastwood's empty chair and raise him my experience. Am I better off than I was four years ago? Let me count the ways.
And let me start with my older son, who, four years ago, was a U.S. Army helicopter crew chief between deployments to Iraq and Afghanistan. He is home now, in college, about a semester away from earning his B.A. in liberal studies, and making plans for graduate work in education. As a student using his veterans benefits for college, he is not paying income tax, so he falls in Mitt Romney's "47 percent" -- but I dare you to call him a "victim." Yes, I am better off with a son home from the war.
Then there's my younger son, who, four years ago, was going from dead-end job to dead-end job in the worst possible economy for a kid with a High School Equivalency degree and "no experience." Today he is working overtime as a welder, putting car parts together in an auto industry rescued from bankruptcy. He is making plans for a future with his girlfriend, and his hopes of a home and family down the road, which seemed impossible four years ago, seem possible today. Yes, I am much better off with a son fully employed.
Finally, there's my partner. The Affordable Care Act made Louise's battle with kidney cancer in 2000 a part of her medical history that informed her treatment in 2012 -- not a pre-existing condition that prevented her from receiving treatment in 2012. Because of the ACA (aka "Obamacare"), not only did Louise have options for her fight with cancer, but she had the health insurance she needed to exercise those options. She had phenomenal doctors, nurses, and health-care teams at the Norris Cancer Center and at Keck/USC Hospital who did absolutely everything they could until there was nothing left to do -- and then with grace and abundant sensitivity enabled us to send her off with peace and dignity on Sept. 2, 2012.
So there is an empty chair in my living room every night when I get home from work. Her empty chair. And in spite of the grief and loss it represents, it trumps Clint Eastwood's empty chair, because I am, in point of fact, so much better off in so many ways than I was four years ago.
I am better off because I am "just" coping with the grief and loss of a beloved spouse, not the helpless anger of not having been able to give her the best possible health care she needed and deserved. Four years ago that would not have been true.
I am better off because of the hope that DOMA, the so-called "Defense of Marriage Act," is on its way to join "don't ask, don't tell" in the dustbin of history, with the full, active support of the White House. Four years ago that would not have seemed possible.
And I am better off because even though marriage equality didn't come soon enough for Louise and me, I know that when it comes -- and I believe it will -- it will be part of her legacy as an LGBT activist. And maybe, just maybe, four years from now we'll all be able to cross that one off our bucket list.
So now that we're finally on the final countdown to Election Day, I invite you to join me in seeing off Clint Eastwood's empty chair of fear, cynicism, and polarization and raising him with a commitment to hope, possibility, and equality in the next four years. Because we are better off than we were four years ago. And together we can keep moving forward.
REAL LIFE. REAL NEWS. REAL VOICES.
Help us tell more of the stories that matter from voices that too often remain unheard.