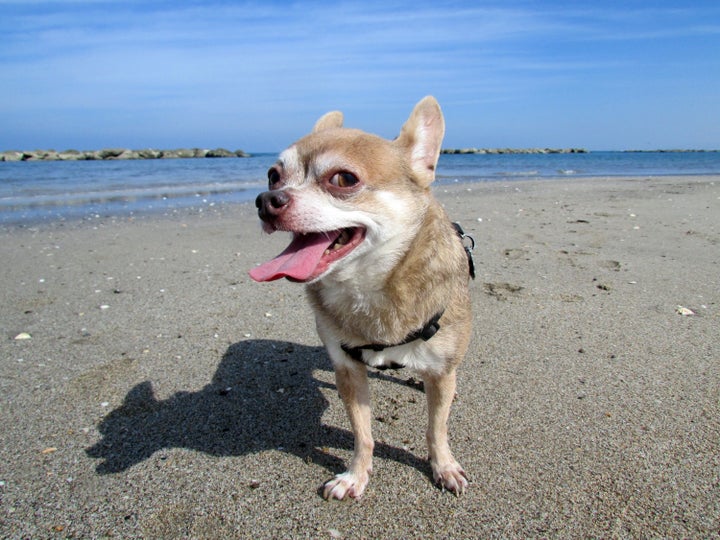 "The whole chihuahua litter is black and brown except for the runt, who's silver, and, well, he seems to have a special soul or something -- and it's freaking us out," the breeder said to me on the phone. "What do you mean?" I asked. "You'll just have to come and see for yourself," he said. Seeking an escape from severe depression and the physical challenges of a disability, I hopped in my car on a desperate hunt for the perfect pup.
I was praying that a service dog might turn my life around. Though I was pulling all A's as a graduate student at Brown, depression kept sidelining me. My treatment team seemed to be running out of options, and I was running out of reasons to stay alive. Getting a service dog felt my last hope -- a Hail Mary pass into the abyss.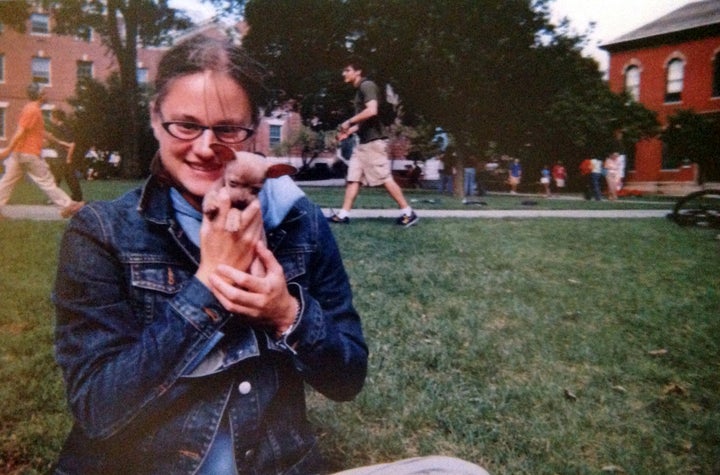 "Where's the runt?" I asked, climbing over four pocket-sized puppies peeing in all directions in the breeder's kitchen. The breeder pointed under the stove. Bowing down on my hands and knees, I spotted a teacup-sized chihuahua with enormous ears pressed up against the wall, shaking from the trauma of his first bath. As I peered into his doe-like eyes, he stared straight into the darkest corners of my soul.
When I set him on my lap to test his temperament for training, he sat as still as a monk for over an hour. For the first time in years, I felt the faint promise of peace.
"When was he born?" I asked, eager to know everything about him.
"July 27th," the breeder said.
"No way!" I said. Like me, almost everyone in my family had been born on a 27 -- February, April, June -- you name it, we had it covered. But July was still up for grabs -- until I brought Anubis home.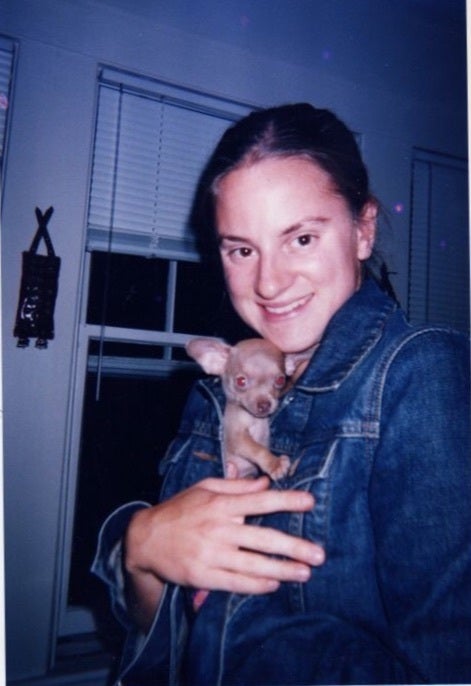 An Egyptologist, I named him Anubis after the jackal-headed Egyptian god of the afterlife. Since I spent my winter breaks excavating mummies at the Great Pyramids, I knew all too well that the ancient Egyptians worshipped animals as gods. Little did I know how much I would end up adoring Anubis too.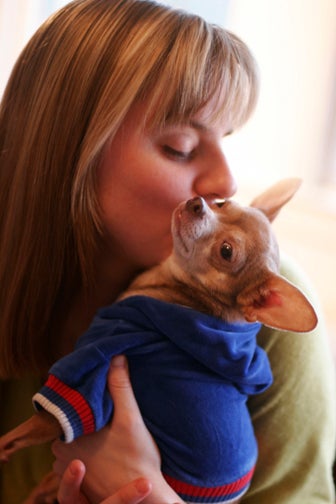 When I took Anubis' for his first check-up, beaming like a proud new mom, the vet didn't offer his congratulations.
"Well," he said, "we'll just pray for the best."
"What do you mean?" I asked.
"He's very tiny -- I don't want to get your hopes up," he said. A former failure-to-thrive baby myself, I knew that Anubis would have to gain weight in his struggle to survive. To take care of him, I was going to have to take care of myself.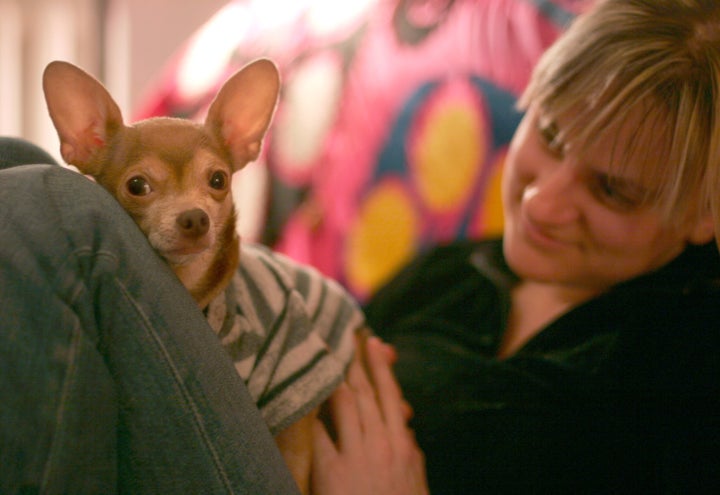 Whenever Anubis walked with me through the hallways of the hospital on our way to doctor appointments and support groups -- he modeled for me how to stroll with spunk not shame. In my anorexia support group, he always stole the show.
"I think we need to talk about who's really having the most eating issues here," the group would say, "Anubis can't even break a pound!" And when, after a year, he finally did, we all celebrated with cake. In his fragility, we saw our own. In his triumph, we could appreciate the valiant victory in getting well.
Noting his positive effect on the eating disorder patients, the doctors invited Anubis to also do pet therapy with support groups for people with depression and anxiety. "I don't understand why we're having Anubis, a chihuahua, do pet therapy with the anorexics!" the head psychiatrist barked one day in the hallway of the asylum. "Shouldn't we instead have a Great Dane?"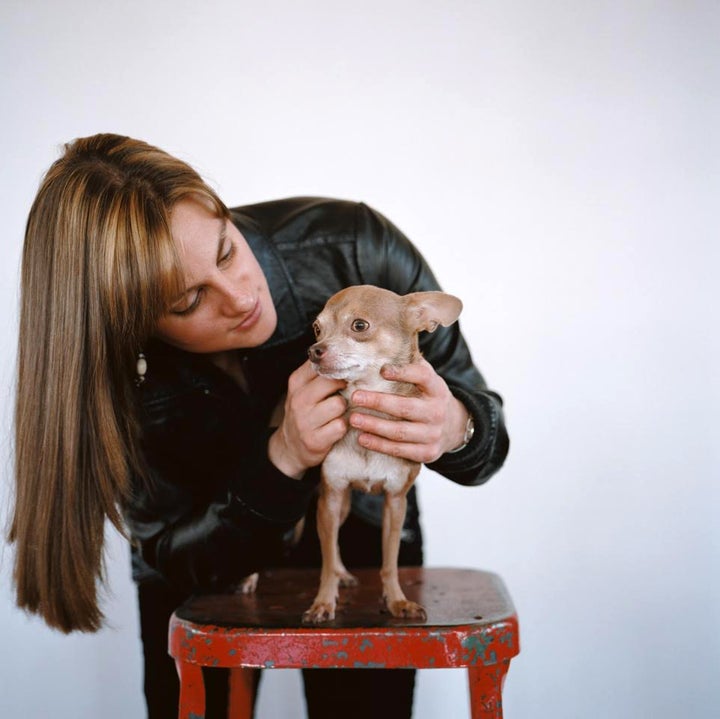 In every course Anubis attended with me at Brown -- be it Arabic, Russian, Czech, or Persian -- he became featured in the lesson plan (translate: Anubis goes to the park every day). His calm and alert presence in the classroom softened even the most hesitant of hipster hearts. Students in the literary frat wrote and performed a song in his honor -- accompanied by a special hand gesture (touch your middle and ring fingers to your thumb — presto!). During final exams, Anubis teamed up with other dogs to offer pet therapy to stressed out students on the Main Green.
With his mysterious magic, Anubis has made my wildest dreams come true. When I was teaching at Harvard, Anubis scored a private audience with His Holiness the Dalai Lama on the quad -- after being hand-picked by His Holiness out of the crowd. The Dalai Lama wanted some Anubis love of his own: "Lick my nose!" he said, just inches from Anubis' snout. "Come on, lick it!" It was just the mantra I'd been looking for -- and the Dalai Lama got the pooch smooch he was seeking.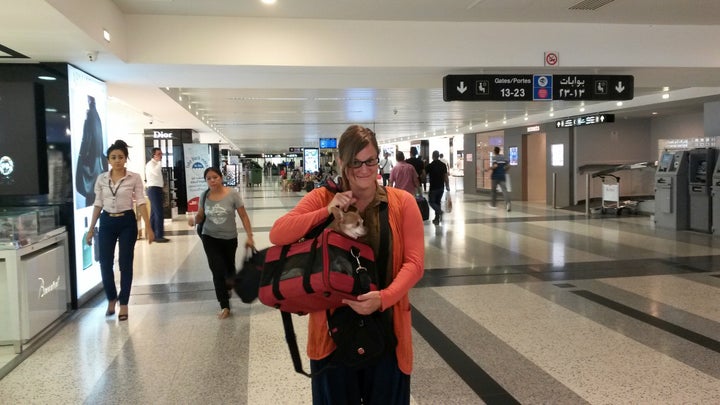 When I re-located to Lebanon to teach at the American University of Beirut, I feared that Anubis would be unwelcome in public -- because of the region's intolerance for dogs. But every night at sunset, when Anubis and I strolled on the Mediterranean Sea, people of all backgrounds -- Sunni, Shia, Druze, and Christian -- would stop us to ask for a photo. Toddlers would run after him, squealing "sinjeb, sinjeb" -- squirrel, squirrel! Syrian refugee kids stole breaks from shining shoes to pet him. And when Anubis barked at the big dogs to get them to back off, people of all ages laughed and rooted him on. After all, Lebanon is a tiny country with a big bite and a lot of fight.
When I told my Lebanese vet in Beirut that I was writing an ode to Anubis, I asked how she would describe him: "great protective instinct...knows what he wants...still plays like a puppy...happiest chihuahua ever."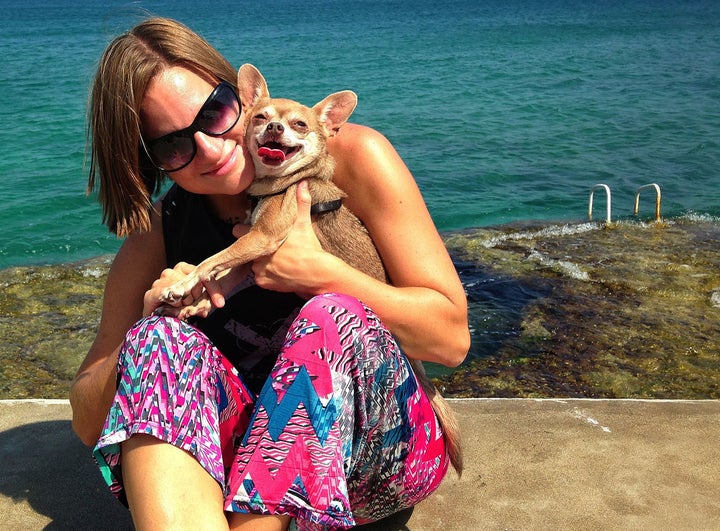 As spontaneous and organic as my love for Anubis feels, it's more predestined than I'd like to believe. As a child, I was adopted, and when I went to meet my Slavic birth family for the first time, I brought Anubis along for emotional support. I knew my birth mother would not be present, since she's an FBI missing persons case -- having disappeared off a cruise ship in the Caribbean many years ago.
"Hold on a sec -- what is that?" my birth uncle asked, when he spotted Anubis in my bag. Just as I was about to apologize for not having announced his presence in advance, my uncle pulled out a photograph of my birth mother smiling on the beach -- with a tiny dog in her bag. "She went absolutely everywhere with that little dog in her purse," he said. "Everywhere."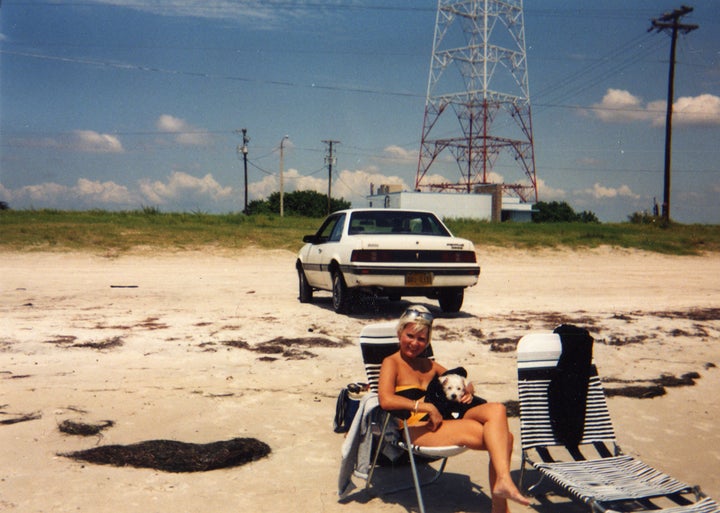 It's not easy keeping up with Anubis -- the little guy gets around. He's snuggled in John Krasinski's lap, enjoyed a laughter-riddled play session with Danny Devito and Rhea Perlman, and performed with Aasif Mandvi in my Dada theatre piece at Lincoln Center (Anubis donned a tuxedo to play "The Maestro" -- he's a fan of the avant-garde). Artist friends paint and photograph him. His presence is requested at every wedding I attend. Everyone wants a piece of him.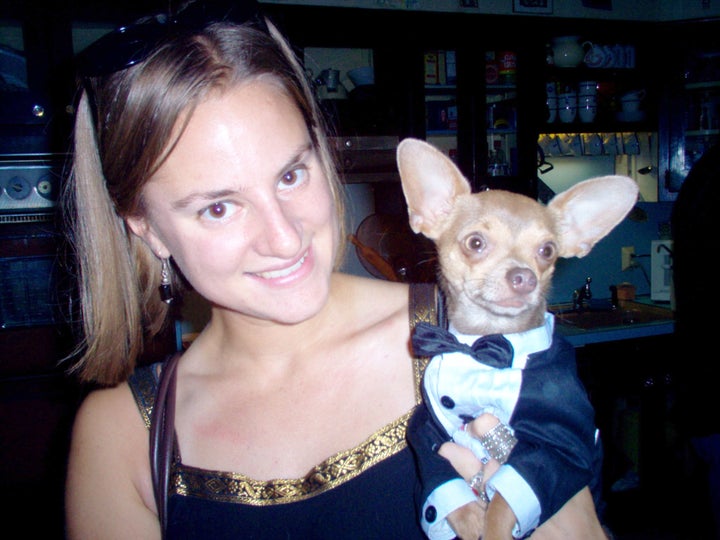 Instead of ushering me to the afterlife, Anubis initiated me into the cult of the living. At my darkest hour, when I felt as dead as a mummy inside, Anubis guarded me from the gates of death and became my guide. When I lamented humanity as unfeeling and cruel, Anubis showed me the power of loving presence (through our shared cries and his comforting, stroking paw) to conjure unbridled compassion and joy. When I believed that no one could love someone as broken as me, Anubis spoiled me with non-stop snuggles and tender kisses.
These days, my little man is getting old. His fawn coat and whiskers have turned white. The paws that were once so pink and supple are now black and coarse. He is 14. Our days together are numbered. Every day with him in my life is a gift.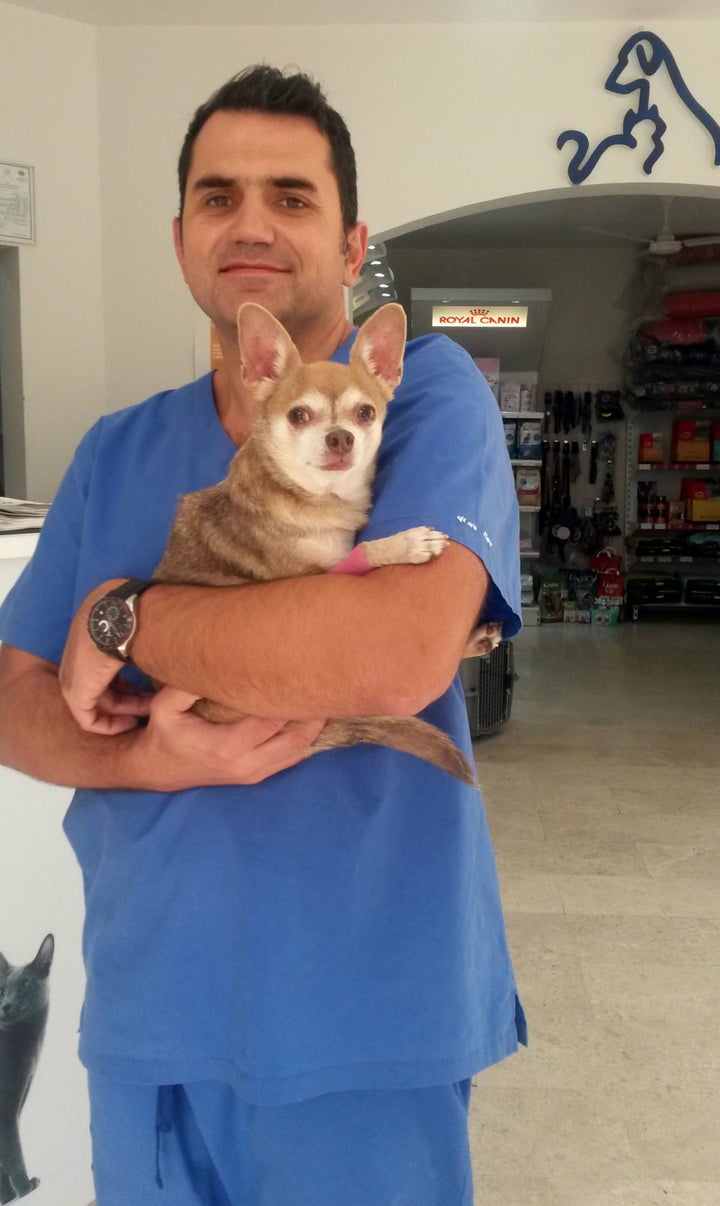 Watching Anubis grow old with grace, I'm reminded of the elderly residents in whose beds he used to snuggle while volunteering at a nursing home in Cambridge. Their wrinkled, forlorn faces would come alive as they shared with us happy memories of their beloved pets from decades past.
I'm sure I'll be doing the same when I'm in the home -- talking all about Anubis and his intercontinental adventures. The staff, of course, will think I'm making it up. But I won't care -- because I'll know that the treasure Anubis buried deep in my heart will last me until my very last breath.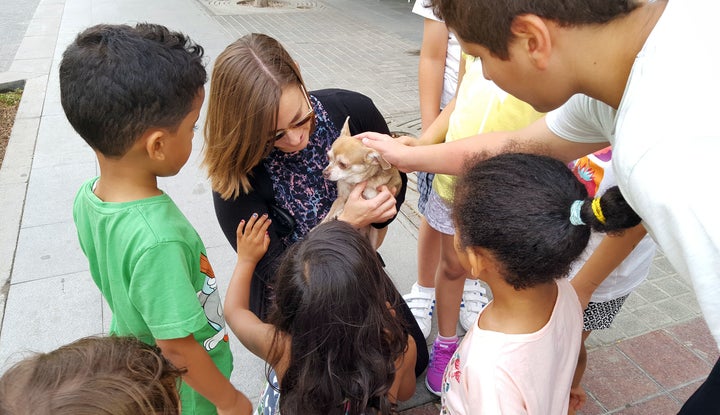 Oh, Anubis! My protector, my guide, my healer and friend! Bless you, darling dog, for all you have given me and so many others -- long may you reign, forever and ever.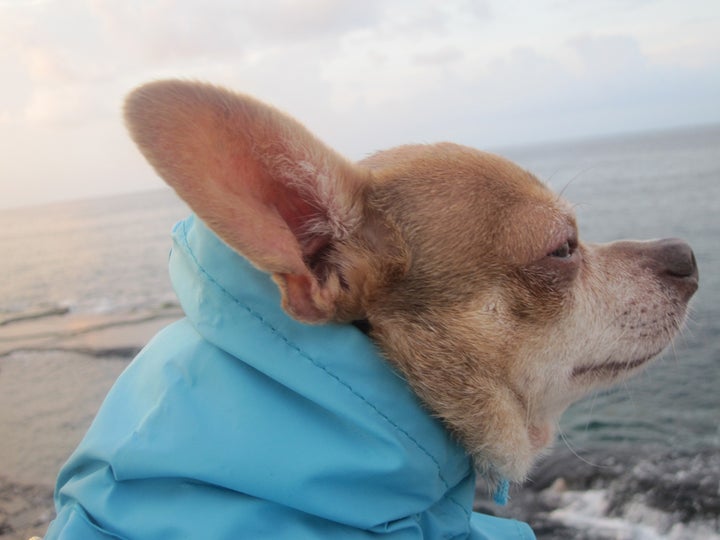 Popular in the Community