In the action-packed spoken word visual, "Ode to Litefeet," dancer Ray "Radar" Wilson is hopping, twisting, and spinning on a moving New York City subway car. Poet Najee Omar is an onlooker, narrating and admiring the power of Wilson' movements.
Litefeet, is a style of street-dancing originating in Harlem and the South Bronx. The subway is often a stage for litefeet dancers to showcase their unique skills. For New York-native Omar, these performances are a necessary clash with a society that polices young black and brown people's freedom of expression.
"I was inspired by the litefeet dancers, by the ways in which they entered the subway car and decided to claim ownership over the space," Omar wrote via e-mail.
"I looked at them -- these black and brown boys -- and saw their talent, their grit, their struggles, their excitement, and I thought about what it means to be young, black and brown, in this body, in this city, today. I was in awe of how they used their bodies to accentuate these feelings, to tell a narrative. I looked at them -- and I saw me," Omar continued.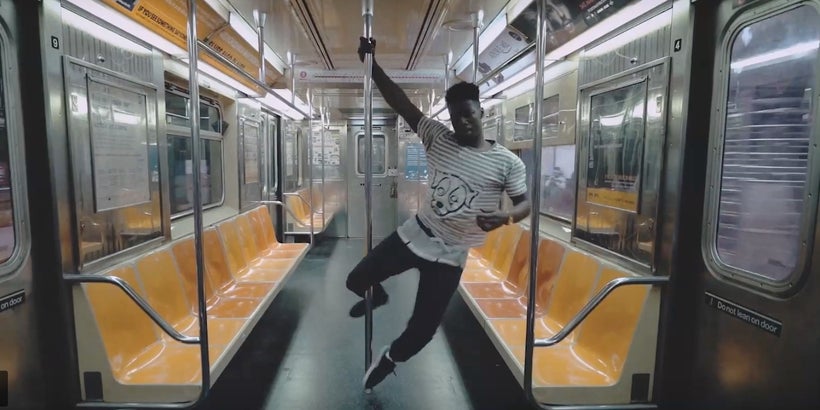 "It's Showtime!" If you ride the subway in New York City, then you know what's to follow after hearing these two words. For the next few minutes, you'll bear witness to rhythmic acrobatics. In the visual poem, Omar describes what he sees.
"This is defying gravity/ floating on top of passengers at Essex Street/ hanging to poles like strange fruit to tree/ this is child's play," he spits. Somehow they do not injure a soul around them during their display and cap their act by asking for money.
This popular form of busking is a part of New York's underground culture, which is being whitewashed by gentrification. But the MTA is not a fan of it and made it clear with shaming ads in 2015: "Poles Are For Your Safety, Not Your Latest Routine."
Others, like Omar, pushback against the "nuisance" label placed on these dancers. His poem celebrates their resistance.
"I thought about the many ways in which we've used our bodies to reflect, to rejoice, to resist. And I wanted to put language to what I was witnessing," Omar explained. "So, this is my praise to black and brown boys everywhere who embody joy as a radical expression of freedom."
Watch "Ode to Litefeet" above and learn more about Najee Omar's work here.
Calling all HuffPost superfans!
Sign up for membership to become a founding member and help shape HuffPost's next chapter
This post was published on the now-closed HuffPost Contributor platform. Contributors control their own work and posted freely to our site. If you need to flag this entry as abusive,
send us an email
.