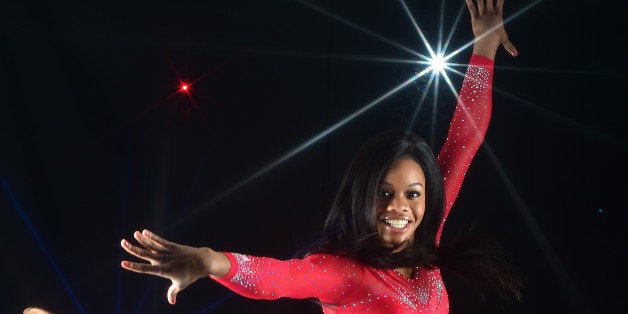 She swings through the air with an ease that leaves us positively envious.
Don't worry Ms. Douglas, I won't be long, but quite compendious.
How can one be so extraordinary gifted, so magical...so fantastical...so ecclesiastical?
You - Ms. Douglas, radiant queen, struttin' your stuff...boldly going where most cannot.
Standing proud, holding your head high as we scream deliberately - Ms. Douglas you rock!
This is for you my sister - to read when ignorance seems to prevail...it does not.
When it seems that all is not well...don't dare forget it can be difficult being a lovely,
brown- skinned gazelle.
Who are you some may ask? Thank God you resisted the launch of a counterattack. Choosing instead to stay on track. Never focus on what you lack.
You get to say what and whom you love in this life. Pay no attention to those who would stir up strife. And though we are strangers, this is time-tested advice. You are magnificent just the way you are. I challenge you to store these words in your repertoire.
It isn't easy being on the world stage, the lights are bright, and try as we might, we sometimes miss the beauty of a blazing meteorite. Although this ode has come to end, it is my hope that you - Gabrielle Christina Victoria Douglas will continue to ascend.
REAL LIFE. REAL NEWS. REAL VOICES.
Help us tell more of the stories that matter from voices that too often remain unheard.